The University of the Philippines Diliman (UPD) Office of the Vice Chancellor for Student Affairs (OVCSA) assists the UPD Office of the Chancellor in promoting the welfare of and maintaining discipline among students. The UPD OVCSA is at the forefront of crafting and providing projects and activities that concern students and student services. Such are, but not limited to, food service, guidance and counseling, learning assistance and tutorials, scholarships, student complaints and grievances, student housing, student organization, and student ethics. 
In coordination with its subunits, the UPD OVCSA regularly spearheads the following university-wide projects: Freshie Orientation Program, Freshie Welcome Assembly, University Student Council Election, Philippine Collegian Editorial Examination, and Recognition Rites for Student Achievers and Outstanding Student Organizations. 
Recognizing the power and necessity of the studentry's voice, the Office also participates in and promotes campaigns and initiatives led by the University's student sector in service of the Filipino people.
Vision
The Office of the Vice Chancellor for Student Affairs (OVCSA) is the leading unit for student services and programs innovation in UP Diliman to ensure the health, well-being, and safety of all students; create enabling conditions for the exercise of innovative, sustainable, and interdisciplinary knowledge production; and nurture in students a sense of social responsibility anchored on principles of ethical and service-oriented leadership.
Mission
The Office of the Vice Chancellor for Student Affairs upholds the University's mission of honor, excellence, love of country, and public service through providing supportive, transformative and innovative services to its diverse studentry in an environment where collaboration, social justice and holistic development are present. These are achieved by providing opportunities for leadership and student engagement in order to prepare them to take challenging responsibilities for their future world of work; nurturing individual skills, talents and abilities through academic, social and psychological support; creating a safe, healthy and holistic learning environment; providing innovative opportunities for self-awareness, student learning and social responsibility; and equipping students with necessary life skills in order for them to develop a sense of purpose.
Services
Processing of general inquiries, reports, and requests of students
Students may send  official letters of inquiry, reports, or requests to the OVCSA on various concerns related to student affairs, services, and welfare. These may be endorsed to appropriate offices, as needed.
Requests for Endorsements
Students may request for endorsement from the Vice Chancellor for Student Affairs as needed by the students. This may include application for Educational Development Fee Discount Request of foreign students, application to external scholarship programs, attendance to local or international conferences, and conduct of student organizations' activities.
AskUPD (UP Diliman Student Helpdesk)
– Students who need immediate response on their inquiries and concerns may avail the services of the AskUPD Team. The AskUPD Team has readily available resources and a pool of information officers which can assist the students on their concerns about the registration and enrollment academic policies, student affairs and services.
Kaagapay sa Pag-aaral ng Iskolar ng Bayan UP Diliman
Students who are tagged as Full Discount with Stipend (FDS) and Full Discount (FD) in the Student Learning Assistance System (SLAS) may avail learning assistance grants via the Kaagapay sa Pag-aaral ng Iskolar ng Bayan (#KaagapayUP) program. Students under these categories will receive an email from the #KaagapayUPD committee for details on how to avail the program. If you belong to these categories but was not contacted by the committee, please send an email to kaagapay.upd@up.edu.ph.
OVCSA Strategic Goals

Increase visibility and effective communication
Effective dissemination of correct information is at the heart of democratic governance. A clear information system must be put in place for student affairs and services, and the office itself must become more visible, especially online, in order to foster active participation and engagement among students and show transparency in its operations. There must also be open lines of communication with and among the students, so that dialectical relations are nurtured through effective dialogue and consultation.
Ensure reliability and ease of access to student services
The OVCSA website must become a one-stop portal for students' welfare needs. Students should not have to work so hard to find and avail themselves of economic, academic, and psychosocial support. To this end, there is a need to develop more imaginative platforms and interfaces for student services, such as a centralized app for student affairs and/or an interactive virtual campus. Certainly, this goal also presupposes that staff are given capacity-building trainings so that they are able to navigate these new platforms and render services with ease.
Strengthen student organizations and cultivate ethical leadership
Because of the rapid changes in our students' learning environments, there is a need for the University to ensure that student organizations remain safe spaces governed by ethical principles of safety and non-discrimination. In the mess of call-out cultures and cyberthreats, it is imperative to help student-leaders in navigating these experiences by strengthening the ethics research arm of the Office for Student Ethics and conducting updated workshops and seminars for students and organizations through the Office of Student Projects and Activities.
Establish Knowledge Management Systems in OVCSA offices
Administrative and operational efficiency must be founded, first, on a properly kept knowledge base, to provide a clear sense of the institution's mandate that will inform the conduct of, and provide basis for changes to, its services. Second, good practices in record-keeping, archiving, and documentation are also crucial, to build institutional history and ensure continuous and effective dispensation of student services—especially through and despite difficult and transitional periods.
Promote health, wellness, and environmental sustainability
It is important for student affairs offices to recognize their role and responsibility in promoting the general health and welfare of students. Health and wellness are not guaranteed only by access to medical care but by general cooperation and public participation in the promotion of safety and well-being, mental health and emotional resilience, and sustainable practices in living and consumption in the whole UP Diliman community.
The OVCSA Team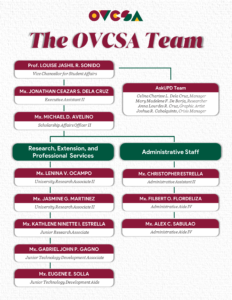 ---