All
#TatagUP
Halalan UPD
OVCSA Programs
---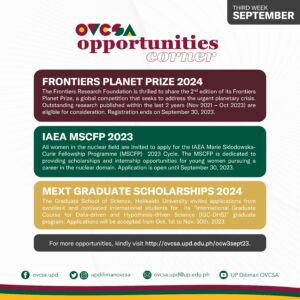 #OpportunitiesCorner: Week 3 – September 2023
Hello there! The UP Diliman Office of the Vice Chancellor for Student Affairs' #OpportunitiesCorner is an update on available scholarships, exchange programs, conferences, workshops, and other skill-enhancing initiatives for UP Diliman students. Here's for the 3rd week of September 2023 FRONTIERS PLANET PRIZE 2024 Be part of the 2nd edition of the Frontiers Planet […]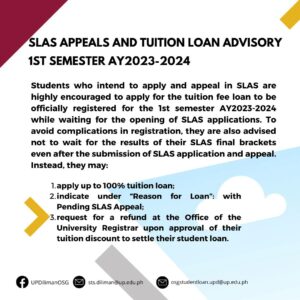 SLAS Appeals and Tuition Loan Advisory 1st Semester AY 2023-2024
Students who intend to apply and appeal in SLAS are highly encouraged to apply for the tuition fee loan to be officially registered for the 1st semester AY 2023-2024 while waiting for the opening of SLAS applications. To avoid complications in registration, they are also advised not to wait for the results of their SLAS final brackets even after […]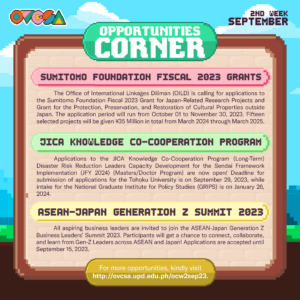 #OpportunitiesCorner: Week 2 – September 2023
Hello there! The UP Diliman Office of the Vice Chancellor for Student Affairs' #OpportunitiesCorner is an update on available scholarships, exchange programs, conferences, workshops, and other skill-enhancing initiatives for UP Diliman students. Here's for the 2nd week of September 2023! SUMITOMO FOUNDATION FISCAL 2023 GRANT FOR JAPAN-RELATED RESEARCH PROJECTS The UP Office of International […]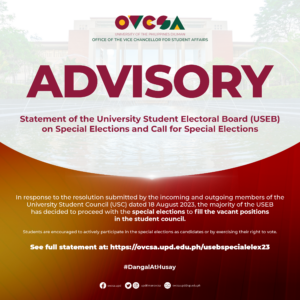 Statement of the University Student Electoral Board (USEB) on Special Elections and Call for Special Elections
Access the Revised UP Diliman Student Election Code here. For further updates and information, please visit the HalalanUPD Facebook page.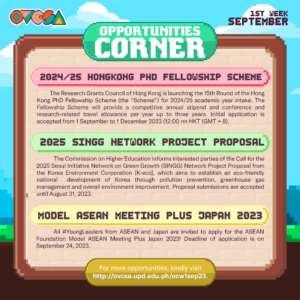 #OpportunitiesCorner: Week 1 – September 2023
Hello there! The UP Diliman Office of the Vice Chancellor for Student Affairs' #OpportunitiesCorner is an update on available scholarships, exchange programs, conferences, workshops, and other skill-enhancing initiatives for UP Diliman students. Here's for the 1st week of September 2023! HONG KONG PHD FELLOWSHIP SCHEME 2024/25 The Scheme established aims to attract top international students […]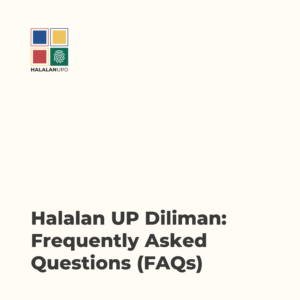 FAQs: Halalan UP Diliman 2021
Hello, mga Iskolar ng Bayan! Here are answers to some frequently-asked-questions for Halalan UP Diliman 2021! Where will I vote? Anywhere as long as you have access to your UP Mail and you have a working Internet connection. What if I am not yet paid for this semester, can I vote? Yes, but only if […]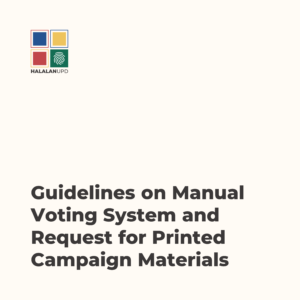 #Guidelines: Manual Voting System and Request for Printed Campaign Materials
Manual voting is an alternative voting process to accommodate students who do not have internet access and/or who will not be able to process their UP Mail account in time for the elections. Know more about the process by reading the infographics! For further queries and updates, the Halalan UPD 2021 Helpdesk may be accessed […]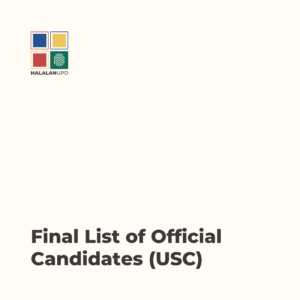 LOOK: Final List of Official Candidates for the 2021 USC Elections!
And here they are! Mga Iskolar ng Bayan, here is the FINAL list of official candidates for the 2021 UP Diliman University Student Council elections! Kindly take note that the official campaign period starts tomorrow, 20 May 2021. For political parties and independent candidates, the deadline for the submission of campaign materials for printing is […]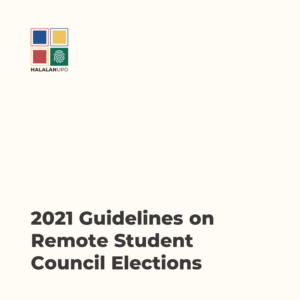 ICYMI: 2021 Special Guidelines on Remote Elections
The 2021 Special Guidelines on Remote Student Elections is an Addendum to the 2010 Revised University of the Philippines Diliman Student Election Code. A remote electoral process was deemed necessary due to the remote learning setup amid the ongoing and worsening COVID-19 pandemic in 2021, wherein students, faculty, and staff of the university suffer from […]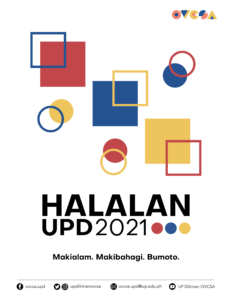 UP Diliman kicks off its first-ever remote student elections
It's that time of the year, mga Iskolar ng Bayan! On behalf of the University Student Electoral Board (USEB), we hereby issue the call for the election of the members of the University Student Council (USC) and the College Student Councils (CSC) who will serve for Academic Year 2021 – 2022. The conduct of the […]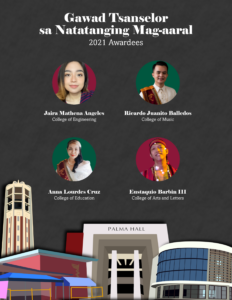 Meet the 2021 Gawad Tsanselor sa Natatanging Mag-aaral Awardees!
Mga Iskolar ng Bayan, meet the 2021 Gawad Tsanselor sa Natatanging Mag-aaral awardees! Four students made it to the list of awardees of the Gawad Tsanselor sa Natatanging Mag-aaral, the highest, most prestigious University award given to students who have attained a high level of academic accomplishment, demonstrated good leadership, and exemplified "honor and excellence […]
---