UP Diliman Pride 2020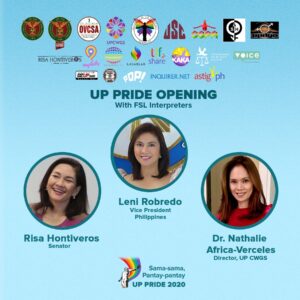 Rainbow greetings, mga Iskolar ng Bayan! 🌈
The University of the Philippines Diliman Office of the Vice Chancellor for Student Affairs (OVCSA), together with UP Babaylan, the Center for Women's and Gender Studies (CWGS), the Office of the Student Regent (OSR), Office of Student Projects and Activities (OSPA), the University Student Council (USC), the Office of Anti-Sexual Harassment (OASH), and the UP Diliman Gender Office (DG), enjoins you to take part in this year's UP Pride Celebration.
Now on its 13th year, the UP Pride is living proof that despite the global health crisis, the UP community is ready to face the adversities of our time head-on! With the theme "Sama sama, Pantay pantay / Together for Equality", UP Pride 2020 calls on the different sectors of the University to move forward for genuine acceptance and equality!
Everyone is invited to join the following events and amplify our calls!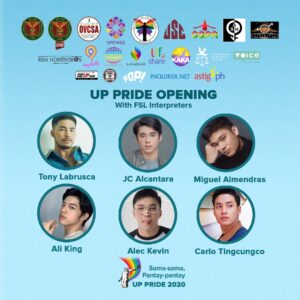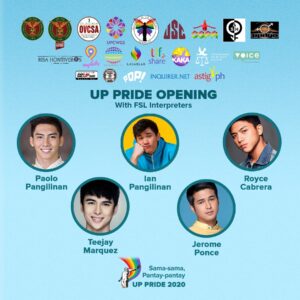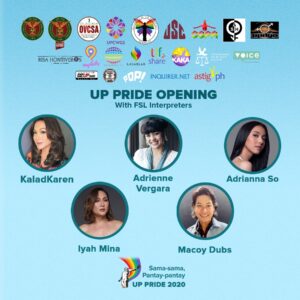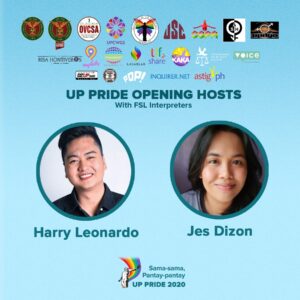 October 17 | Saturday
HIV and AIDS Datathon (2pm-4pm)
Normalizing Pronouns in the New Normal
October 19 | Monday
Datatthon: HIV/AIDS Facilities
October 23 | Friday | 6pm-7pm
EDBokasiya: SOGIESC 101
October 24 | Saturday
Tara! uCHEp TAYO! (3pm-6pm)
SOGIESC Infographic
October 26 | Monday
UP Pride Opening (10am)
SOGIES sa UPD Infographic (3pm)
Virtual Pride Hangout
PH Queer Studies Conference 2020
October 27 | Tuesday
Rainbow Narratives
Chikahan sa Panitikang LGBTQIA+ (3pm)
October 28 | Wednesday
Equality Talk 1: Being Queer in UP (4pm-6pm)
Equality Talk 2: Seal the Bill (4pm to 6pm)
October 30 | Friday
HQ76.5-2020: A Roundtable Discussion on Finding Pride in the Stacks (2pm)
Check the official Facebook page of UP Pride for more information.
See you all, mga Iskolar ng Bayan! As a community, let us move further together!
#SamaSamaPantayPantay
---
Check the official memo by the Vice Chancellor for Student Affairs here.