#CallForNominations: Parangal sa Samahang Mag-aaral 2023
The University of the Philippines Diliman recognizes the contribution of student organizations to the life of an academic community, to the production of knowledge and to the future of the country. A significant way to recognize the role and relevance of student organizations is given through the Parangal sa Samahang Mag-aaral (Ignacio B. Gimenez Award for UP Student Organizations' Social Innovation Projects).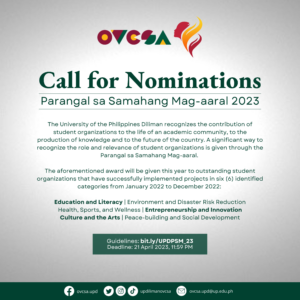 The aforementioned award will be given this year to outstanding student organizations that have successfully implemented projects in six (6) identified categories from January 2022 to December 2022.