Eugene Solla
December 22, 2020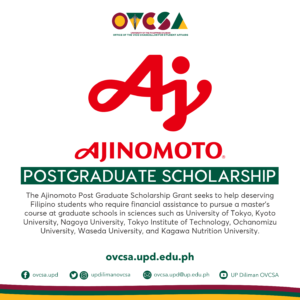 Ajinomoto is now accepting applications for its 2022 postgraduate scholarship grant.
The Ajinomoto Post Graduate Scholarship Grant seeks to help deserving Filipino students who need financial assistance to pursue a master's course at specified graduate schools in sciences. Ajinomoto extends the Scholarship Grant to other esteemed universities in Japan for the 2022 school year.
Scholarship Eligibility
Must be a Filipino citizen.
Must have graduated or is expected to graduate with an excellent academic record (with 15 years
of education completed or expected to be completed) and must receive the recommendation of his/her university president or academic advisor or be otherwise qualified to enroll in the University.
Must be under the age of 35 on April 1, 2021.
In principle, the applicant must be able to obtain approval of acceptance as either a postgraduate
international research student (hereinafter "Research Student") or a graduate school student (master's course) (hereinafter "Master's Course Student") from the University and be registered as a Research Student or a Master's Course Student for April 2022 or October 2022.
Must show financial need to pursue higher education.
Must acquire adequate Japanese language proficiency that is required in order to research and study in a master's course, when enrolling as a Master's course student.
Must file an application and attend selection procedures in the Philippines.
Must be in good physical and mental health and have a strong motivation for learning.
Must not be receiving other scholarships.
Must apply from the Philippines and be able to attend selection procedures when necessary.
Must have a strong sense of nationalism, leadership and motivation.
Choose a major in the field of science and technology and enter in either of the two programs.
Master's Program (2-year program)
International Research + Master's Program (3-year program, not applicable to Waseda University)
Benefits
¥150,000 monthly allowance for a maximum of 1 year as a research student at a graduate school
¥180,000 monthly allowance for a maximum of 2 years as a master's course student at a graduate school
Full coverage of examination, admission and tuition fees
Full coverage of Japanese language training before going to Japan
Full coverage of airfare to Japan
For more details, visit www.ajinomoto.com.ph and look under 'What's New' section for full details. For inquiries, contact Deborah S. Fajarda, RND:
Tel Numbers: (02) 895-6081 loc. 8137
Direct Line: (02) 558-5942
Mobile: 0917-8202499
Email: deborah_sales@ajinomoto.com
Fax Number: (02) 779-8453
The deadline of application is on 01 March 2021.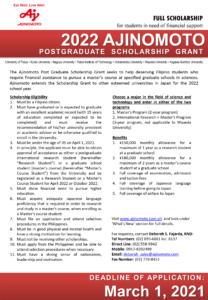 ---