Eugene Solla
February 26, 2021
The University of the Philippines Diliman has continuously served as a safe space for critical thought and just dissent, and as a sanctuary for marginalized sectors. Likewise, Iskolar ng Bayan have rolled up their sleeves and mustered their energy to serve the underserved through their research, creative work, outreach activities, seminars, lobbying efforts, etc. Despite bricks thrown at our beloved institution, we recognize these student organizations who, along with the other sectors, have continued building castles.
UPD recognizes the contribution of student organizations to the life of an academic community, to the production of knowledge and to the future of the country. A significant way to recognize the role and relevance of student organizations is given through the Parangal sa Samahang Mag-aaral.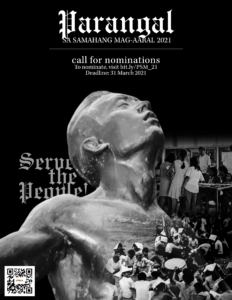 The aforementioned award will be given this year to outstanding student organizations that have successfully implemented projects in six (6) identified categories from October 2019 to December 2020​:
Education and Literacy
Environment and Disaster Risk Reduction
Health, Sports, and Wellness
Entrepreneurship and Innovation
Culture and the Arts
Peace-building and Social Development
The organization must be a registered organization during the time that the project was completed and at present. Awardees are entitled to a cash prize of PHP 20,000 and shall be nominated in national awards such as the Ten Accomplished Youth Organizations (TAYO).
For the complete guidelines, visit bit.ly/PSM_21.
---