Eugene Solla
March 31, 2021
In partnership with Physical Education, Sport Coaches, Art, Music, Dance, and Recreational Associations around the world, the Foundation for Global Community Health launched a special online event incorporating Sports, Culture, and Musical challenges designed to support social and emotional programs in schools and the teachers that facilitate the needed instruction.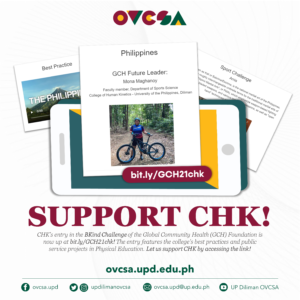 Dubbed as the BKind Challenge, the project aims to encourage families to participate in the wellness activities crafted by various institutions worldwide—hoping to positively impact physical, social, and emotional well-being even amid the pandemic. Represented by Junior Faculty Mona Maghanoy, the University of the Philippines Diliman College of Human Kinetics' (CHK) best practices and public service projects in physical education are featured in the event.
We are calling every Iskolar ng Bayan to support CHK's entry by following these steps:
Visit https://bit.ly/GCH21chk.
In the list of countries, click "Philippines".
Share the link to your friends and loved ones!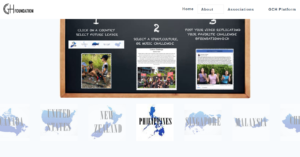 The GCH, a nonprofit foundation, is the only organization that supports the United Nations' Sustainable Development Goals, The Centers for Disease Control's Whole School, Whole Community, Whole Child Model, and the social and Emotional model on one universal platform.
Stay safe and healthy, mga Iskolar ng Bayan!
---