Eugene Solla
February 24, 2022
In celebration of the Women's Month 2022 with theme Defend UP: Manindigan para sa Paghilom, Pagbangon, Pagsulong, at Pagkakapantay-pantay, UP Diliman freshies are invited to attend the 2nd #StartEmYoung: A Gender Sensitivity Orientation and Anti-Sexual Harassment Orientation for UP Diliman Freshies via Zoom.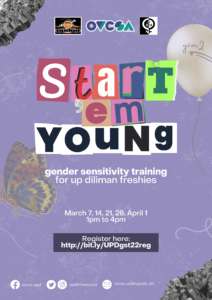 Students may sign up for the date of their convenience but below are the suggested dates per cluster as there will be speakers from their respective clusters:
7 March 2022(1:00-4:00 PM) – Social Sciencesand Law Cluster, Arts and Letters Cluster
14 March 2022 (1:00-4:00 PM) – Management and Economics Cluster
21 March 2022 (1:00-4:00 PM) – Science and Technology Cluster (Engineering)
28 March 2022 (1:00-4:00 PM) – Science and Technology Cluster (Natural Sciences)
1 April 2022 (1:00-4:00 PM) – Students with Student Numbers beginning with2020 and 2021who were not yet able to take the Gender Sensitivity Orientation
Students may sign up through this link: https://bit.ly/UPDgst22reg.
Colleges are reminded and freshies are informed that Section 30 of the UP Anti-Sexual Harassment Code stipulates that "[a]ll members of the UP community shall undergo an orientation on anti-sexual harassment, once every three (3) years." In case freshies are not available to attend the orientation on any of the schedules provided, they may request one from Office of Anti-Sexual Harassment through their college. Everyone is also invited to attend UP Diliman's line-up of activities for Women's Month. Watch out from updates on the official Facebook page of the Diliman Gender Office.
Thank you.
---