Eugene Solla
May 27, 2021
Mga Iskolar ng Bayan, meet the 2021 Gawad Tsanselor sa Natatanging Mag-aaral awardees!
Four students made it to the list of awardees of the Gawad Tsanselor sa Natatanging Mag-aaral, the highest, most prestigious University award given to students who have attained a high level of academic accomplishment, demonstrated good leadership, and exemplified "honor and excellence in the service of the people."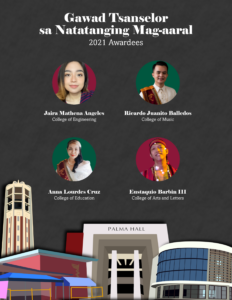 Jaira Mathena Baetiong Angeles, from the College of Engineering, is a fourth year BS Computer Science student who is a member of the UP Association for Computing Machinery. She emerged as second runner up in the 2020 Amazon Web Services (AWS) Build on ASEAN and champion in both ReachHealth Innovation Challenge and AWS Build on Philippines.
Hailing from the College of Music (CMu), Ricardo Juanito Balledos, incumbent Chair of the CMu Student Council, believes that every student shall have been instilled with a true sense of social responsibility. Balledos, a cum laude graduate of the Bachelor of Music in Guitar Performance program, was a recipient of the Gawad Dekano para sa Natatanging Pamumuno o Serbisyo in the CMu for his efforts in forwarding various campaigns and projects through music.
For BA Malikhaing Pagsulat student Eustaquio Barbin III, the essential frontline service of a UP student is to share their skills to the larger public. Barbin has been active in forwarding indigenous culture and concept through educating people with art and popular culture as his main platforms. Some of his notable involvements were in the Indonesia Cultural Fest, Citizen Jake Screening, Alas ng Bayan Exhibit, and the Bike Protest for Northern Negros and Bulacan.
Completing the list is Anna Lourdes Cruz from the College of Education. A student-leader, teacher, athlete, artist, and special needs advocate, Cruz has participated in international exchange programs and has represented the Philippines in various sports competition such as the 2019 South East Asian Games. She has been able to share her craft by serving as coach and teacher to her fellow youth. Counting on the collective strength of the people, she wants her fellow students to ponder on the question "Bakit, at para kanino ka, Iskolar ng Bayan?"
Awardees will be granted a cash prize of PHP 150,000 each and shall be officially recognized on 25 June 2021, 6:00pm, at the Gawad Tsanselor Virtual Ceremony.
---