On September 10 and 17, respectively, the Office of the Vice Chancellor for Student Affairs (OVCSA) held the Freshie Orientation Program (FOP) and University Welcome Assembly (UWA) which officially welcomed and introduced UP Diliman offices and support services to the students, particularly UP freshies. They were also given a glimpse of what #TatakUP means through various videos and performances by student organizations.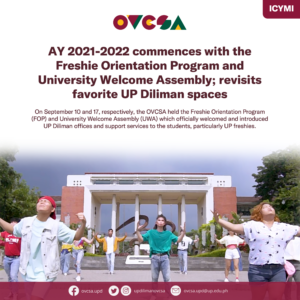 During the UWA, Chancellor Fidel Nemenzo advised the students to maximize all the opportunities available despite the challenging times of the pandemic.
"Take advantage of opportunities for learning and immerse yourselves in the UP experience. While this pandemic has definitely changed the way we learn and engage with others, your UP lives need not be limited to your screens and course requirements. Join organizations, pursue other interests, mingle with others safely, especially those outside your discipline and comfort zones."
Making the start of the academic year more hyped up was a performance from the UP Streetdance Club. Dancing to "Muli", in collaboration with the OVCSA, UP Streetdance Club led the audience to reliving the most beloved spaces in the campus.  Meanwhile, the UP Pup Squad feature became the crowd favorite as it highlighted UP's resident emotional support dogs. UP Pup Squad is one of the university's ways of taking care and extending utmost importance to the UP community's psychosocial welfare.
In line with this year's University Freshie Month theme #SumabaySaLakbay, the University Student Council held the #SumabaySaIkot Virtual Freshie Tour in collaboration with the OVCSA and various other organizations last September 13. The program had the freshies "riding" in an online Ikot jeep to get acquainted with familiar sights and places around UP. The annual Community Org Fair and Leadership Training Bootcamp, among others, were also held as part of the 2021 University Freshie Month. 
The OVCSA also distributed the UPD Freshie Survival Guide 2021, which includes tips and hacks on surviving UP life in this remote learning setup and a go-through guide of what #BuhayIsko is like in UP, from the grading system to the food places to essential offices and focals. A collaboration with College of Fine Arts Student Anthony Kristan refreshes the UP experience to readers through Eybsidiliman, a cartoonized letras y figuras alphabet of icons and cultural markers of UP. 
This is the second time that the OVCSA successfully held the yearly tradition in an online setup.
---