Eugene Solla
August 1, 2021
Hello there! The UP Diliman Office of the Vice Chancellor for Student Affairs' #OpportunitiesCorner is a weekly update on available scholarships, exchange programs, conferences, workshops, and other skill-enhancing initiatives for UP Diliman students. Here's for the end of July 2021!
ASEAN Month Celebration 2021
In accordance with pertinent provision of RA 7722, known as the Higher Education of Act of 1994 and pursuant to the Proclamation No. 282 dated July 31, 2018 (amending Proclamation No. 1008 dated May 21, 2018), August is declared as "ASEAN Month" in honor of the regional bloc's founding on August 8, 1967, this Office highly endorses the above subject for the support and participation of all concerned.
In commemoration of 54th founding anniversary of ASEAN on August 8, 2021 the Commission on Higher Education joins the Philippine higher education sector in building efforts to increase ASEAN awareness through its Regional Offices with the theme "PADYAK! Moving Forward, Claiming Victory for Philippine Higher Education PHE in the ASEAN Community". Relative thereto, this year's ASEAN Month Celebration shall have various regional competitions from among our various HEIs in NCR that can be participated by interested HEIs student regardless of their locations quarantine status and subject to health protocols.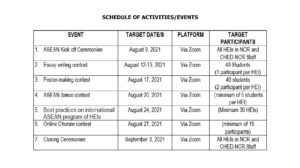 Confirmation of participation to the said activities is on or before August 6, 2021 via online registration at https://forms.gle/MC4a4LfXVsBji9G39.
For further information and queries please contact us through the following: email at chedncr@ched.gov.ph, bellaflorcoronado@gmail.com and ntadena@ched.gov.ph or at Fax number 8441-0853.
Qatar Scholarship Program
Qatar Scholarships (QS) initiative is a program spearheaded by Qatar Fund for Development (QFFD) in cooperation with several prestigious and leading educational institutions in the State of Qatar. It offers grants tertiary and higher education programs to international applicants from developing countries interested in studying in Qatar.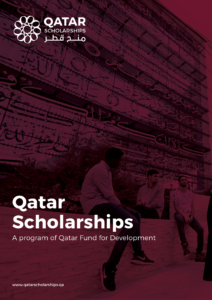 Driven by Qatar's vision to advance quality education worldwide, QS focuses on the Sustainable Development Goal 4: "Ensuring fair and inclusive education for all and enhancing lifelong learning for all". Qatar Scholarships contributes to meet the State of Qatar's commitment to achieve the Sustainable Development Goals (SDG 4.b) "substantially expand globally the number of scholarships available to developing countries, in particular least developed countries, small island developing States and African countries, for enrolment in higher education, including vocational training and information and communications technology, technical, engineering and scientific programs, in developed countries and other developing countries"
Interested applicants may visit http://qatarscholarships.qa for more information.
---