Eugene Solla
April 10, 2022
Hello there! The UP Diliman Office of the Vice Chancellor for Student Affairs' #OpportunitiesCorner is an update on available scholarships, exchange programs, conferences, workshops, and other skill-enhancing initiatives for UP Diliman students. Here's for the first week of April 2022!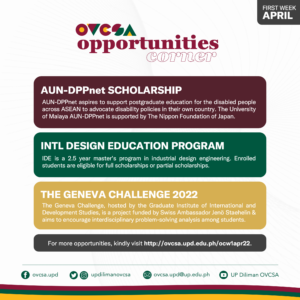 University of Malaya AUN-DPPnet Postgraduate Scholarship 2022/2023
AUN-Disability and Public Policy (AUN-DPPnet) is the 12th thematic of ASEAN University Network (AUN) based in the University of Malaya, Kuala Lumpur.  AUN-DPPnet aspires to support postgraduate education for the  disabled people across ASEAN to advocate disability policies in their own country. The University of Malaya AUN-DPPnet is supported financially by The Nippon Foundation of Japan.
Disabled applicants with outstanding academic accomplishment from ASEAN countries are invited to apply this scholarship to further their postgraduate studies (by coursework) in any field at selected institutions within the ASEAN University Network.
Interested applicants can drop in their complete application form to the AUN-DPPnet Secretariat office or you may email the documents to aundpp@um.edu.my by the above-mentioned deadline.
If there are any further queries, please do not hesitate to contact 03-79677618 or you may visit our website for further information about this offering (https://aun-dpp.um.edu.my/).
The Geneva Challenge 2022: The Challenges to Poverty Reduction
The Geneva Challenge, hosted by the Graduate Institute of International and Development Studies, is a project funded by Swiss Ambassador Jenö Staehelin and aims to encourage interdisciplinary problem-solving analysis among master students on advancing human development within the scope of a relevant topic. This year, students are invited to develop analysis-based proposals on "The Challenges of Poverty Reduction".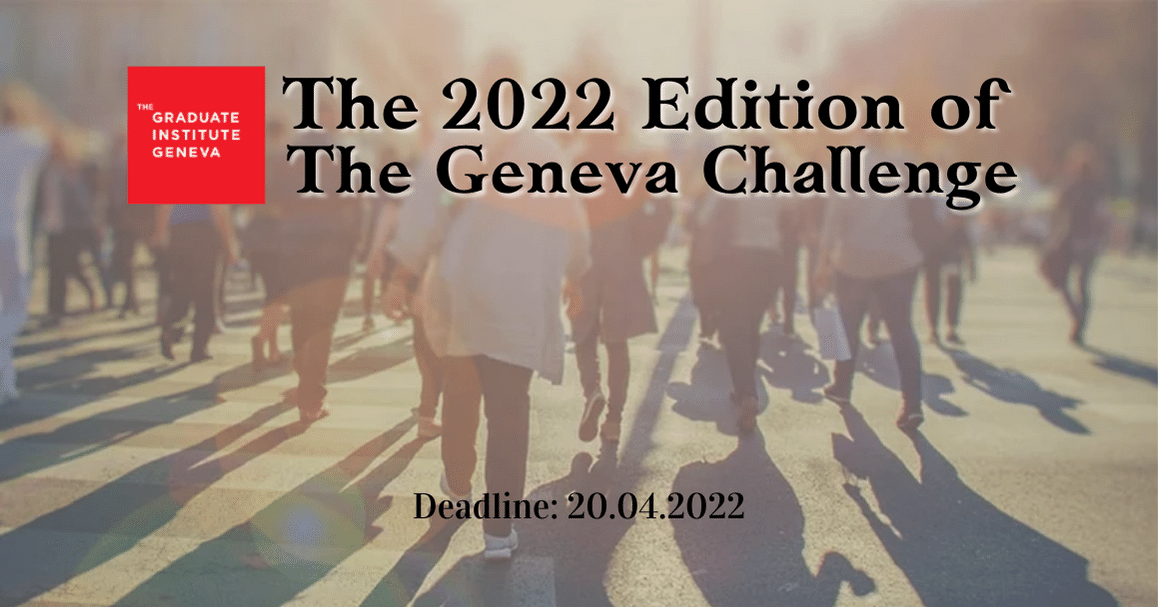 As the key to this issue is an interdisciplinary solution, crossing traditional boundaries between academic disciplines, we are inviting Master students from all academic programmes and from anywhere in the world to provide helpful strategic recommendations. Five prizes, one per continent, will be distributed.
Teams of 3-5 master students must submit an 8,000 words proposal which:
identifies a challenge related to poverty reduction;
constructs an interdisciplinary analysis on how it affects different aspects of development in a specific (but transposable) context;
proposes innovation at the policy, practice, process or technology levels turning the challenge into development opportunity.
The Geneva Challenge 2022 will distribute 25'000 CHF in monetary prizes and the five finalist teams will be invited (travel and accommodation expenses covered) to publicly present their work in Geneva before a panel of high-level experts. Networking opportunities are also envisioned as part of the prize package.
Registrations close on 20 April 2022. Submission due by 13 July 2022.
More information is available on https://www.graduateinstitute.ch/geneva-challenge/2022
International Design Education Program
Application to the Second International Design Education Program is kicked off now. The Program is under the continuing cooperation among The United Nations Technology Bank for Least Developed Countries (UN Technology Bank), WEDC, and the International School of Design at Zhejiang University, Ningbo, China. It is a 2.5 year master's program in industrial design engineering. Enrolled students are eligible for full scholarships or partial scholarships.
WEDC would like to ask for your support to disseminate this once in a lifetime opportunity to your students. The online application system remains open until April 30. For students to apply, please instruct them to sign up the Online Application System for International Students of Zhejiang University, complete the application form, upload supporting materials to submit an online application at no costs. The application materials shall be also sent to nbxq010@zj.edu.cn. Application Guide and Instructions are attached for your information and dissemination.
For your attention, the IDE Program is open to bachelor and master students of worldwide. The public announcements and documents specified least developed countries (LDCs) is because they were for the designated use for the UNTB, which is one of the Program initiators focusing on countries in the LDCs category. The International Design Education Program is always inclusive to the international, both men and women.
Climate Hack 2022
Got a great idea that addresses the climate challenges faced by your community? Climate Hack 2022 is here to hone your digital skills to develop solutions for a sustainable future! Top ideas will stand a chance to walk away with up to S$5,500 in cash prizes total and gain access to Climate Lab, a six-month incubation programme. Register today at climatehack.io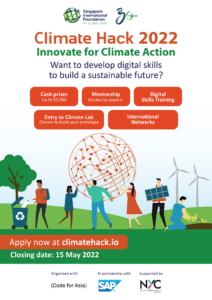 Climate Hack is an award-winning hackathon proudly brought to you by Singapore International Foundation and Code for Asia, made possible by SAP4Good and National Youth Council Singapore.
International Youth English Competition
Since 2012, the UN Department of Global Communications have been organizing one of the largest international youth English competition 'Global Leadership English Challenge,' and invited more than 1,000 students from all over the globe for our last project in 2021. Regarding the brief procedure, participants from all over the world are divided into four tracks by grade (from elementary to middle school, high school, and university), compete in regional rounds, and final winners gather at Global GLEC Conference (https://gleader.org/ggc) and make a shared work for SDGs resolutions.
Nomination for Group Registration by instructors.
GLEC accepts group registration with 1) an application fee waive (for preliminary round) and 2) a final round ticket without preliminary round evaluation for a group of participants officially nominated by instructor(s).
A group of students nominated by instructors may have outstanding academic contributions, volunteer leadership or asset, knowledge shared with peers, or profound interest in global issues and the works of the UN.
More details can be seen at https://gleader.org/nomination or attached Concept Note.
For assistance in the nomination process, interested parties can contact the UP Diliman OVCSA.
ASEAN-Japan Friendship and Cooperation
2023 marks the 50th Year of ASEAN-Japan Friendship and Cooperation. Since its start in 1973, ASEAN-Japan relations have made remarkable achievements. People-to-people exchange has been a foundation for the close partnership between ASEAN and Japan which is often called "heart-to-heart" partnership. ASEAN Member States and Japan will celebrate the 50th Year of ASEAN-Japan Friendship and Cooperation in 2023 with various commemorative events and exchange programs and encourage the citizens to join in the celebration of the milestone.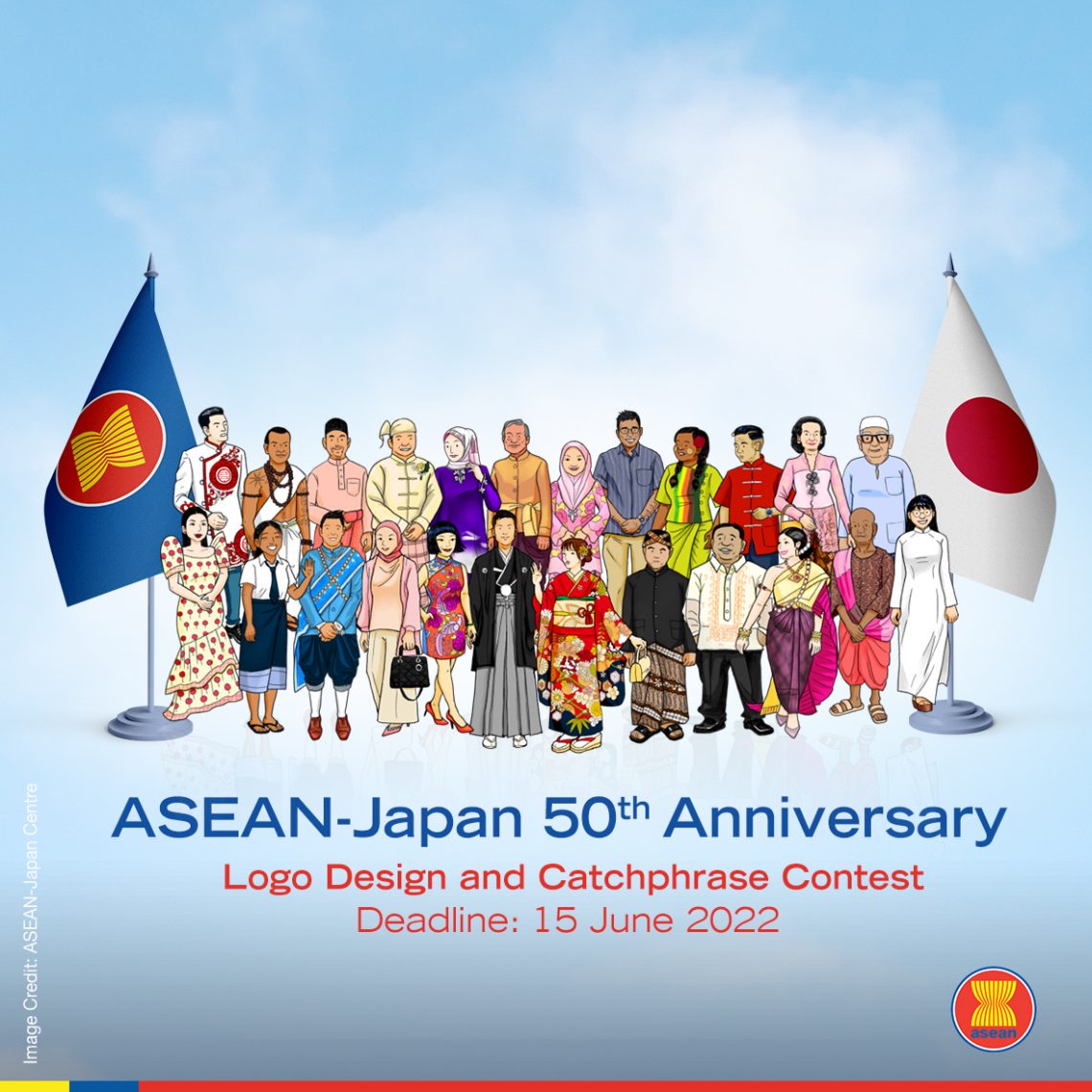 For this purpose, the Governments of ASEAN Member States and Japan, with the support of the ASEAN Secretariat and the ASEAN-Japan Centre, are inviting citizens of ASEAN Member States and Japan to participate in the Logo Designs and Catchphrase Contest for the 50th Year of ASEAN-Japan Friendship and Cooperation.
The contest will start receiving applications from 1 April 2022 to 15 June 2022.
Interested participants may wish to visit: https://www.asean.or.jp/en/ajc/50th-logo-catchphrase/ for more details.
All the best!
---