Eugene Solla
August 7, 2022
Hello there! The UP Diliman Office of the Vice Chancellor for Student Affairs' #OpportunitiesCorner is an update on available scholarships, exchange programs, conferences, workshops, and other skill-enhancing initiatives for UP Diliman students. Here's for the first week of August 2022!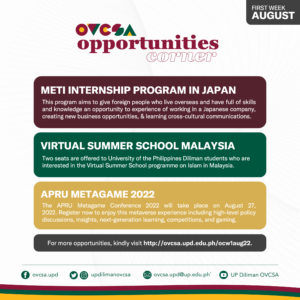 APRU MetaGame 2022
APRU MetaGame Conference 2022
The APRU Metagame Conference 2022 will take place on August 27, 2022. Register now to enjoy this metaverse experience including high-level policy discussions, experts insights, next-generation learning, student competitions, and gaming.
The APRU Metagame Conference will examine the ways that an international network of esports leaders can further its scope within universities including edutainment, collegiate esports, and gamification of social well-being. More Info
Digital Art Design Contest: Level Up Our World
APRU challenges students of the Asia Pacific Rim to showcase their digital art skills to influence the gaming industry. Students are invited to design a cast of characters and/or game bosses for their original game idea which reflect students' vision to shape an equitable, sustainable, and inclusive world. More Info >>
Contest Submission Deadline: August 22 at 12noon (Hong Kong Time)
Prizes
1st Place: USD $500, Trophy, Moon Lab Personalized NFT, 1-year digital subscription to Adobe Creative Cloud
2nd Place: USD $350
3rd Place: USD $250
All shortlisted entries will be featured on the APRU social media platforms and website. Live audience at the APRU Metagame Conference will vote on the winning entries on August 27th.
APRU Rampage Invitational Tournament
APRU invites students in the Asia Pacific Rim to participate in the Rampage Invitational Tournament to build community and connectivity through competition. In a 5v5 Valorant title, we wish to inspire students' connectivity and support for one another. More Info >>
Registration deadline: August 22, 2022 (HKT)
The Top 3 teams are eligible to win: 
First Place Asia/North America: USD $500 (Each region title winner)
*Prizing subject to change
METI lnternship Program in Japan
METI Internship Program aims:
To give Japanese companies, in particular micro, small and medium sized enterprises (MSMEs), an opportunity to create new business and/or innovation with foreign people who has full of skills and knowledge through internship.
To give foreign people who live overseas and have full of skills and knowledge an opportunity to experience of working in a Japanese company, creating new business opportunities and learning cross-cultural communications, through internship.
Since the COVID-19 quasi-emergency has been decreased this year, we basically plan to hold an offline internship program.
Some of the events will also be held online for overseas students by using collective facilities.
For more details, click here.
Virtual Summer School: Islam in Malaysia
The Institute of Islam Hadhari, UKM and the International Relations Centre (UKM Global), UKM would like to offer two (2) seats to University of the Philippines Diliman students who are interested in the Virtual Summer School programme on Islam in Malaysia.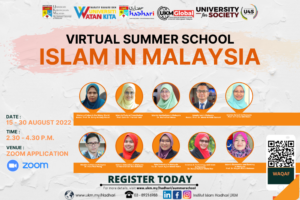 This program will be held on the 15-30 of August 2022, via an online platform.
Please register at: https://www.ukm.my/hadhari/summerschool to confirm acceptance of this offer.
For any inquiries about the program, kindly email us at al_adib@ukm.edu.my.
---