ovcsa_user
August 2, 2023
Hello there! The UP Diliman Office of the Vice Chancellor for Student Affairs' #OpportunitiesCorner is an update on available scholarships, exchange programs, conferences, workshops, and other skill-enhancing initiatives for UP Diliman students. Here's for the 1st week of August 2023!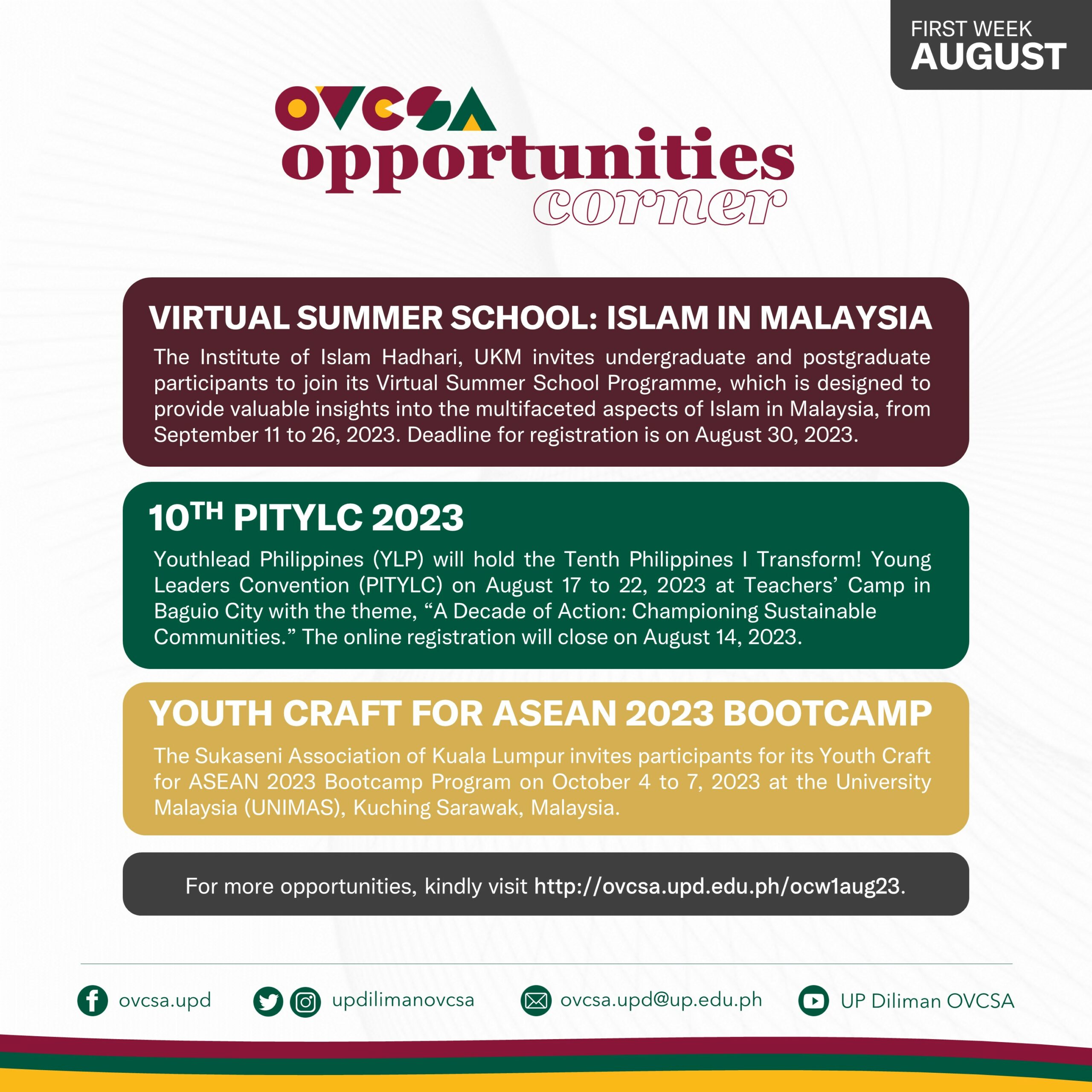 VIRTUAL SUMMER SCHOOL: ISLAM IN MALAYSIA
We extend a warm and cordial invitation to join our esteemed program, the "Virtual Summer School: Islam in Malaysia", which will take place online from 11th to 26th September 2023.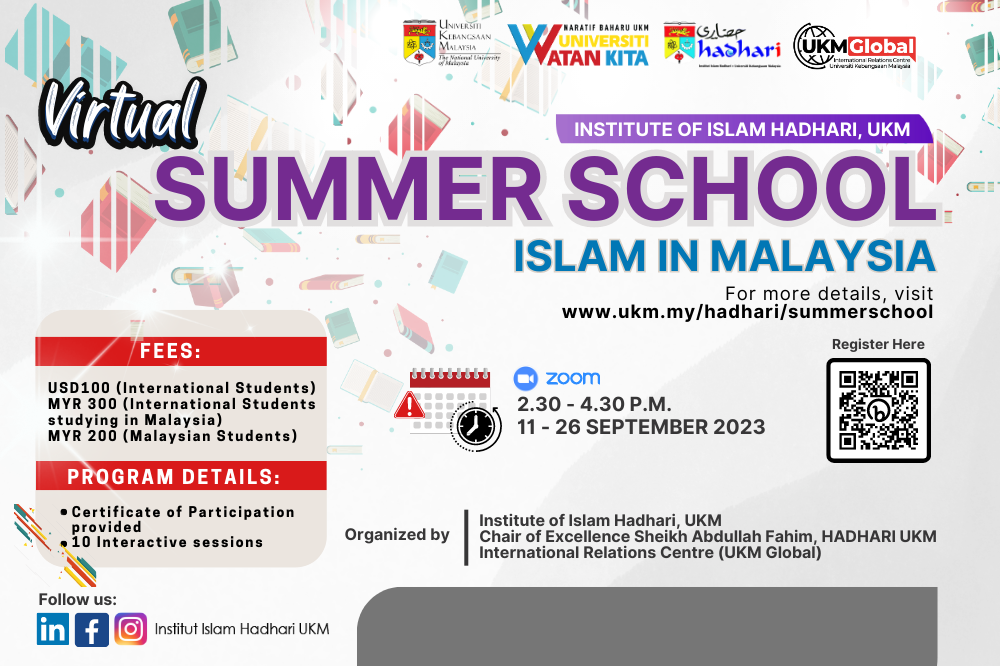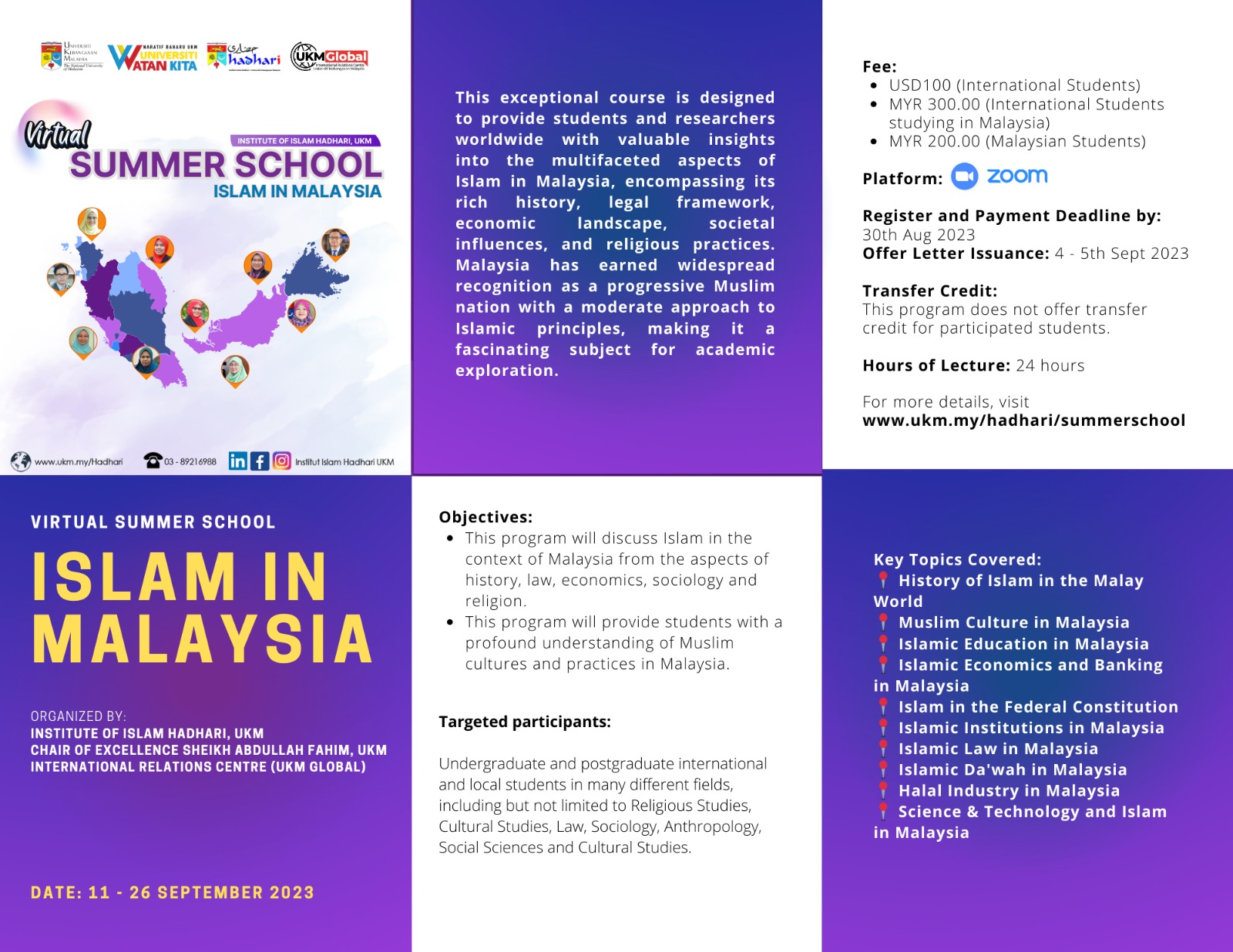 This exceptional course is designed to provide students and researchers worldwide with valuable insights into the multifaceted aspects of Islam in Malaysia, encompassing its rich history, legal framework, economic landscape, societal influences, and religious practices. Malaysia has earned widespread recognition as a progressive Muslim nation with a moderate approach to Islamic principles, making it a fascinating subject for academic exploration.
Key Topics Covered:
History of Islam in the Malay World
Muslim Culture in Malaysia
Islamic Education in Malaysia
Islamic Economics and Banking in Malaysia
Islam in the Federal Constitution
Islamic Institutions in Malaysia
Islamic Law in Malaysia
Islamic Da'wah in Malaysia
Halal Industry in Malaysia
Science & Technology and Islam in Malaysia
For further information, kindly visit our website at: https://www.ukm.my/hadhari/summer-school-2023/. To secure your spot, please register through the following link: https://bit.ly/RegVSSP2023.
If you have any inquiries or require assistance, feel free to reach out to us at farahayuni@ukm.edu.my.
Join us for an enlightening and transformative experience as we embark on this virtual journey together!
TENTH PHILIPPINES I TRANSFORM! YOUTH LEADERS CONVENTION (PITYLC)
We are pleased to invite you and your organization to the Tenth Philippines I Transform! Young Leaders Convention (PITYLC) on 17 to 22 August 2023 at the Teacher's Camp, Baguio City with the theme, "A Decade of Action: Championing Sustainable Communities" The PITYLC galvanizes action among young leaders and their partners to help solve development challenges in their communities with the SDGs as framework.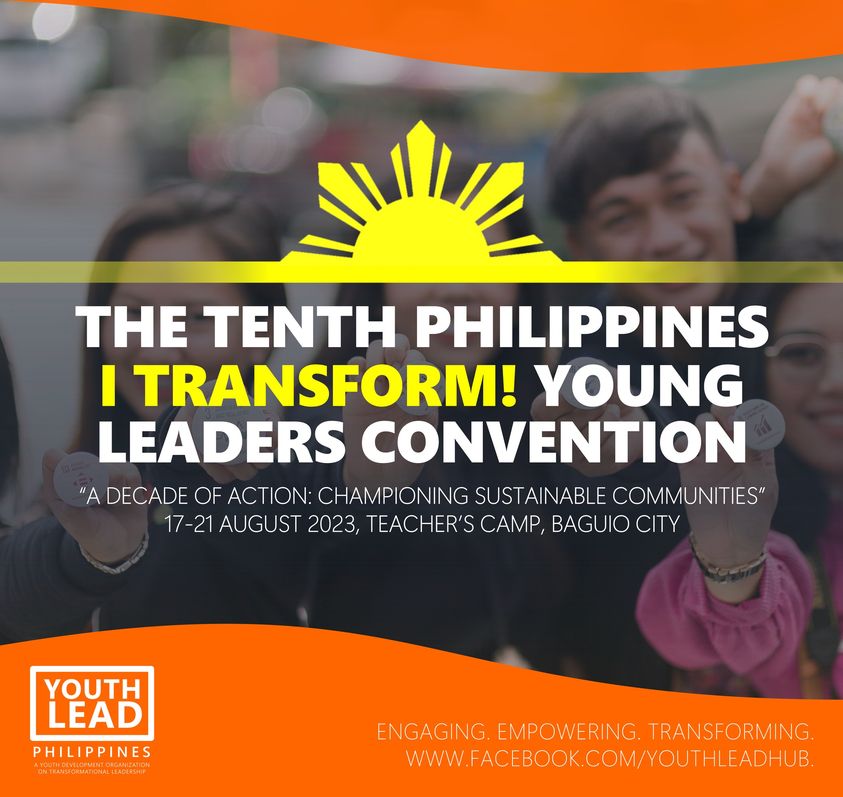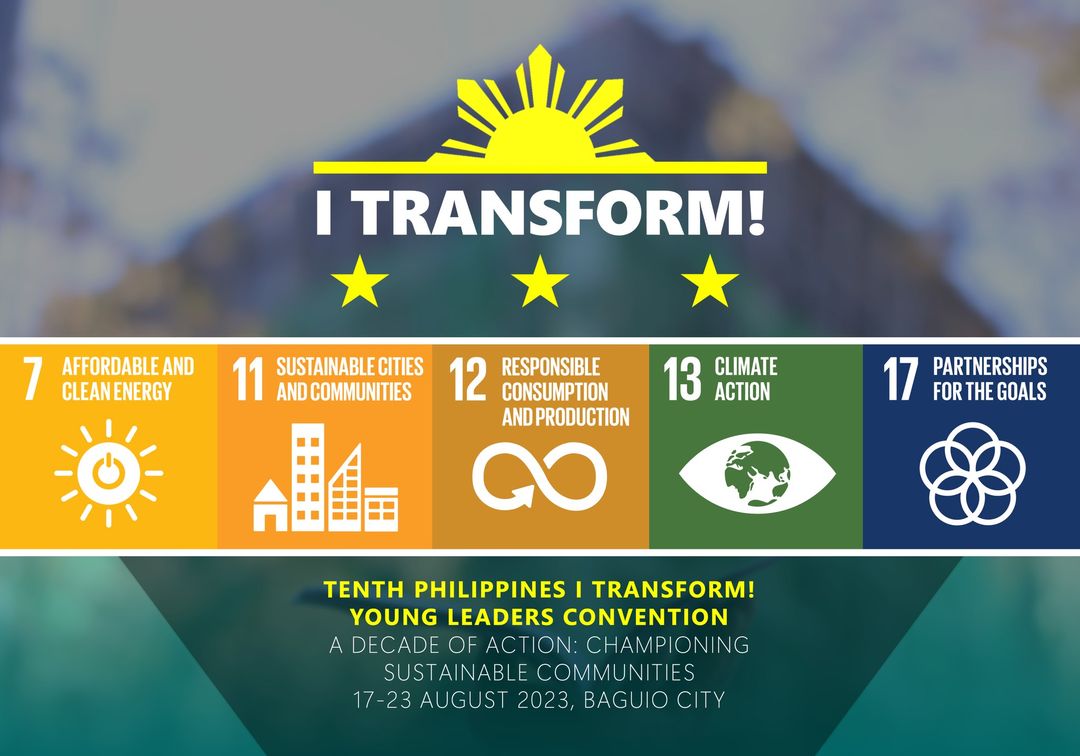 The PITYLC is organized by Youthlead Philippines (YLP) Inc, a non-profit, non-stock, and non-partisan youth development organization that advocates and upholds Transformational Leadership; with the traditional support of the National Anti-Poverty Commission Youth and Students Sectoral Council and the Department of Interior and Local Government.
You may check the latest updates and information on the YLP FB Page (www.facebook.com/youthleadhub). You may also contact the Secretariat at 0906-064-1696 (Globe), 0948-765-3661 (TNT), and (038) 417-3551 (landline), or email us at info@youthleadphil.com.
We look forward to making transformations happen with you!
YOUTH CRAFT FOR ASEAN 2023
SUKASENI Association Kuala Lumpur will organize this year's Youth Craft for ASEAN (YOCA) 2023 which has a high impact on the youth community. The program will be held in Kuching Sarawak, Malaysia, on the 4th – 7th of October 2023.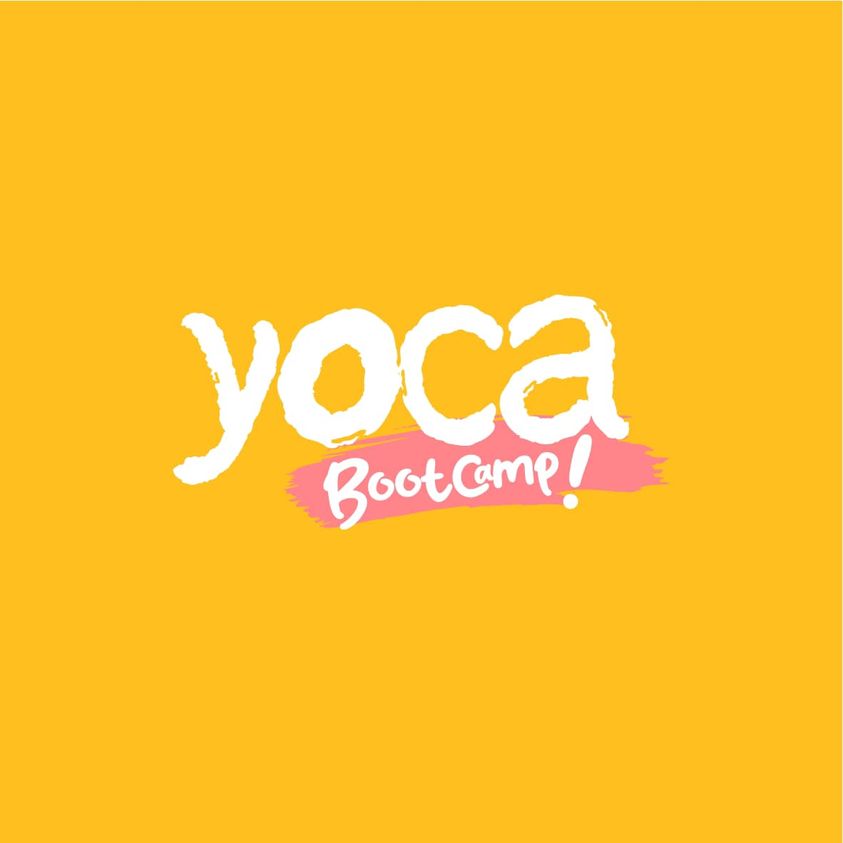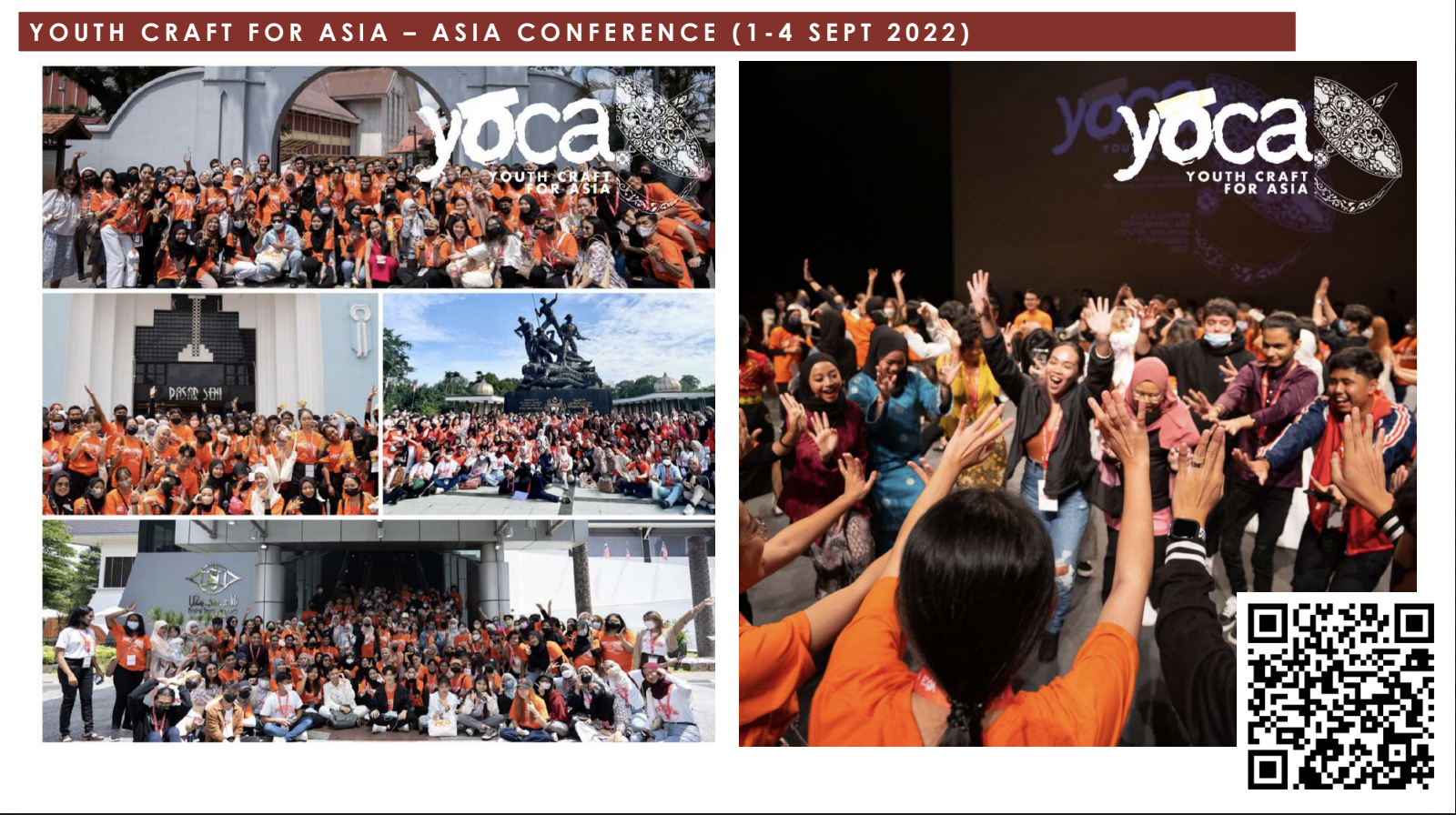 The four-day program aims to build a national identity by preserving and conserving the culture, heritage, and traditional crafts and arts through intensive workshops that apply digitalization and modernization approaches. This program also features a fully educational approach in the form of a workshop/ boot camp concept which provides emphasis on hands-on sessions.
Below are the details of the event:
Date of the Program: 4th – 7th October 2023
Date of Arrival: 3rd October 2023
Date of Departure: 8th October 2023
Venue: University Malaysia (UNIMAS), Kuching Sarawak, Malaysia
Please be informed that there will be no fees involved upon delegate participation. It is solely by invitation.
You may access the event's itinerary here. The Delegates Form may be accessed through this link.
For inquiries, please contact Ms. Nisha Azureen at nisha@sukaseni.org or visit SUKASENI's Facebook page <https://www.facebook.com/Sukasenimy> to keep up with the latest updates. You may also know more about SUKASENI by accessing this link.
Your attention and support are greatly appreciated and are preceded by a million words of thanks!
---