Eugene Solla
February 5, 2023
Hello there! The UP Diliman Office of the Vice Chancellor for Student Affairs' #OpportunitiesCorner is an update on available scholarships, exchange programs, conferences, workshops, and other skill-enhancing initiatives for UP Diliman students. Here's for the first week of February 2023!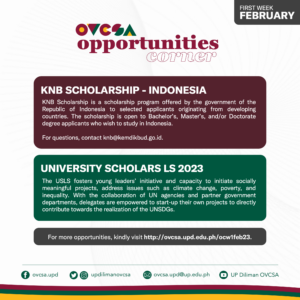 Beasiswa Kemitraan Negara Berkembang (KNB) Scholarship Program, Indonesia
The Commission on Higher Education is pleased to invite interested parties to the Beasiswa Kemitraan Negara Berkembang (KNB) Scholarship Program offered by the Ministry of Education, Culture, Research, and Technology, Indonesia.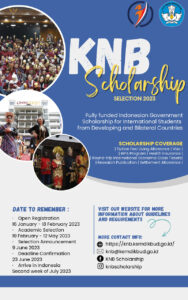 KNB Scholarship is a scholarship program offered by the government of the Republic of Indonesia to selected applicants originating from developing countries. The scholarship is open to Bachelor's, Master's, and/or Doctorate degree applicants who wish to study in Indonesia.
Additional details may be found here. Should there be queries and concerns, the Ministry of Education, Culture, Research and Technology of the Republic of Indonesia may be reached through email address knb@kemdikbud.go.id.
University Scholars Leadership Symposium 2023
The USLS is Humanitarian Affairs Asia's signature program which fosters young leaders' initiative and capacity to initiate socially meaningful projects, address issues such as climate change, poverty, and inequality. With the collaboration of UN agencies and partner government departments, delegates are empowered to start-up their own projects to directly contribute towards the realization of the UNSDGs.
Approximately 1,200 emerging world leaders from over 100 United Nations Member States are expected to participate in this youth leadership event, which focuses on developing leaders to bring about social change. In previous editions, the following strategic and knowledge partners showcased their work at the USLS: UNICEF, WFP, UN Women, UNESCO, UNHCR, UNDP, UNAIDS, UNEP, UN-HABITAT, and UNFPA.
Visit this website for more information about the program, speakers and registration fee. Click here to watch the short video documentation of the 10th USLS 2019 – Kuala Lumpur, Malaysia.
---