Eugene Solla
January 9, 2023
Hello there! The UP Diliman Office of the Vice Chancellor for Student Affairs' #OpportunitiesCorner is an update on available scholarships, exchange programs, conferences, workshops, and other skill-enhancing initiatives for UP Diliman students. Here's for the first week of January 2023!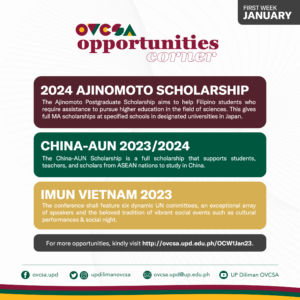 2024 AJINOMOTO FOUNDATION POSTGRADUATE SCHOLARSHIP GRANT
The Ajinomoto Postgraduate Scholarship Grants aims to help deserving Filipino students who require financial assistance to pursue higher education in the field of sciences. This gives a full scholarship in a master's course at specified graduate schools in designated universities in Japan namely University of Tokyo, Kyoto University, Nagoya University, Tokyo Institute of Technology, Ochanomizu University, Waseda University and Kagawa Nutrition University.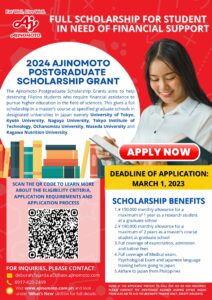 SCHOLARSHIP ELIGIBILITY
Aspiring applicants to the Ajinomoto Postgraduate Scholarship Grant must meet the following qualifications:
Must be a Filipino Citizen

Must have graduated or be expected to graduate with an excellent academic record (with over 15 years of education completed or expected to be completed) and must receive the recommendation of his/her University President or Academic Advisor or be otherwise qualified to enrol in the university
Must be under the age of 35 years old on April 1, 2023.
Must file an application and attend selection procedures in the Philippines
Must be in good physical and mental health
Must have excellence in personality, in academic (within top 5% of the class or with GPA of 3.7 or higher) and have a strong motivation for learning.
Must not be receiving other scholarships
Must show financial need to pursue higher education.
Must have a strong sense of nationalism, leadership and motivation
Upon conferment of the scholarship, the applicant must be able to:

Obtain approval of acceptance as either a Postgraduate International Research Student (hereinafter " Research Student") or a Graduate School Student (Master's course) (hereinafter "Master's Course Student) from the University and be registered as a Research Student or a Master's Course Student for April 2024 or October 2024

Must acquire adequate Japanese language proficiency that is required in order to research and study in master's course, when enrolling as a Master's course student

Must pass the Medical and Psychological Exam

Must be able to obtain Passport and Student's Visa to Japan
SCHOLARSHIP BENEFITS
¥ 150,000 monthly allowance for a maximum of 1 year as a research student at a graduate school

¥ 180,000 monthly allowance for a maximum of 2 years as a master's course student at graduate school

Full coverage of examination, admission and tuition fees

Full coverage of Medical exam, Psychological Exam and Japanese language training before going to Japan

Airfare to Japan from Philippines
SCHOLARSHIP GRANT DURATION
If the recipient enrols as a research student, scholarship will be provided for a maximum of 3 years (1 year as a research student and maximum 2 years as a master's course student). The scholarship will be suspended if the recipient fails to pass the entrance exam for a master's course within a year after arriving in Japan.

For Waseda University, in principle, scholarships will be provided for 2 years studying as a Master's Course Student.
NUMBER OF STUDENTS TO BE ACCEPTED: One (1) student from each of the six (6) countries: Thailand, Indonesia, Malaysia, Philippines, Vietnam and Russia
APPLICATION DETAILS OF THE UNIVERSITIES: See Appendix 1_Application Details For Graduate Schools
DEADLINE OF APPLICATION: MARCH 1, 2023
SELECTION PROCESS AND SCHEDULE
1st Screening- Application Documents Screening: March 6, 2023
2nd Screening- Online Panel Interview: April 10, 2023 (Interview will be done in English)

Notification of results: June 2023
China-AUN Scholarship 2023/2024
The AUN Secretariat is pleased to inform you that China-AUN Scholarship 2023/2024 is now open for application. The Chinese Government Scholarship-AUN Programme (China-AUN Scholarship) is a full scholarship established by the Ministry of Education of the People's Republic of China for the ASEAN University Network (AUN) to support students, teachers, and scholars from ASEAN nations to study in China and to enhance the academic exchange and mutual understanding between China and ASEAN countries. There are 30 scholarships offered annually and the scholarship only supports graduates (Master's and Doctoral programmes).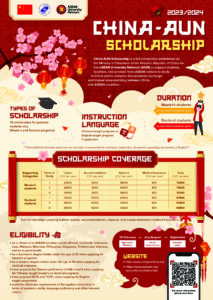 NOTE: After completing the online application procedure at CGS Information Management System (http://www.campuschina.org), please submit all softcopy documents through the online registration link by 12 February 2023.
Online Registration Link: https://forms.gle/4Y6yBi7roAPTrsr79
For more details, please click here.
Contact: aun.chinascholarship@gmail.com CC:aun.suchanaadd@gmail.com
IMUN Vietnam 2023
The IMUN Vietnam 2023 conference in Hanoi will be held from 11th-13th March 2023. In collaboration with the British University Vietnam, one of the most prestigious universities in Vietnam, the conference shall feature six dynamic UN committees, an exceptional array of speakers and the beloved tradition of vibrant social events such as cultural performances & social night.
International MUN has been working for the last 6 years & has hosted IMUN offline conferences in Thailand, Vietnam, Egypt, China, Malaysia, Indonesia & in the Philippines. Also, more than 100,000 participants from over 80 countries have participated in IMUN Online Conferences since 2020, making IMUN one of the biggest youth organisations in the world.
An exclusive discount is offered on group registrations fee, free of cost participation for one accompanying teacher, exclusive training & study materials for the participants, easy registration process etc. This is a unique opportunity to play a part in inspiring the next generation of responsible leaders!
Know more about the program here.
---