Eugene Solla
July 11, 2021
Hello there! The UP Diliman Office of the Vice Chancellor for Student Affairs' #OpportunitiesCorner is a weekly update on available scholarships, exchange programs, conferences, workshops, and other skill-enhancing initiatives for UP Diliman students. Here's for the end of June 2021!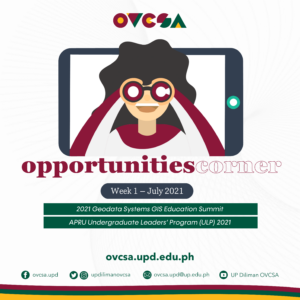 APRU Undergraduate Leaders' Program (ULP) 2021
ULP 2021 will immerse youth leaders to the challenges of a developing country in the Asia-Pacific through a 12-day program of virtual lectures and workshops with proactive and interactive sessions on creativity, innovation, and empowerment together with local and international experts from the fields of Science and the Arts.
By joining the ULP 2021, youth leaders will gain a multifaceted perspective on achieving Sustainable Development Goals (SDGs) in the Asia-Pacific region and be equipped with necessary knowledge and skills on production of video blog or vlog and critical digital literacy which aims to develop active and engaged thinkers and creators in digital environments.
As an output for the program, youth leaders are expected to propose solutions to these emerging challenges by producing their own video blog or vlog.
Participants will also have the chance to meet exemplary leaders in their respective fields such as in good governance, environment and climate change, biofortification, and  agriculture, among others.
Eligibility
To ensure the academic and experiential quality of the program, the participation of ULP 2021 will be capped at 64 students. Each APRU member university may nominate up to five (5) students for the ULP. Live Streaming options for the program will be available for observers and the public.
Application Process 
Applicants should download and complete the application form and submit it to the assigned coordinator of their university for the APRU ULP 2021.
Member universities should endorse the application form/s and send it via email to oil@up.edu.ph with the subject "Nominations for APRU ULP 2021 – (Name of University)".
The selection committee will evaluate the received application forms. Participating universities will be notified of the nomination results via email.
Program fee
USD 100 (includes program materials and resources). The University of the Philippines welcomes any sponsorship from the APRU member universities for their students to participate in the program.
Key Dates
To the youth leaders, do you aspire to be the Sahaya in the future? Mark your calendars by June 30,2021 to register and get ready to embark on a mission to harness the youth's advocacies with Science and the Arts towards the greater good.
Here are also some important dates to remember:
Deadline of nominations: August 31, 2021
Release of nomination results: September 15, 2021
Deadline of payment: September 30, 2021
Actual program date: October 18 – 29, 2021
Interested participants are encouraged to bookmark and go back to this page for any updates and announcements.
For further inquiries related to ULP 2021, please contact Dr. Imee Su Martinez at oil@up.edu.ph.
2021 Geodata Systems GIS Education Summit
The 2021 Geodata Systems GIS Education Summit is coming this July. Registration is now open!
---