Eugene Solla
June 5, 2022
Hello there! The UP Diliman Office of the Vice Chancellor for Student Affairs' #OpportunitiesCorner is an update on available scholarships, exchange programs, conferences, workshops, and other skill-enhancing initiatives for UP Diliman students. Here's for the first week of June 2022!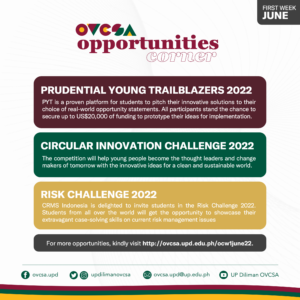 The Prudential Young Trailblazers – Global University Edition 2022 (PYT 2022)
PACS is organising the 4th edition of our flagship Innovation & Entrepreneurship competition for tertiary students, The Prudential Young Trailblazers. For the first time ever, the PACS is excited to extend this competition to universities from around the world with The Prudential Young Trailblazers – Global University Edition 2022 (PYT 2022)!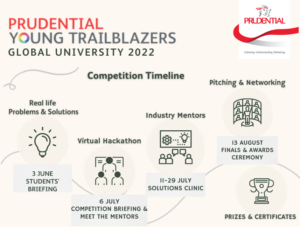 PYT is a proven platform for students in teams of 2 to 5 pax, to pitch their innovative solutions to their choice of real-world opportunity statements. All participants stand the chance to secure up to US$20,000 of funding from Prudential to prototype their ideas for real-world implementation. By participating in PYT, students gain greater business exposure and network with like-minded innovators, receive mentorship from Prudential leaders and experts, and gain access to internship & career opportunities in Prudential. The winning teams also stand to win up to US$800 each in cash!
Call for Application: Circular Innovation Challenge 2022
The Commission on Higher Education is pleased to inform interested parties of the call for applications to the Circular Innovation Challenge 2022.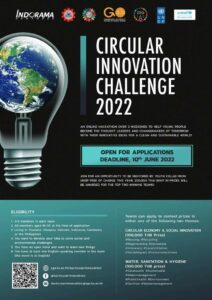 The competition will be an online hackathon over 3 weekends to help young people become the thought leaders and change makers of tomorrow with the innovative ideas for a clean and sustainable world.
Applications are open until 10 June 2022. Interested participants from Thailand, Malaysia, Vietnam, Indonesia, Cambodia, and the Philippines are encouraged to apply. Teams must be composed of 3-5 members and are between ages 16-30. Registration form may be accessed through the link https://forms.gle/uiCbwJ1t4VwQJBX67 and more details may be found in the email forwarded below.
Risk Challenge 2022
CRMS Indonesia is delighted to invite students from UP Diliman to participate in the Risk Challenge 2022, a prestigious event where undergraduate students from all over the world will get the opportunity to showcase their extravagant case-solving skills on current risk management issues in front of the high-level global business leaders and academicians as judges.
In 2021, the competition was participated by various well-known universities, such as Nanyang Technological University, National University of Singapore, and University of Indonesia.
Make sure to register before 8 June 2022, and grab the chance of winning a total grand prize worth of US$ 3,000. For further information, please go to theriskchallenge.com.
---