Hello there! The UP Diliman Office of the Vice Chancellor for Student Affairs' #OpportunitiesCorner is an update on available scholarships, exchange programs, conferences, workshops, and other skill-enhancing initiatives for UP Diliman students. Here's for the first week of May 2022!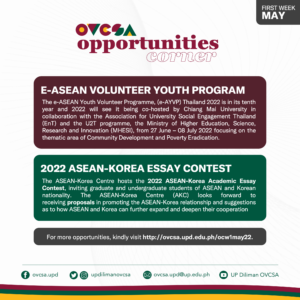 e-ASEAN Youth Volunteer Programme
The e-ASEAN Youth Volunteer Programme, (e-AYVP) Thailand 2022 is in its tenth year and 2022 will see it being co-hosted by Chiang Mai University in collaboration with the Association for University Social Engagement Thailand (EnT) and the U2T programme, the Ministry of Higher Education, Science, Research and Innovation (MHESI), from 27 June – 08 July 2022 focusing on the thematic area of Community Development and Poverty Eradication. This programme was developed by Universiti Kebangsaan Malaysia (The National University of Malaysia – UKM), under the auspices of the Ministry of Youth and Sports Malaysia (KBS), with the support of the ASEAN Secretariat.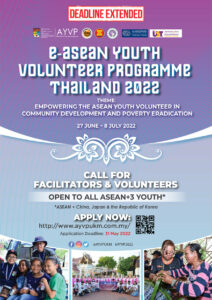 The closing date of application for Facilitators and Volunteers is 31 May 2022, 2359H GMT+8. For more information regarding the programme, please visit the AYVP Facebook page at www.facebook.com/AYVPUKM or the website at www.ayvpukm.com.my.
2022 ASEAN-Korea Academic Essay Contest
In collaboration with the Korea University ASEAN Center (KUAC) and Royal University of Law and Economics (RULE), the ASEAN-Korea Centre hosts the 2022 ASEAN-Korea Academic Essay Contest, inviting graduate and undergraduate students of ASEAN and Korean nationality.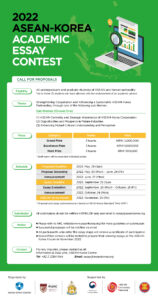 The ASEAN-Korea Centre (AKC) looks forward to receiving proposals in promoting the ASEAN-Korea relationship and suggestions as to how ASEAN and Korea can further expand and deepen their cooperation towards a more sustainable ASEAN-Korea partnership. You may refer to attachments for more details and requirements.
①      AKC Call for Proposals
②      AKC Proposal Guidelines
③      AKC Application & Consent Form
④      AKC Academic Recommendation
In this regard, to better support participants' understanding on the Contest, the Centre avails the zoom session on April 30, at 12:30 (KST). Throughout the session, program officer in charge will provide an overview of the Contest and have a live Q&A. Pre-registration is available here (https://forms.gle/LNwvyRmsbW8pvY3v7).
Notice
Ÿ   Call for proposals is only for proposal submission. Selected proposals will be notified via email on June 27, 2022.
Ÿ   Only selected proposals will proceed to the essay stage.
Ÿ   All participants who enter the essay stage will receive a certificate of participation.
Ÿ   For any inquiries, please contact us at Information and Data Unit, Tel: +82 2 2284-1144 or Email: essay@aseankorea.org
---