ovcsa_user
November 10, 2023
Hello there! The UP Diliman Office of the Vice Chancellor for Student Affairs' #OpportunitiesCorner is an update on available scholarships, exchange programs, conferences, workshops, and other skill-enhancing initiatives for UP Diliman students. Here's for the 1st week of November 2023: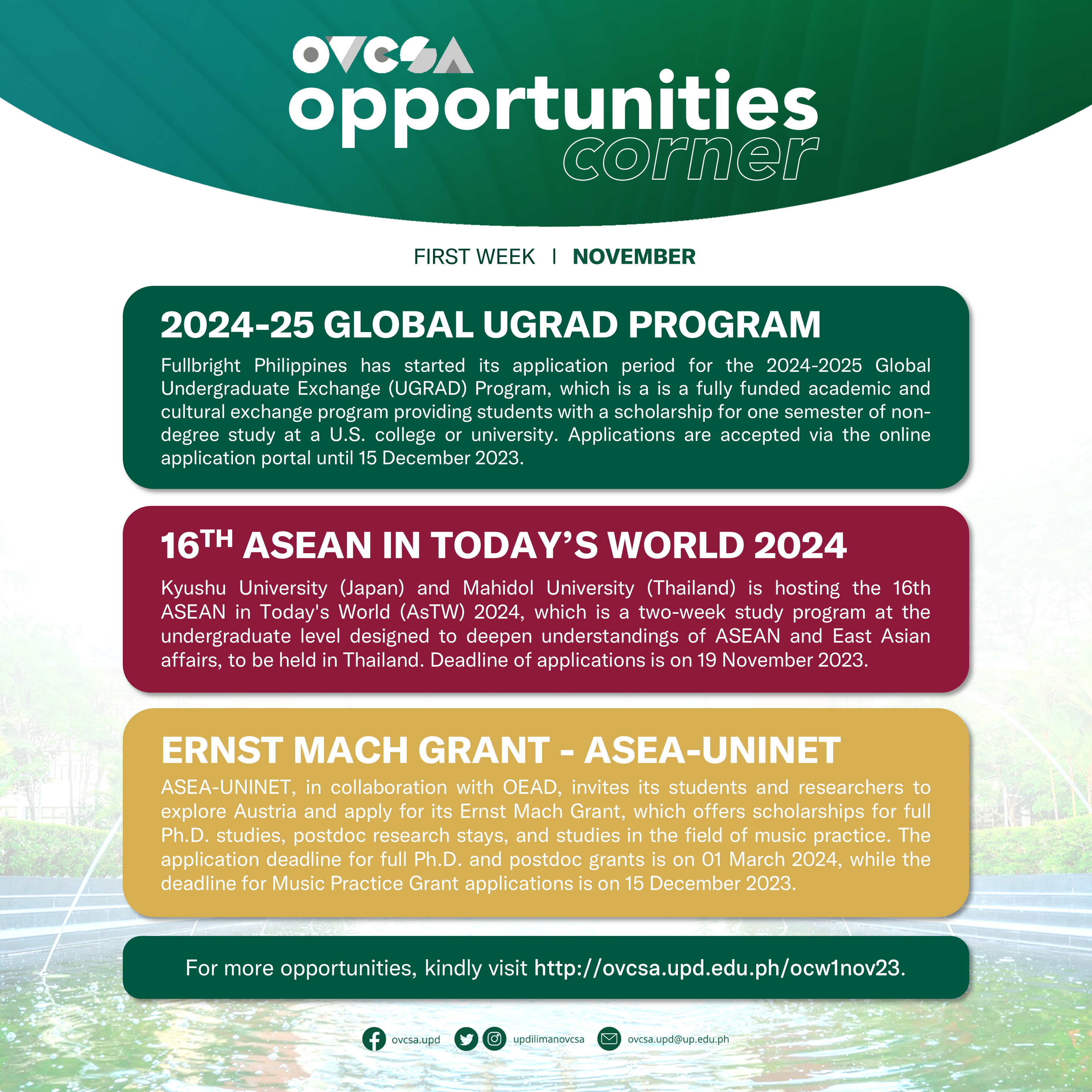 2024 – 2025 GLOBAL UNDERGRADUATE EXCHANGE (UGRAD) PROGRAM
The Global Undergraduate Exchange Program (Global UGRAD) provides a diverse group of emerging student leaders with a scholarship for one semester of non-degree academic study at a U.S. college or university. The program is sponsored by the U.S. Department of State's Bureau of Educational and Cultural Affairs, and aims to recruit participants from underrepresented, non-elite backgrounds, who have not had other opportunities to study in the United States. Successful applicants can expect an in-depth exposure to U.S. society, culture, and academic institutions, as well as opportunities to enhance their professional skills.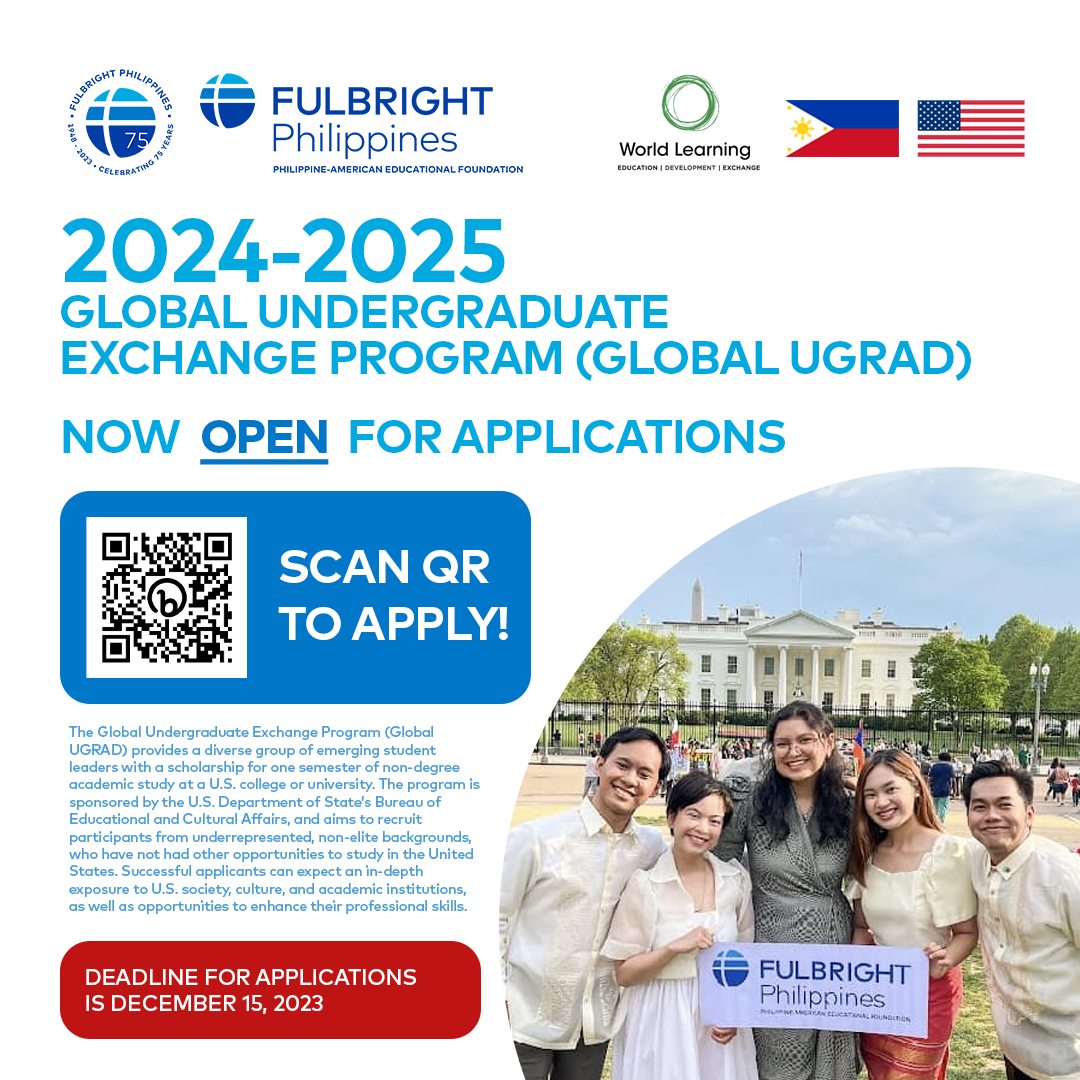 All participants will be enrolled in full-time, non-degree, undergraduate course work chosen from their host institution's existing curriculum. Participants will be required to take one, 3-credit U.S. studies course to enhance their understanding of the United States. Participants will live in campus housing facilities with American peers, and will be required to participate in 20 hours of community service. There will also be a virtual arrival orientation and an in-person end-of-program workshop.
Eligibility Requirements:
The Global UGRAD Program is open to anyone who is/has:
Over 18 years of age;
A citizen of the Philippines, currently residing in the country;
Completed at least one semester of undergraduate study prior to applying for the Global UGRAD Program;
Enrolled as an undergraduate in good standing at any accredited university, public or private, and has at least one year remaining at their home university at the conclusion of the UGRAD program;
Not tagged as a "graduating student" of his/her university. The Global UGRAD program cannot be the final academic year of a student's undergraduate study;
A solid command of written and spoken English (English Language training for some finalists is possible);
Able to begin studies in the United States in August or January (selected participants may not defer to a later date);
Eligible to receive and maintain the U.S. student exchange visa (J-1) required for the program;
Committed to return to their home country after the completion of the program.
Note: Individuals holding dual citizenship, are permanent residents of the U.S., and/or are presently studying in the U.S. are NOT eligible.
Required Documents:
A complete application consists of the following:
Completed application form available through the online application portal, https://ow.ly/Fhrf50Q28tn
Personal statement and responses to essay questions (part of the online application)
Copy of biographic & signature pages of your passport, if available
Official transcripts for years of university study (with English translations); please provide grade equivalences used by your university
Two (2) letters of recommendation from teachers/professors: first, second
TOEFL (Test of English as a Foreign Language) score report, if available
Access the online application portal via: https://smpl.is/82icq
The online application portal will accept applications until December 15, 2023.
#GlobalUGRADPH #GlobalUGRAD #ExchangeOurWorld #ExchangesMatter #FulbrightPH
ASEAN IN TODAY'S WORLD (AsTW) 2024
Kyushu University (Japan) and Mahidol University (Thailand) will host the 16th ASEAN in Today's World (AsTW) 2024, a two-week study program at the undergraduate level, designed to deepen understanding of ASEAN and East Asian affairs.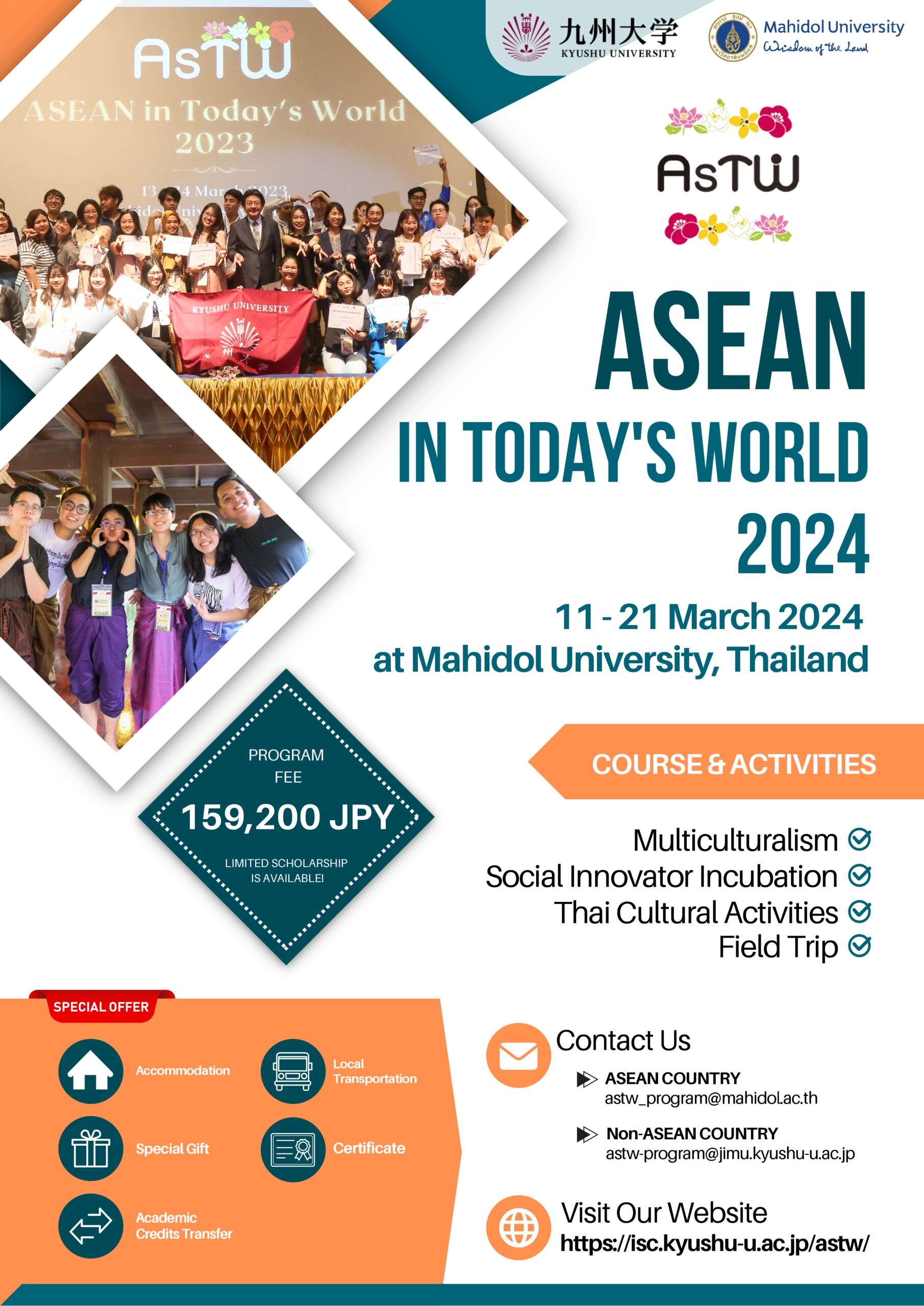 AsTW is a two-week international study program that focuses on ASEAN and East Asian affairs. It is designed for undergraduate university students from around the world. The courses are primarily instructed in English. Since 2009, Kyushu Universityhas organized the program with our partner universities in ASEAN countries, in cooperation with the ASEAN Secretariat and the ASEAN University Network (AUN).
ASEAN in Today's World (AsTW) 2024 will be held 11 – 21 March, 2024, at Mahidol University, Thailand. Kyushu University provides scholarships for selected participants mainly from ASEAN countries. The medium of instruction is English. Deadline of applications is on November 19, 2023.
For more details about AsTW 2024 courses, please visit their website: https://isc.kyushu-u.ac.jp/astw
For inquiries and submission of applications from universities in ASEAN countries, please e-mail:
Email: astw_program@mahidol.ac.th
Division of Student Affairs
Mahidol University
999 Phuttamonthon 4 Road, Salaya, Nakhon Pathom 73170 Thailand
ERNST-MACH GRANT – ASEA-UNINET
The Ernst Mach Grant – ASEA-UNINET is a scholarship program, in collaboration with OEAD, that offers various grants for students and researchers, providing them with a chance to explore Austria and further their education and research endeavors.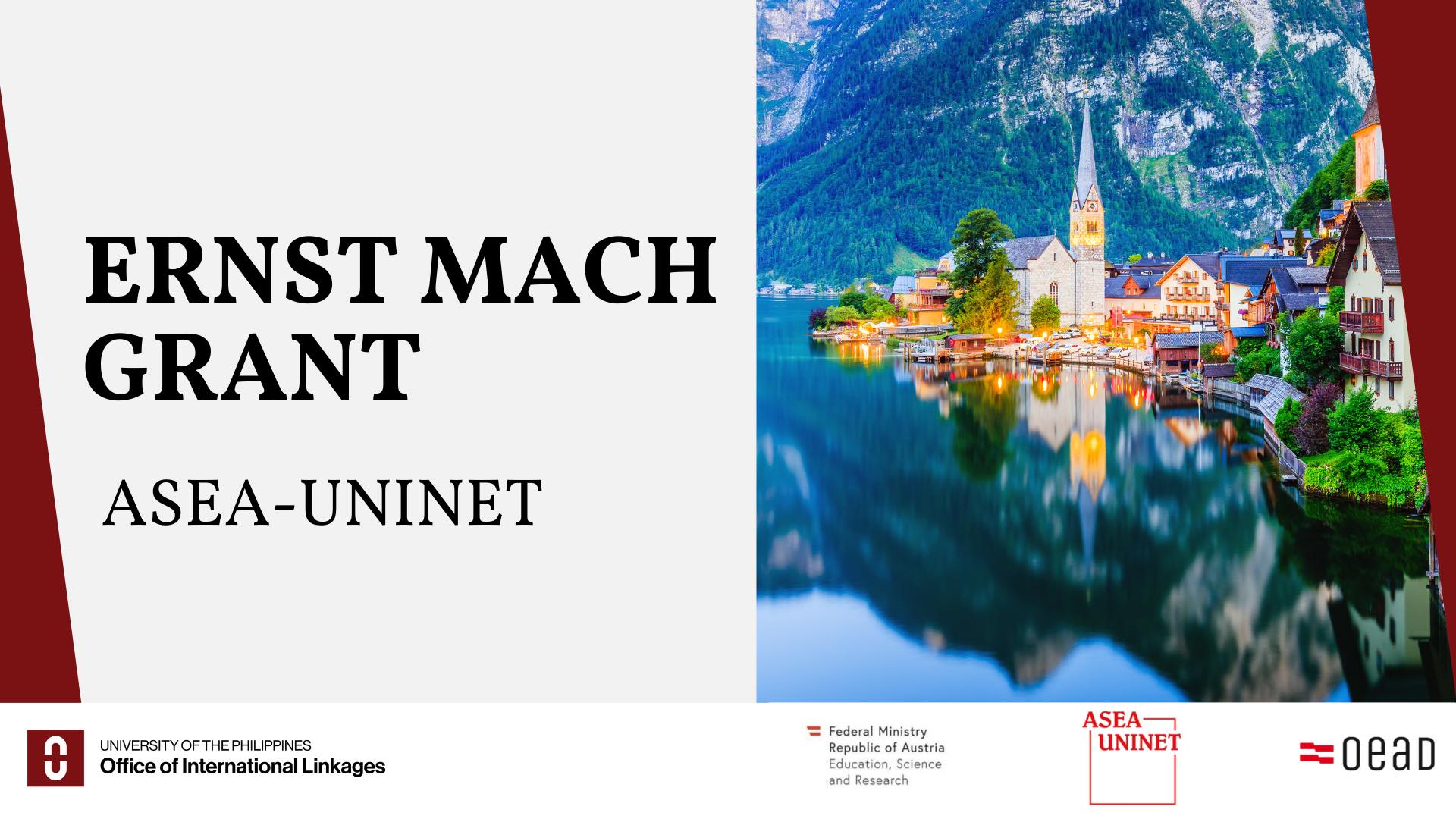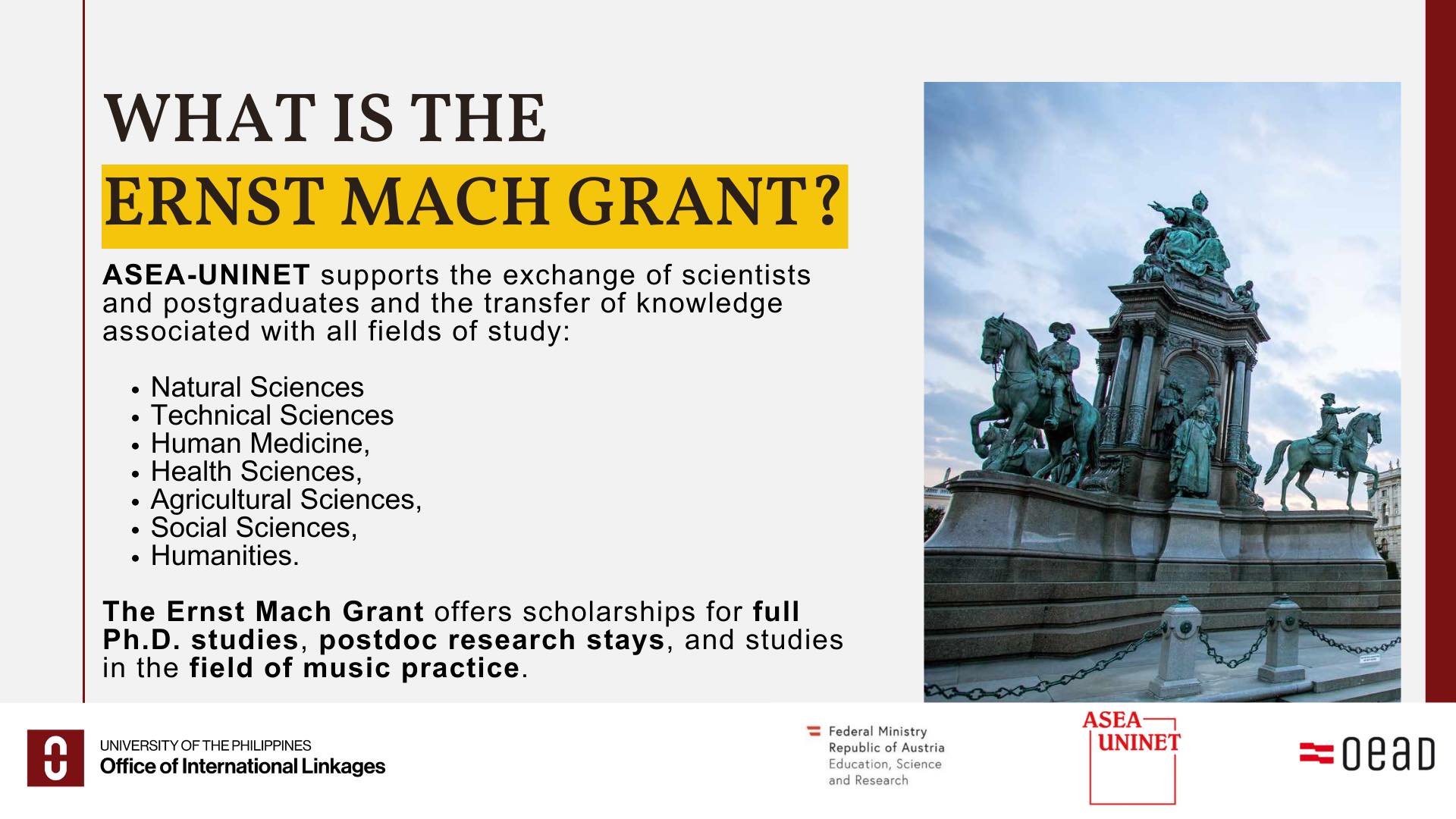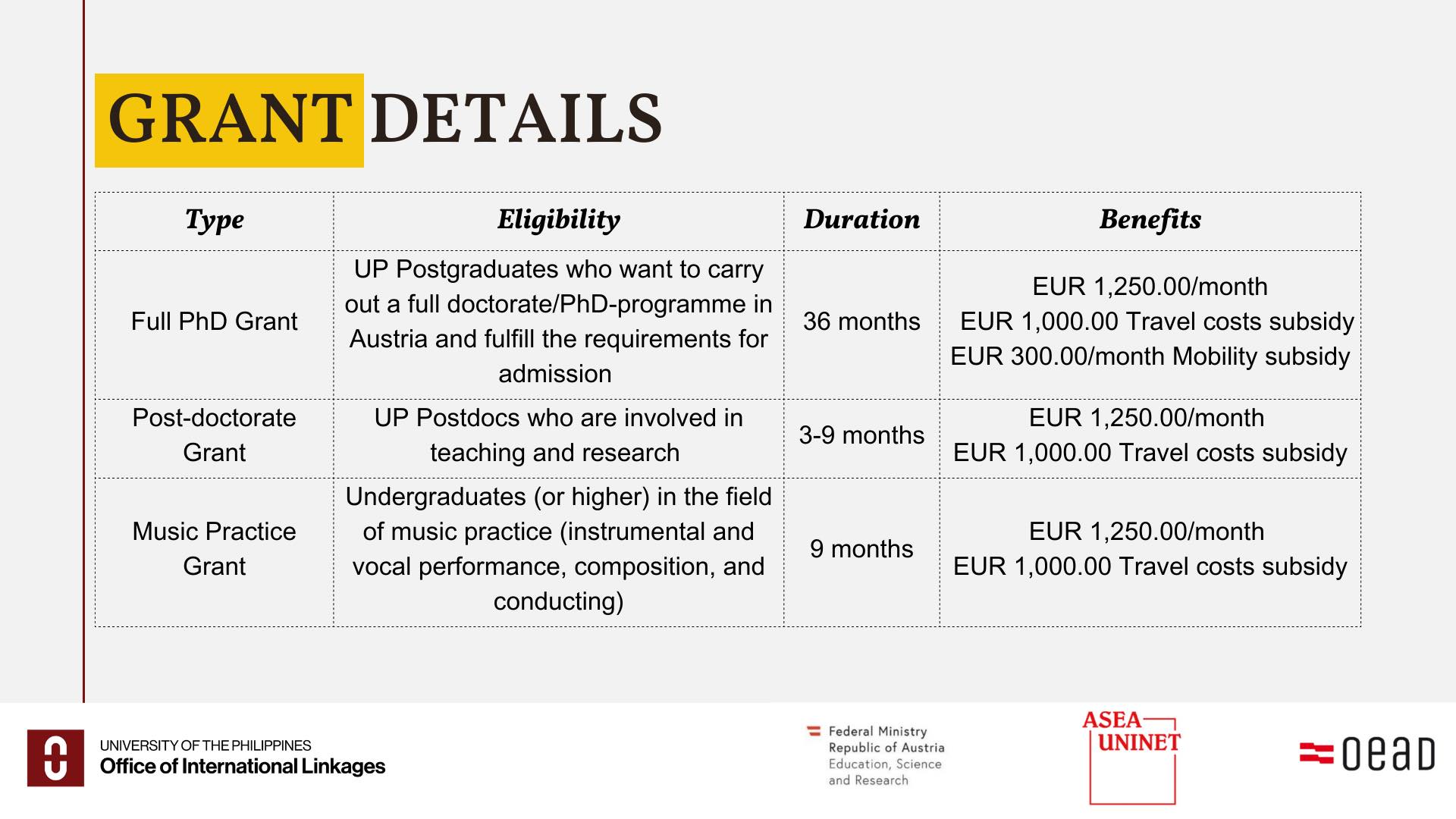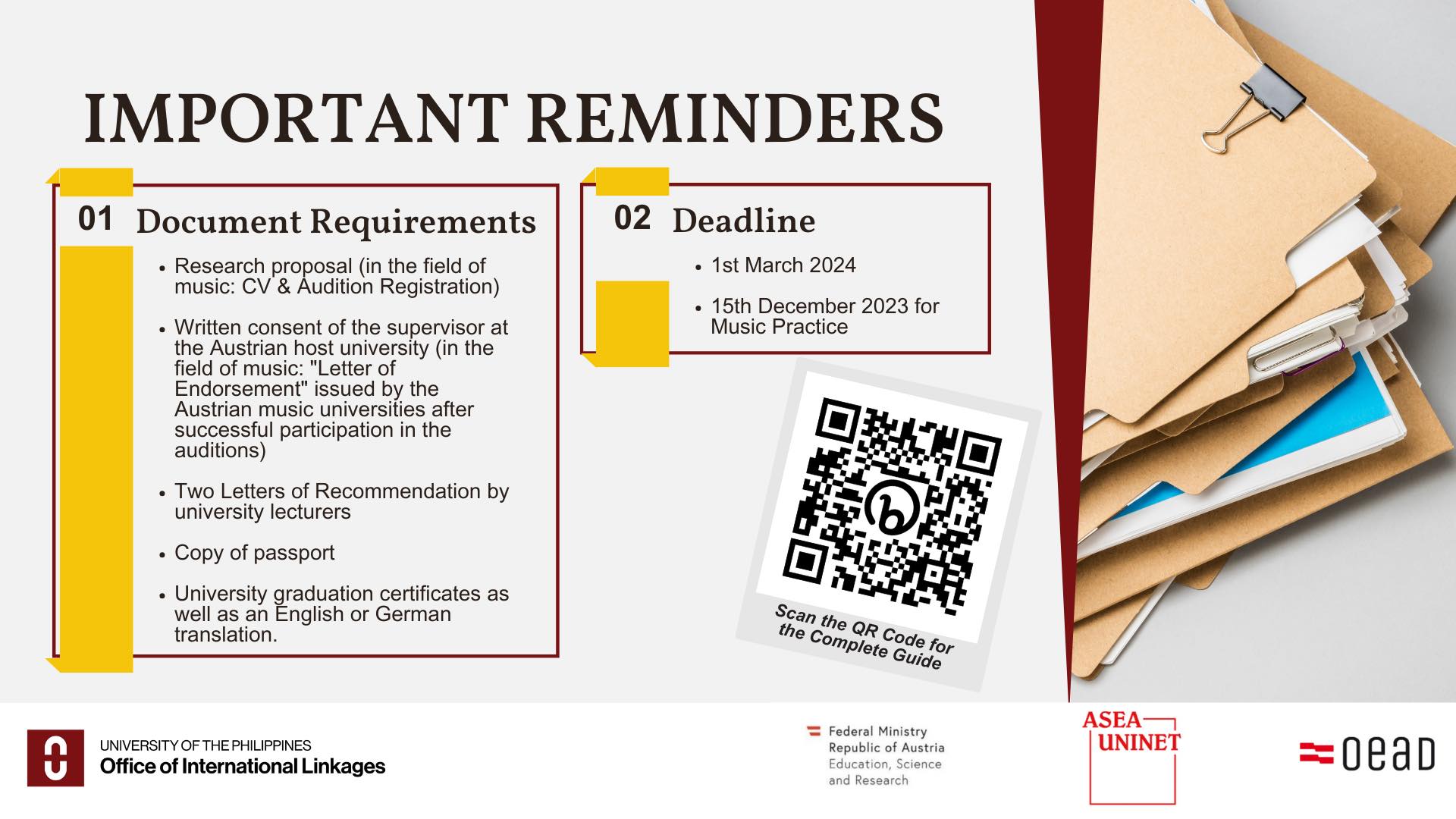 Fields of Study:
Natural Sciences, Technical Sciences, Human Medicine, Health Sciences, Agricultural Sciences, Social Sciences, and Humanities.
Application Deadline:
Full PhD and Postdoc Grants: March 1, 2024
Music Practice Grant: December 15, 2023
Apply Online:
Visit www.scholarships.at for the online application and more information. The direct link to the application tool will be available in the grant announcement.
For more information, please check the official grant announcement at www.grants.at and the FAQs at https://oead.at/…/ern…/faq-ernst-mach-grant-asea-uninet/. You may also email the UP Diliman Office of International Linkages (OIL) at oil@up.edu.ph.
---