Eugene Solla
October 9, 2022
Hello there! The UP Diliman Office of the Vice Chancellor for Student Affairs' #OpportunitiesCorner is an update on available scholarships, exchange programs, conferences, workshops, and other skill-enhancing initiatives for UP Diliman students. Here's for the first week of October 2022!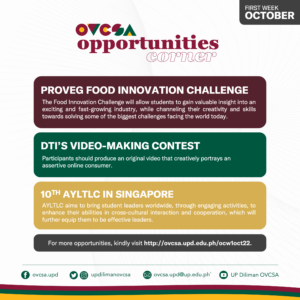 The ProVeg Food Innovation Challenge
In response to the global transition towards plant-rich sustainable living, ProVeg International launched the inaugural Food Innovation Challenge in China in 2020, with the 2021 Challenge expanded to include South-East Asia. For the 2022 edition of the competition, we have set our sights on the entire Asia-Pacific (APAC) region.
The Food Innovation Challenge will allow students to gain valuable insight into an exciting and fast-growing industry, while channeling their creativity and skills towards solving some of the biggest challenges facing the world today. We invite university students from all academic disciplines to take part in the challenge.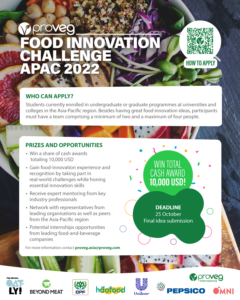 The competition will once again be held online this year in order to allow students from all over the APAC region to participate.
Click here to know more.
Assertive Consumer Be Like: Video-Making Contest
Are you a student at least 18 years old? Are you a creative who can make compelling videos? Most of all, are you an assertive consumer?
Show the DTI-Fair Trade Enforcement Bureau what you've got this Consumer Welfare Month. Submit your video entry to join the Assertive Consumer Be Like and win exciting prizes. Refer below to know more of the mechanics and to register.
You may also scan the QR Code.
Be an assertive consumer! Click here to know more.
10th Asian Youth Leaders Travel and Learning Camp
AYLTLC aims to bring student leaders worldwide, through engaging activities, to enhance their abilities in cross-cultural interaction and cooperation, which will further equip them to be effective leaders. In addition, participants will be able to understand more about Singapore – a multiracial, multilingual and multicultural society from various perspectives.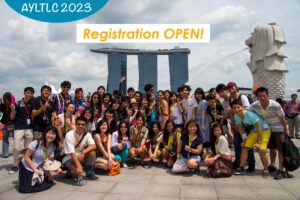 Nevertheless, what they will learn here may not only be unique to Singapore, but also applicable to their home countries as well as the increasingly interconnected and interdependent world.
Click here to know more.
---