ovcsa_user
October 5, 2023
Hello there! The UP Diliman Office of the Vice Chancellor for Student Affairs' #OpportunitiesCorner is an update on available scholarships, exchange programs, conferences, workshops, and other skill-enhancing initiatives for UP Diliman students. Here's for the 4th week of September 2023: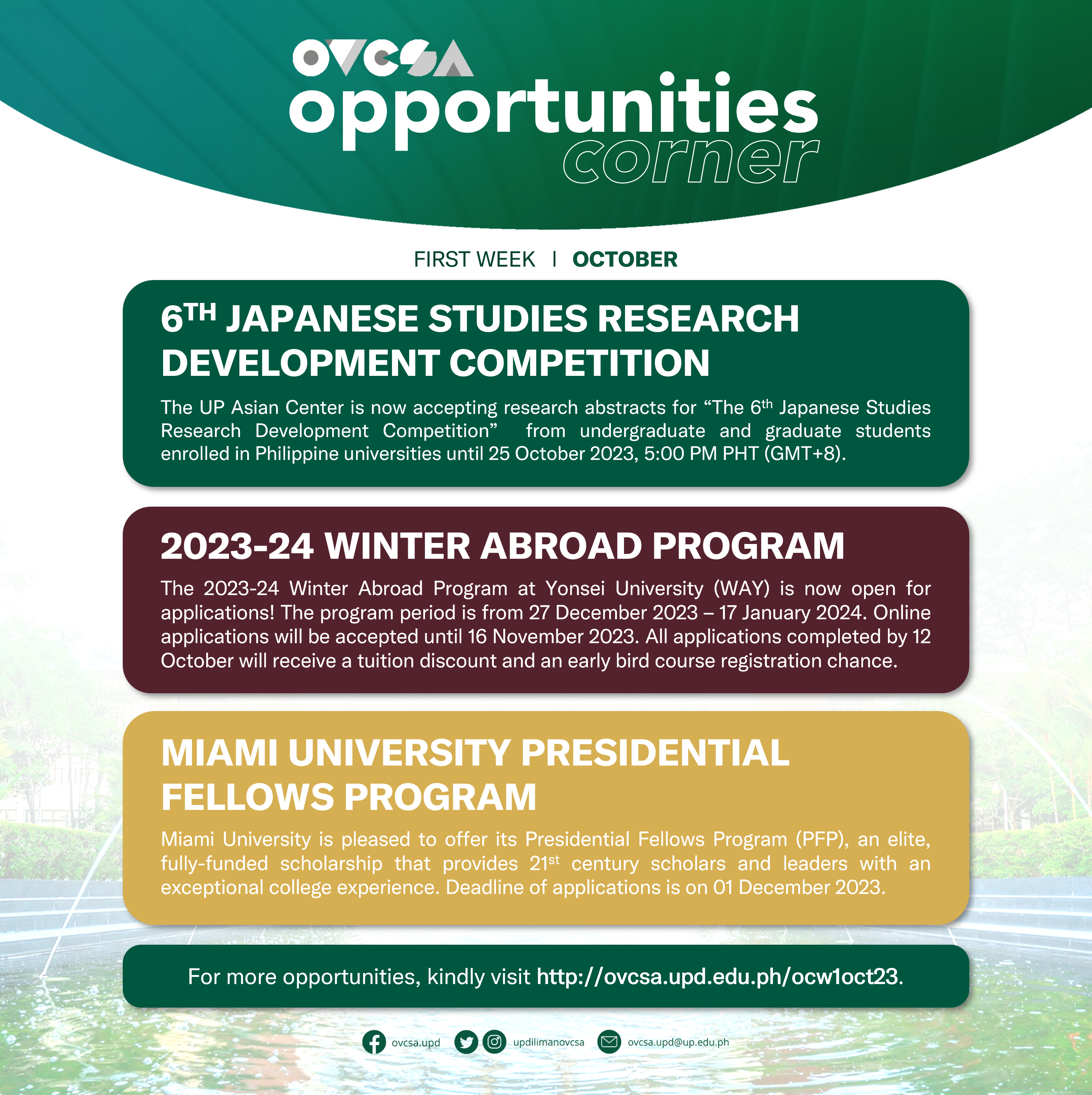 THE 6TH JAPANESE STUDIES RESEARCH DEVELOPMENT COMPETITION
The UP Asian Center is now accepting abstract submissions for the "Japanese Studies in the Philippines Research Development Competition: Year 6." Undergraduate and graduate students currently enrolled in Philippine Universities may submit any topic related to Japanese Studies can be submitted (except topics that focus solely on natural sciences, medical sciences, and engineering).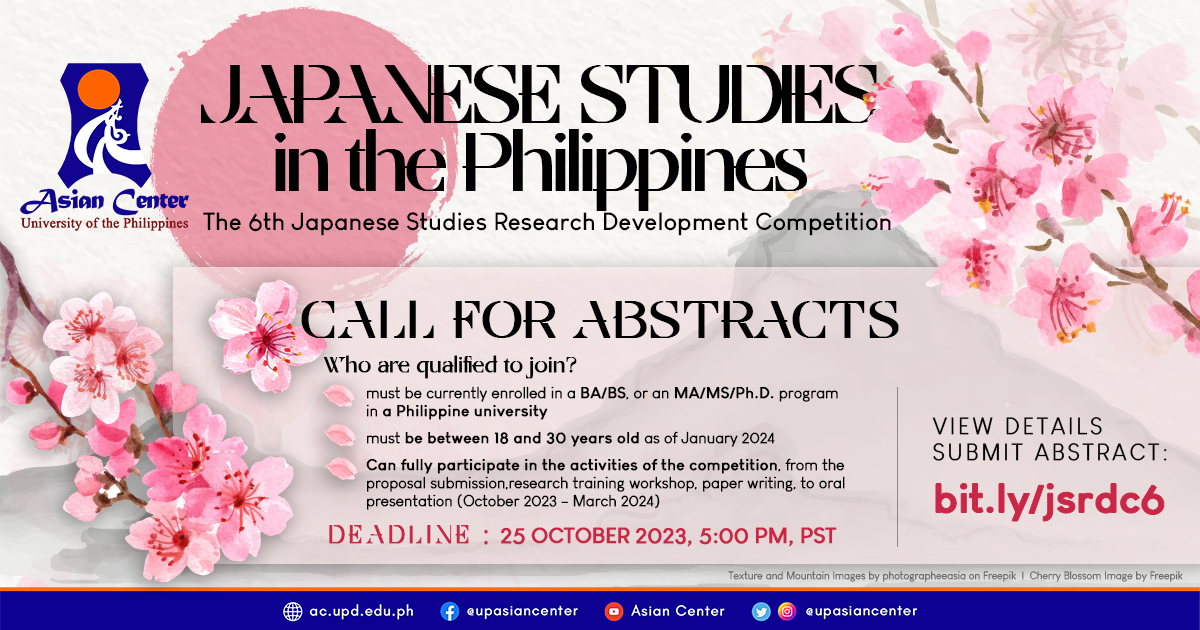 This year's competition shall consist of three parts: the proposal submission, research writing training workshop, and oral presentations.
PHASE 1: APPLICATION PERIOD
The application period will run from 25 September 2023 to 25 October 2023, 5:00 pm, PHT (GMT+8).
Access the application form through this link.
ELIGIBILITY:
• Must be currently enrolled in a BA/BS, or an MA/MS/Ph.D. program in a Philippine university.
• Must be between 18 and 30 years old as of January 2024.
• Can fully participate in the activities of the competition, from the proposal submission, research training workshop, research paper writing, to oral presentation.
GENERAL PROPOSAL GUIDELINES
1. Any topic related to Japan can be submitted (except topics that focus solely on natural sciences, medical sciences, and engineering).
2. The abstract submission must be a maximum of 500 words and should contain the following parts:
• Title of the research
• Introduction
• Rationale
• Objectives of the study
• Related literature (cite at least five academic sources, theories and concepts that are relevant to proposed research)
• Methodology (briefly discuss the framework, details of data collection)
• List of References
3. Must be unpublished, solo-authored; and written in English or Filipino.
4. Must not be under consideration in another publication.
5. Format must be single-spaced, on an A4 size paper, using the latest APA citation style.
6. Must use size 12, Times New Roman font.
7. The deadline for the submission of proposals will be on 25 October 2023, 5:00 pm, PHT (GMT+8).
8. To submit the documents, fill out this online application form.
PHASE 2: RESEARCH WRITING WORKSHOP
PHASE 3: RESEARCH PAPER PRESENTATIONS FOR SHORTLISTED PROPOSALS
COMPETITION PRIZES AND PUBLICATION OPPORTUNITY
• The most well-developed research papers will be judged as winners of the competition.
• Winners will get the latest Apple iPad from the Japan Foundation Manila.
• All finalists will have the chance to publish in the Asian Studies: Journal of Critical Perspectives on Asia.
ABOUT THE COMPETITION
The research competition is organized by the UP Asian Center. It aims to encourage Japan-related research among Filipino students, to disseminate knowledge, and exchange perspectives on Japanese Studies.
For inquiries, please email jocelero@up.edu.ph or call 8 981 8500 local 3586.
2023 WINTER ABROAD PROGRAM AT YONSEI UNIVERSITY
Exciting News for the Winter Abroad Program at Yonsei University!
Annyeonghaseyo, everyone! Gear up for an amazing winter adventure at Yonsei University! The 2023-24 Winter Abroad Program (WAY) is now open for applications, and we can't wait to share the details with you! Here's everything you need to know: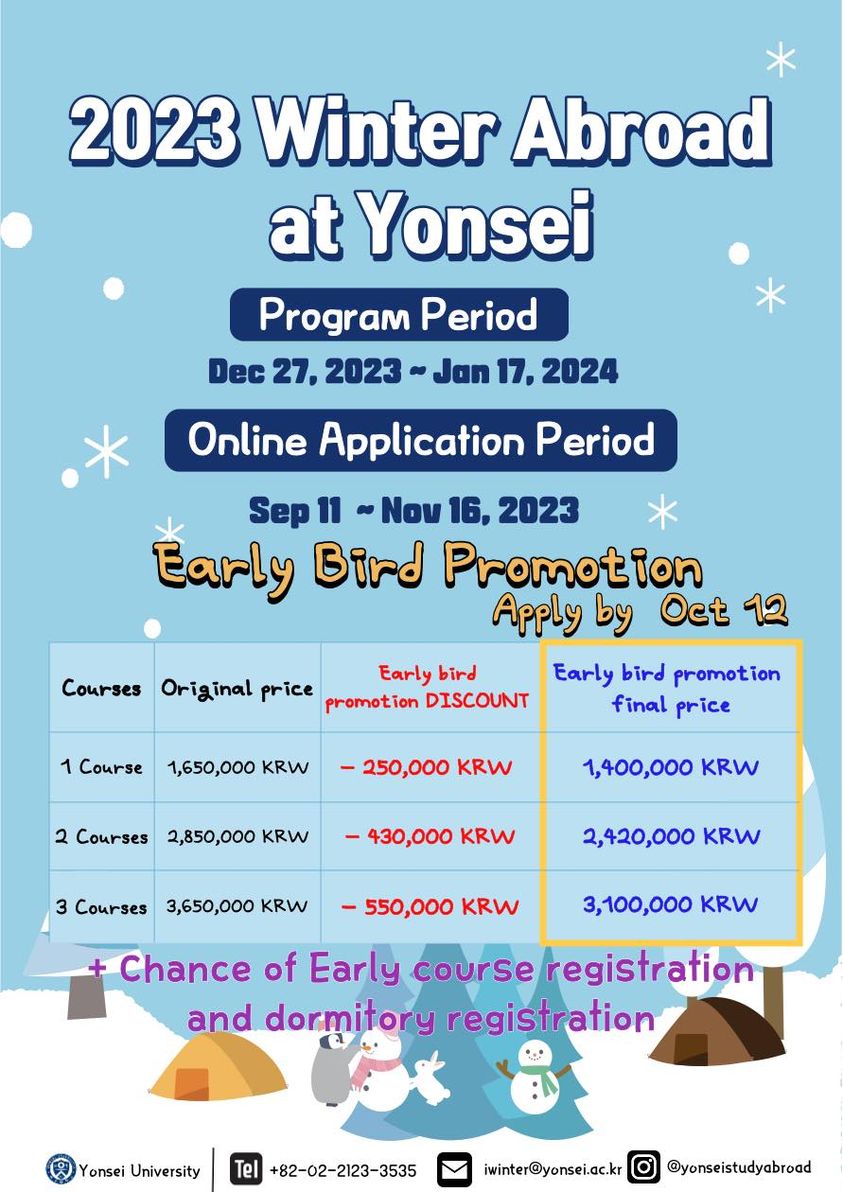 Program Period: December 27, 2023 (Wed) – January 17, 2024 (Wed)
Application Period: September 11, 2023 (Mon) – November 16, 2023 (Thu)
Payment Deadline: November 30, 2023 (Thu)
Scholarships:
1. Early Bird Reward (Deadline: October 12, 2023)
Complete your online application and application fee payment by October 12 to receive a tuition discount of 200,000 KRW per course and an early bird course registration chance! Benefits include 1st round course registration & 1st round dormitory registration.
2. APRU & AEARU Associate University Scholarship
Students enrolled in the APRU and AEARU associate universities will automatically receive a KRW 100,000 scholarship applied to the tuition fees. Make sure to complete your online application and application fee to qualify for this scholarship.
Other Highlights:
Online courses are available, check the website for course information at: https://winter.yonsei.ac.kr/main/contents.asp?mid=m02_05
Five exciting extracurricular activities are planned, including Campus Tour, Taekwondo Class, Cooking Class, DMZ Tour, and Ski Trip.
For more details or inquiries, feel free to reach out:
Email: iwinter@yonsei.ac.kr
Phone: +82-2-2123-3535
Instagram: yonseistudyabroad
Website: winter.yonsei.ac.kr
Don't miss out on this incredible opportunity to embrace winter in Korea while immersing yourself in a rich cultural experience at Yonsei University! Apply now and create memories that will last a lifetime.
#YonseiWinterAbroad #ExperienceKorea #StudyAbroad2023
MIAMI UNIVERSITY PRESIDENTIAL FELLOWS PROGRAM
Miami University, one of eight original Public Ivies, is regarded for its unparalleled commitment to undergraduate teaching and for providing students with robust, immersive, and transformative learning experiences. In keeping with its centuries-old tradition of academic excellence, Miami University is pleased to offer the Presidential Fellows Program (PFP), an elite scholarship opportunity that provides the brightest and best scholars and leaders of the 21st century with an unprecedented and exceptional college experience.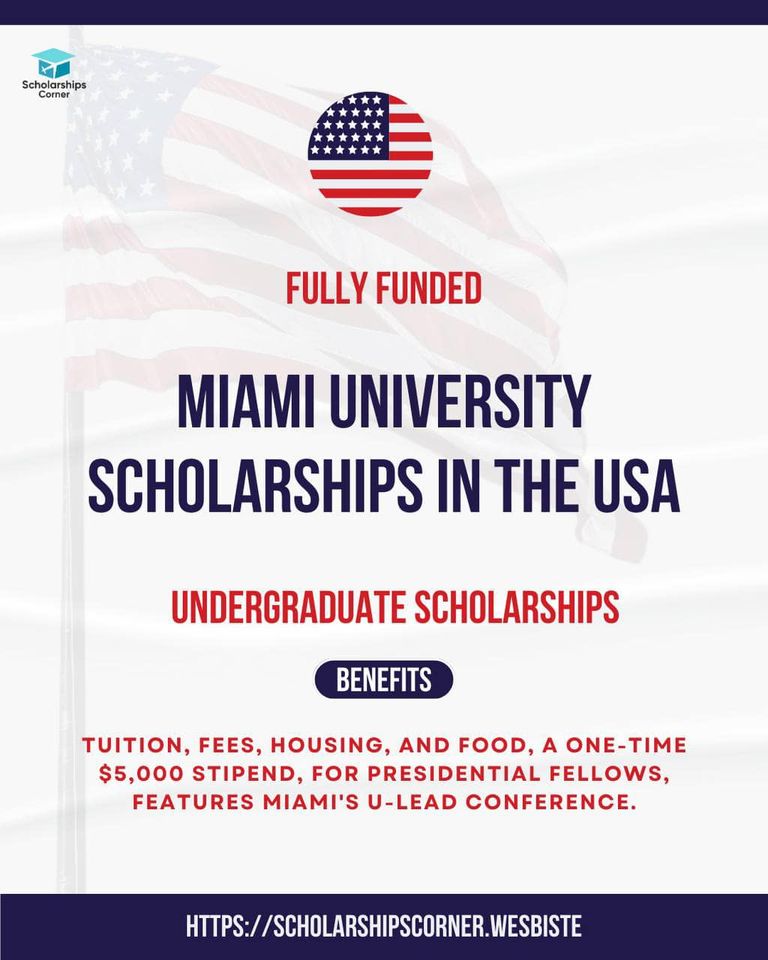 Application Process
To be considered, apply to Miami University via the Common Application by 11:59 p.m. on Dec. 1, making sure to indicate your interest for Miami's Honors College. PFP finalists will be notified in January.
Selection Process
Finalists will be reviewed based on their overall admission application, and an invitation-only finalist interview with the scholarship selection committee.
Benefits for Presidential Fellows
A four-year, renewable scholarship covering tuition, fees, housing, and food.
A one-time $5,000 academic enrichment stipend.
Tailored programming for the Presidential Fellows cohort, including Miami's U-Lead Conference.
---