Eugene Solla
September 5, 2021
Hello there! The UP Diliman Office of the Vice Chancellor for Student Affairs' #OpportunitiesCorner is an update on available scholarships, exchange programs, conferences, workshops, and other skill-enhancing initiatives for UP Diliman students. Here's for the first week of September 2021!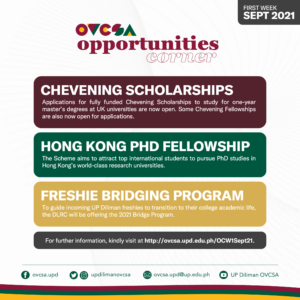 Chevening Scholarship Program for AY 2022-2023
The Commission on Higher Education is pleased to inform interested parties of the call for applications to the Chevening Scholarships Program for Academic Year 2022-2023. This year's call for new applicants follows the selection of 25 scholars from the Philippines who will be taking up their post-graduate degrees at UK universities this coming academic year.
Chevening Scholarships are the UK's government scholarship program, funded by the Foreign, Commonwealth and Development Office (FCDO) and partner organizations. The scholarship offers full financial support for future leaders to study any eligible master's degree at any UK university whilst also gaining access to a wide range of exclusive academic, professional, and cultural experiences. Successful applicants are required to return to their home countries after their year of study and stay for a minimum of two years. Application documents must be submitted at www.chevening.org/apply on or before 02 November 2021. Attached for reference are the flyer and leaflet for the program.
Details on the eligibility criteria, scholarship specifications and application timeline may be accessed at https://www.chevening.org/scholarships/. Should there be queries/concerns, interested applicants may contact Ms. Cara San Pedro, Chevening Officer through email at cara.sanpedro.@fcdo.gov.uk.
Hong Kong PhD Fellowship Scheme 2022
The Research Grants Council of Hong Kong is delighted to present the Thirteenth Round of the Hong Kong PhD Fellowship Scheme (the "Scheme"). The Scheme aims to attract top international students to pursue PhD studies in Hong Kong's world-class research universities. The fellowship provides a monthly stipend of HK$26,900 (approx. US$3,400) and a conference and research-related travel allowance of HK$13,500 (approx. US$1,730) per year for a period of three years. 300 fellowships will be awarded for PhD studies commencing in the 2022/23 academic year.  The deadline for initial application is 1 December 2021.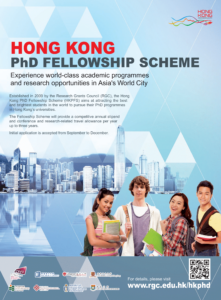 The posters and leaflets of the Scheme are provided for your information, and should be much grateful if you would grant assistance in posting or circulating them to interested parties of your university/institution.  Electronic versions of the above-mentioned publicity materials are available online for download:
Poster: https://cerg1.ugc.edu.hk/hkpfs/Poster_HKPFS.pdf
Leaflet: https://cerg1.ugc.edu.hk/hkpfs/Leaflet_HKPFS.pdf
If you or any interested parties require further information, please feel free to contact HKPF@ugc.edu.hk or visit the Scheme's website at www.rgc.edu.hk/hkphd.
2021 Freshie Bridging Program
To guide incoming UP Diliman freshies to transition to their college academic life, the #TeamDLRC will be offering the 2021 Bridge Program for subjects Math and English starting from September 6 – 26 via the platform https://study.com/.
If you are a freshie or knows someone who can benefit from this program, answer the registration form here: bit.ly/21_BridgeFreshies
For more details, click here. Thank you!
---