ovcsa_user
August 30, 2023
Hello there! The UP Diliman Office of the Vice Chancellor for Student Affairs' #OpportunitiesCorner is an update on available scholarships, exchange programs, conferences, workshops, and other skill-enhancing initiatives for UP Diliman students. Here's for the 1st week of September 2023!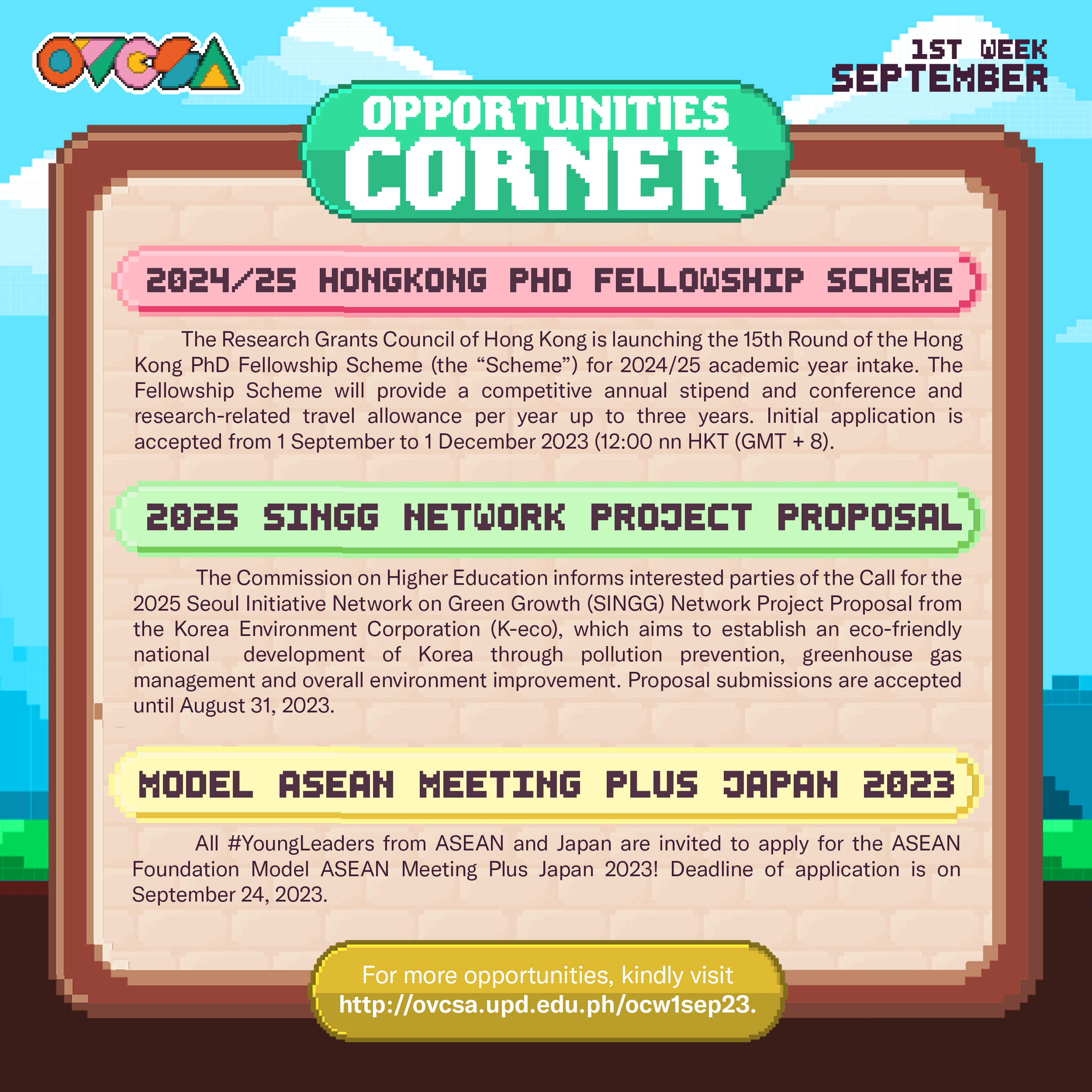 HONG KONG PHD FELLOWSHIP SCHEME 2024/25
The Scheme established aims to attract top international students to pursue PhD studies in Hong Kong's world-class research universities.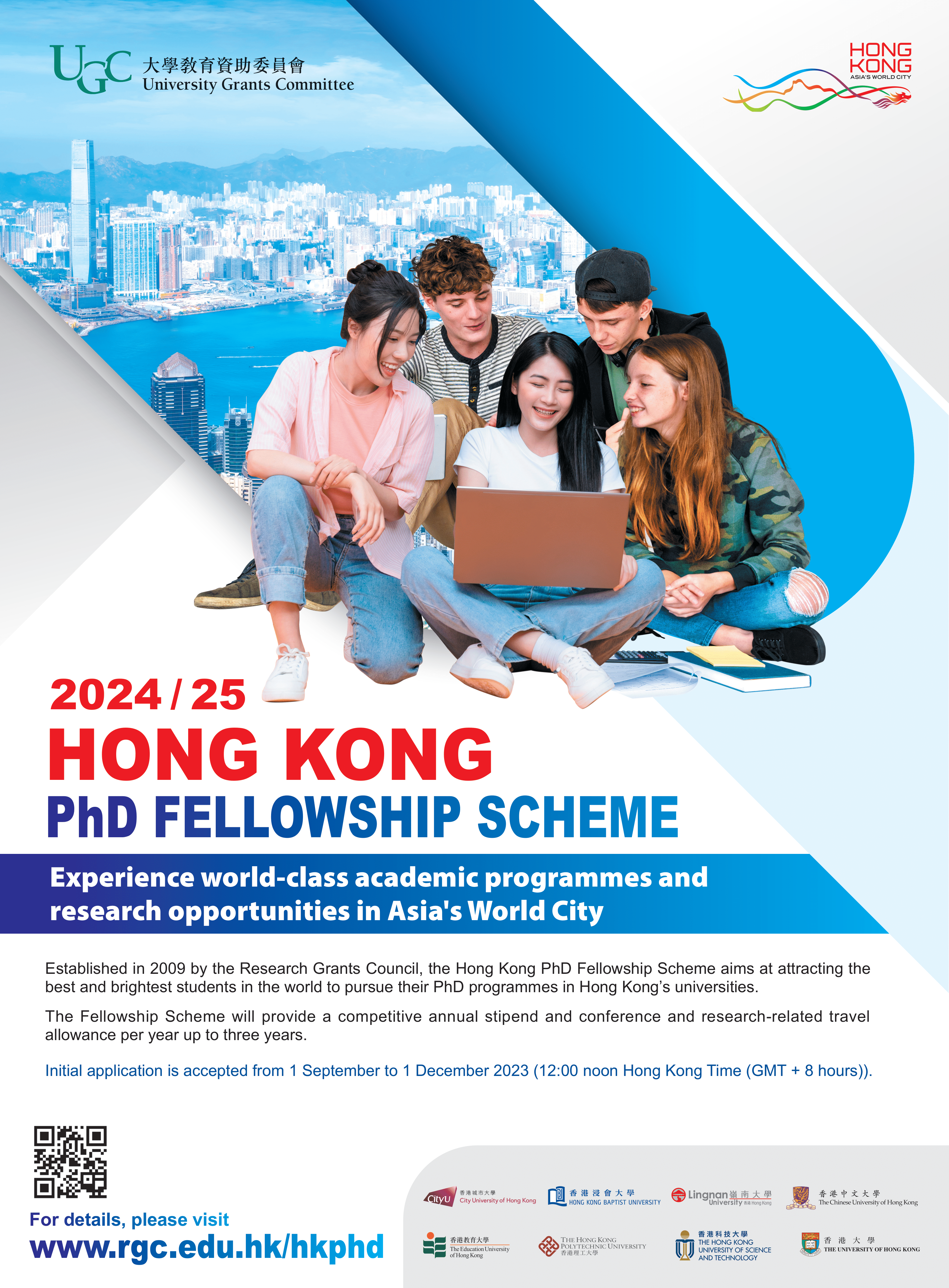 At present, the fellowship provides a monthly stipend of HK$27,600 (approx. US$3,530) and a conference and research-related travel allowance of HK$13,800 (approx. US$1,760) per year for a period of three years.  A total of 300 fellowships will be awarded for PhD studies commencing in the 2024/25 academic year.

2025 SEOUL INITIATIVE NETWORK ON GREEN GROWTH (SINGG) PROJECT PROPOSAL
The Commission on Higher Education hereby informs interested parties of the Call for the 2025 Seoul Initiative Network on Green Growth (SINGG) Network Project Proposal from the Korea Environment Corporation (K-eco).
K-eco, an affiliated organization under the Ministry of Environment of the Republic of Korea, aims to establish an eco-friendly national development of Korea through pollution prevention, greenhouse gas management and overall environment improvement.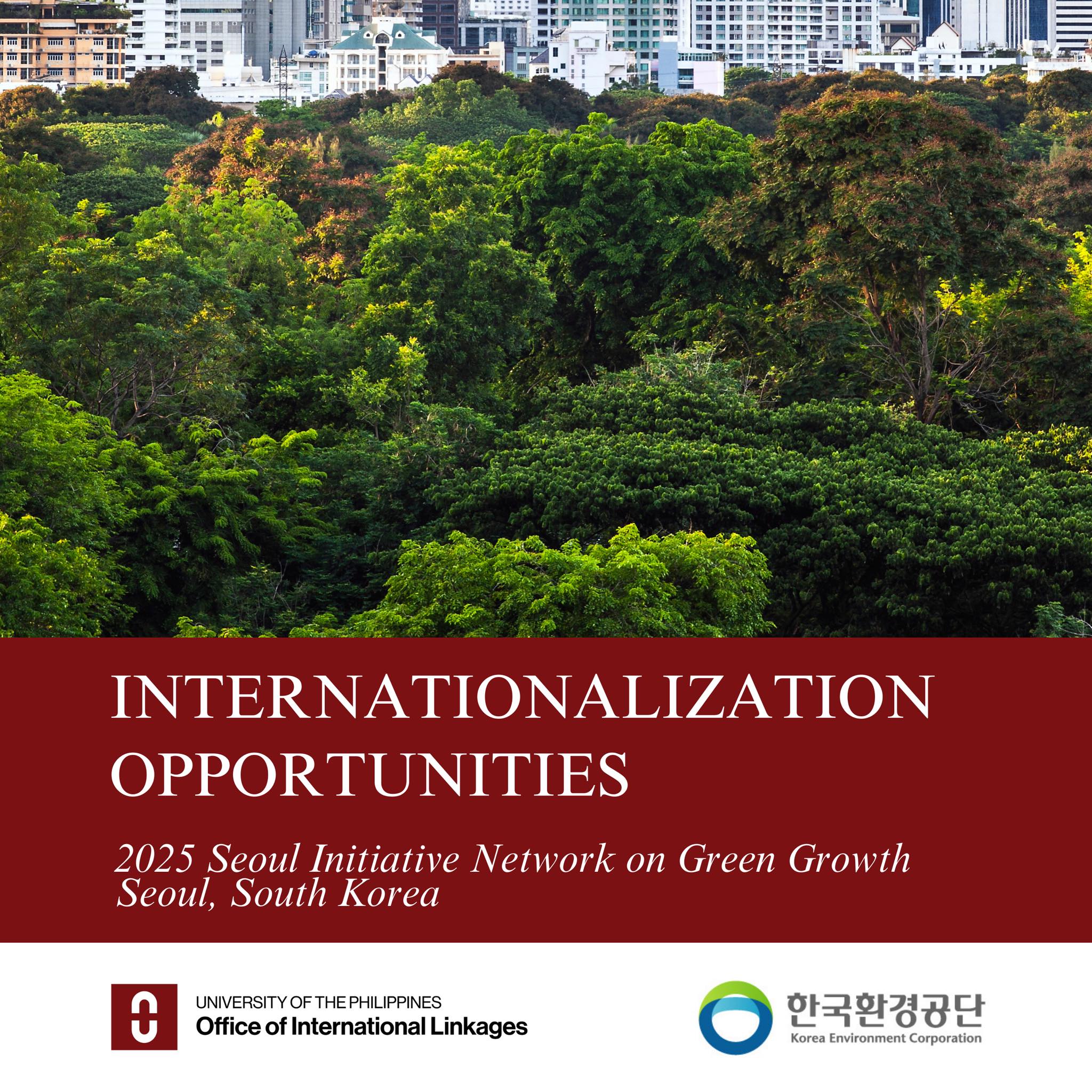 In this regard, interested participants to the aforesaid project are requested to submit their duly accomplished Idea Proposal Form (form 1) to the SINGG Secretariat at singg@keco.or.kr within August 2023.
You may use your UP mail to access Form 1 and the CHED Memo here: https://drive.google.com/…/1ay9LwNT1wFvI0sCwkJzNaf91zWv…
For more information, kindly refer to the enclosed call for proposal or visit K-eco's website at https://www.keco.or.kr/en/main/index.do 

ASEAN FOUNDATION MODEL ASEAN MEETING PLUS JAPAN 2023
The ASEAN Foundation and ASEAN-Japan Center proudly present the highly anticipated ASEAN Foundation Model ASEAN Meeting Plus Japan 2023 (AFMAM Plus Japan 2023) in Jakarta, Indonesia. The ASEAN Foundation is organising its special edition of the ASEAN Foundation Model ASEAN Meeting plus Japan 2023 (AFMAM + Japan 2023) to coincide with the ASEAN – Japan 50 Years Anniversary.
Don't miss the opportunity to connect with like-minded youth from ten ASEAN countries and Japan and forge friendships that'll last a lifetime through this fully-funded programme!
​
Deadline: 24 September 2023​​
---