Eugene Solla
August 14, 2022
Hello there! The UP Diliman Office of the Vice Chancellor for Student Affairs' #OpportunitiesCorner is an update on available scholarships, exchange programs, conferences, workshops, and other skill-enhancing initiatives for UP Diliman students. Here's for the second week of August 2022!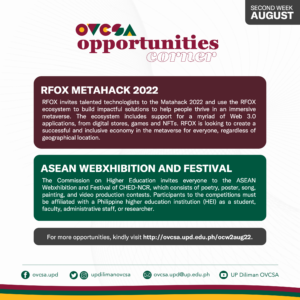 ASEAN WEBXHIBITION AND FESTIVAL COMPETITION
The Commission on Higher Education invites everyone to the ASEAN Webxhibition and Festival of CHED-NCR. Below is the schedule of activities:
Competition Proper: September 5-22, 2022

Poetry: September 5, 2022
Song: September 8, 2022
Interactive Painting: September 15, 2022
Academic Poster Exhibition: September 19, 2022
Video Production: September 22, 2022

Online Orientation on Institutionalization Scoping: September 26, 2022
Regional Awarding Ceremony: September 30, 2022
Participants to the competitions must be affiliated with a Philippine higher education institution (HEI) as a student, faculty, administrative staff, or researcher. They must work with one or more co-creators affiliated with an ASEAN HEI. All collaborators must be bona fide students/faculty/administrative staff/researchers at the time of submission of their work.
HEls/participants in the competitions may register and submit their entries through this link: https://bit.ly/CHED-ASEAN2022Entries. The deadline is on September 2, 2022, at 5:00 p.m.
In this regard, all higher education institutions are enjoined to actively participate in all the above-lined-up activities. All activities will be conducted via the Zoom Conferencing platform. Due to limited slots in the Zoom room, attendees to the activities need to register through this link: https://bit.ly/20O22ASEANRegistrationForm. Those who will not be accommodated may join via CHED-NCR Facebook live.
For more information and other details on the competition, please contact Dr. Bellaflor Coronado, Education Supervisor Il, at telephone number 8441-1224 or send an email to chednertechnicaldivision@gmail.com.
RFOX MetaHack 2022
RFOX invites talented technologists to use the RFOX ecosystem to build impactful solutions to help people thrive in an immersive metaverse. The ecosystem includes support for a myriad of Web 3.0 applications, from digital stores, games and NFTs. RFOX is looking to create a successful and inclusive economy in the metaverse for everyone, regardless of geographical location.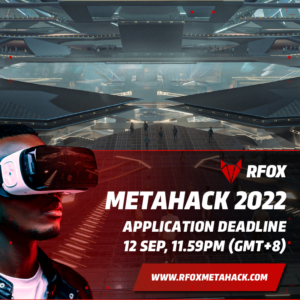 RFOX, Asia's fastest-growing Web 3.0 company, invites talented young technologists to participate in the  RFOX MetaHack 2022. Help empower everyone to play, create, and earn in an immersive metaverse. This is your chance to use RFOX's ecosystem tools to build impactful new products to disrupt legacy business, and simplify digital inclusion for all!
Successful participants will stand to win:
Go-to-market support for their solution
A job opportunity with RFOX
Revenue-sharing opportunities
NFTs, RFOX Tokens, Oculus VR Sets, and more!
Interested individuals may begin their application at https://bit.ly/rfoxmetahack22-apply.
The application will consist of a solution deck and solution links. Applicants may use the application guide to structure their deck and provide links to their solution using any public repository. Please refer to the application guide for more details.
Applications will close on Monday, 12 September, 11.59pm (GMT+8).
To find out more about the challenge, individuals may watch the Info Session recording here. The Info Session contains detailed explanations regarding the challenge statements as well as prize opportunities!
More information here: https://rfoxmetahack.com.
---