Eugene Solla
January 17, 2022
Hello there! The UP Diliman Office of the Vice Chancellor for Student Affairs' #OpportunitiesCorner is an update on available scholarships, exchange programs, conferences, workshops, and other skill-enhancing initiatives for UP Diliman students. Here's for the second week of January 2022!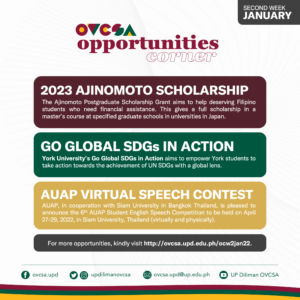 2023 Ajinomoto Postgraduate Scholarship Grant
The Ajinomoto Postgraduate Scholarship Grant aims to help deserving Filipino students who require financial assistance to pursue higher education in the field of sciences. This gives a full scholarship in a master's course at specified graduate schools in designated universities in Japan. This grant can be applied to specified graduate schools at the University of Tokyo, Kyoto University, Nagoya University, Tokyo Institute of Technology, Ochanomizu University, Waseda University and Kagawa Nutrition University.
SCHOLARSHIP ELIGIBILITY
Aspiring applicants to the Ajinomoto Postgraduate Scholarship Grant must meet the following qualifications:
Must be a Filipino Citizen
Must have graduated or be expected to graduate with an excellent academic record (with over 15 years of education completed or expected to be completed) and must receive the recommendation of his/her University President or Academic Advisor or be otherwise qualified to enroll in the university
Must be under the age of 35 years old on April 1, 2022.
Must file an application and attend selection procedures in the Philippines
Must be in good physical and mental health
Must have excellence in personality, in academic (within top 5% of the class or with GPA of 3.7 or higher) and have a strong motivation for learning.
Must not be receiving other scholarships
Must show financial need to pursue higher education.
Must have a strong sense of nationalism, leadership and motivation
Upon conferment of the scholarship, the applicant must be able to:

Obtain approval of acceptance as either a Postgraduate International Research Student (hereinafter " Research Student") or a Graduate School Student (Master's course) (hereinafter "Master's Course Student) from the University and be registered as a Research Student or a Master's Course Student for April 2023 or October 2023
Must acquire adequate Japanese language proficiency that is required in order to research and study in master's course, when enrolling as a Master's course student;
Must pass the Medical and Psychological Exam
Must be able to obtain Student's Visa and Passport to Japan
SCHOLARSHIP BENEFITS
¥ 150,000 monthly allowance for a maximum of 1 year as a research student at a graduate school
¥ 180,000 monthly allowance for a maximum of 2 years as a master's course student at graduate school
Full coverage of examination, admission and tuition fees
Full coverage of Medical exam, Psychological Exam and Japanese language training before going to Japan
Airfare to Japan from Philippines
SCHOLARSHIP GRANT DURATION
If the recipient enrolls as a research student, scholarship will be provided for a maximum of 3 years (1 year as a research student and maximum of 2 years as a master's course student). The scholarship will be suspended if the recipient fails to pass the entrance exam for a master's course within a year after arriving in Japan.
For Waseda University, in principle, scholarships will be provided for 2 years of studying as a Master's Course Student.
NUMBER OF STUDENTS TO BE ACCEPTED: One (1) student from each of the six (6) countries: Thailand, Indonesia, Malaysia, Philippines, Vietnam and Russia.
APPLICATION DETAILS OF THE UNIVERSITIES: See Appendix 1: Application Details For Graduate Schools
DEADLINE OF APPLICATION: MARCH 1, 2022
SUSPENSION OR TERMINATION OF SCHOLARSHIP
The scholarship will be suspended or terminated, if any one of the following conditions applies to the scholarship recipient:
False information found in the application form
Receives any other scholarship
Fails to pass the entrance examination to a master's course within one year after arriving to Japan (applicable to the recipient entering as a Research Student)
Fails to arrive in Japan by the appointed date
Long-term absence due to illness or health problems, dishonest act and poor academic performance including leaving the school and repeating a school year
Violates the rules and regulations of the University or Ajinomoto Scholarship Foundation
According to circumstances, the scholarship amount already disbursed may be subject to repayment in full or in part.
SELECTION PROCESS AND SCHEDULE
1st Screening- Application Documents Screening: March 18, 2022
2nd Screening- Face-to-Face Panel Interview: March/April 2022 (Interview will be done in English)
Notification of results: June 2022
Nominated applicants who pass the 2nd screening must submit all the necessary documents designated by the graduate schools or the Universities they wish to enroll within the application period (refer to Required Documents for Applying as an International Research Student). The nominated applicants to enroll in October should pay attention to the application period and the date of issuance of the letter of acceptance because they differ from those for the April enrollment. Please contact the graduate school you wish to enroll for details.
6th AUAP Student English Speech Competition
The Association of Universities of Asia and the Pacific (AUAP) in cooperation with Siam University, in Bangkok Thailand is pleased to announce the 6th AUAP Student English Speech Competition  to be held on April 27-29, 2022, in Siam University, Thailand (virtually and physically).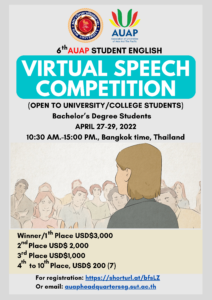 This will serve as an opportunity for students to gain substantial experience, showcase their skills and uncover personal aptitude. Through this, students will be encouraged to adopt innovative techniques and develop their ideas and skills. Prizes will be given to the 10 top winning students.
Call for York Partner Participation
Funded by the Government of Canada's Outbound Student Mobility Pilot Program Global Skills Opportunity (GSO), York University's Go Global SDGs in Action Student Challenge aims to empower York students and their peers around the world to take action towards the achievement of UN Sustainable Development Goals (SDGs) with a global lens. Through facilitated discussions, workshops, and immersive abroad opportunities, York students and their peers will develop global competencies, leadership, digital fluency, and project management skills necessary to take action on SDGs. By participating in the program, students will learn and experience the opportunities and challenges in leading community action for social change.

Students Create Local and Global Impact! Are you a student passionate about reducing global inequalities? Are you interested in creating local and global impact by leading your own SDGs action projects in collaboration with York University students and mentored by faculties and SDG experts? Join the SDGs in Action Student Challenge and apply here: https://yorku.moveonca.com/form/6197f5a71d17cf1e346e8802/eng
Global Youth Engagement Forum 2022: COVID-19 and the SDGs
This February, IREC COOL, together with the USSH Ho Chi Minh Communist Youth Union – Union of Students and the USSH Ho Chi Minh Communist Youth Union at the Faculty of International relations (DOKA), will be hosting the event: "Global Youth Engagement Forum 2022: COVID-19 and the SDGs".
The forum aims to create a dynamic platform for youth to engage in discussion about the impacts of the COVID-19 pandemic on the implementation of Sustainable Development Goals (SDGs) in SEA countries. Through this discussion, we can proactively acknowledge immense challenges to sustainable development, and thereby propose integrated approaches to attaining SDGs by 2030.
On behalf of the Organizing Committee, we cordially invite students from your university to join the forum scheduled to be held virtually on:
Date & Time: 8:00 a.m. – 11:00 a.m., Saturday, February 19, 2022 (Hanoi, GMT+7)

Platform: Zoom
It would be greatly appreciated to have the delegates from your university sharing their opinions about SDGs during and after the pandemic regarding one of the following topics below:
Good Health and Well-being

Quality Education

Gender Equality

Climate Action
To become a delegate at the forum, please register here.
Please note that the deadline for registration is at 11:59 a.m., February 10, 2022 (Hanoi, GMT+7).
For more detailed information about the forum, please visit this attached booklet.
---