Hello there! The UP Diliman Office of the Vice Chancellor for Student Affairs' #OpportunitiesCorner is an update on available scholarships, exchange programs, conferences, workshops, and other skill-enhancing initiatives for UP Diliman students. Here's for the 2nd week of July 2023!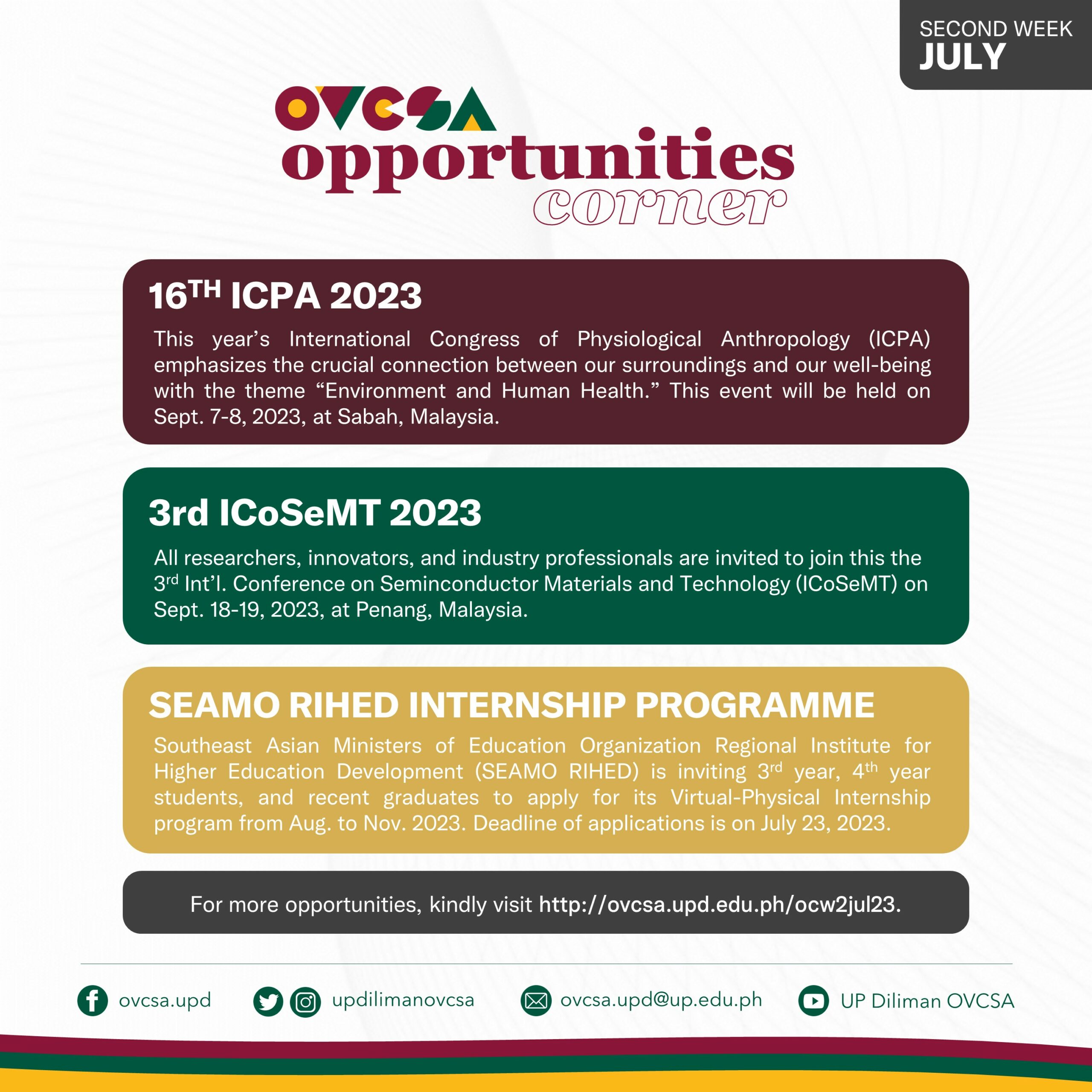 16th INTERNATIONAL CONGRESS OF PHYSIOLOGICAL ANTHROPOLOGY 2023
📅 Mark your calendars for an exciting event! We are thrilled to invite you to the 16th International Congress of Physiological Anthropology (ICPA2023). This biannual congress, organized by the International Association of Physiological Anthropology, promises to be an enlightening experience.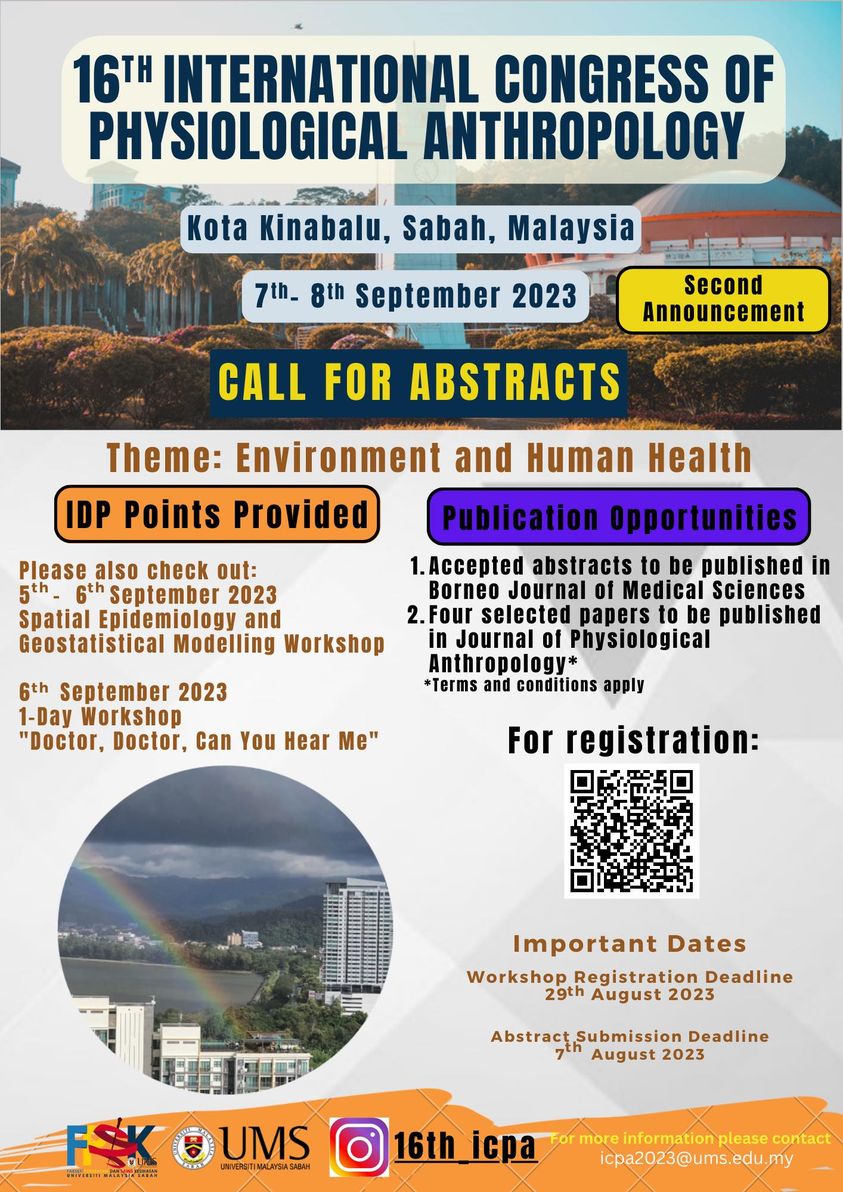 The theme of this year's congress is "Environment and Human Health," emphasizing the crucial connection between our surroundings and our well-being.
Save the Date:
Date: 07th to 08th September 2023
Venue: Galeri Azman Hashim (GAH) Universiti Malaysia Sabah, Malaysia
But wait, there's more! Prior to the main congress, they have arranged pre-congress workshops that you wouldn't want to miss:
Spatial Epidemiology and Mathematical Modelling: 05th to 06th September 2023
Doctor, Doctor Can You Hear Me? 1-day workshop: 6th September 2023
Venue for the workshop: Faculty of Medicine and Health Sciences, Universiti Malaysia Sabah
For additional information, please refer to the attached announcement poster and visit their website at https://www.16thicpa.com/. If you have any questions or need assistance, feel free to reach out to them at icpa2023@ums.edu.my.
We are eagerly looking forward to your participation at this congress. Together, let's explore the fascinating world of physiological anthropology and its impact on our health and environment!
#ICPA2023 #PhysiologicalAnthropology #HealthAndEnvironment #InternationalCongress
3rd INTERNATIONAL CONFERENCE ON SEMICONDUCTOR MATERIALS AND TECHNOLOGY 2023
We are excited to extend an invitation to all researchers, innovators, and industry professionals to join us at the 3rd International Conference on Semiconductor Materials and Technology (3rd ICoSeMT 2023)! This prestigious biennial event is jointly organized by the Institute of Nano Optoelectronics Research and Technology (INOR), Universiti Sains Malaysia (USM), Universiti Teknologi MARA Cawangan Pulau Pinang (UiTMCPP), Collaborative Research in Engineering, Science & Technology (CREST), National Nanotechnology Centre (NNC), Ministry of Science, Technology and Innovation of Malaysia (MOSTI), and MIMOS Berhad.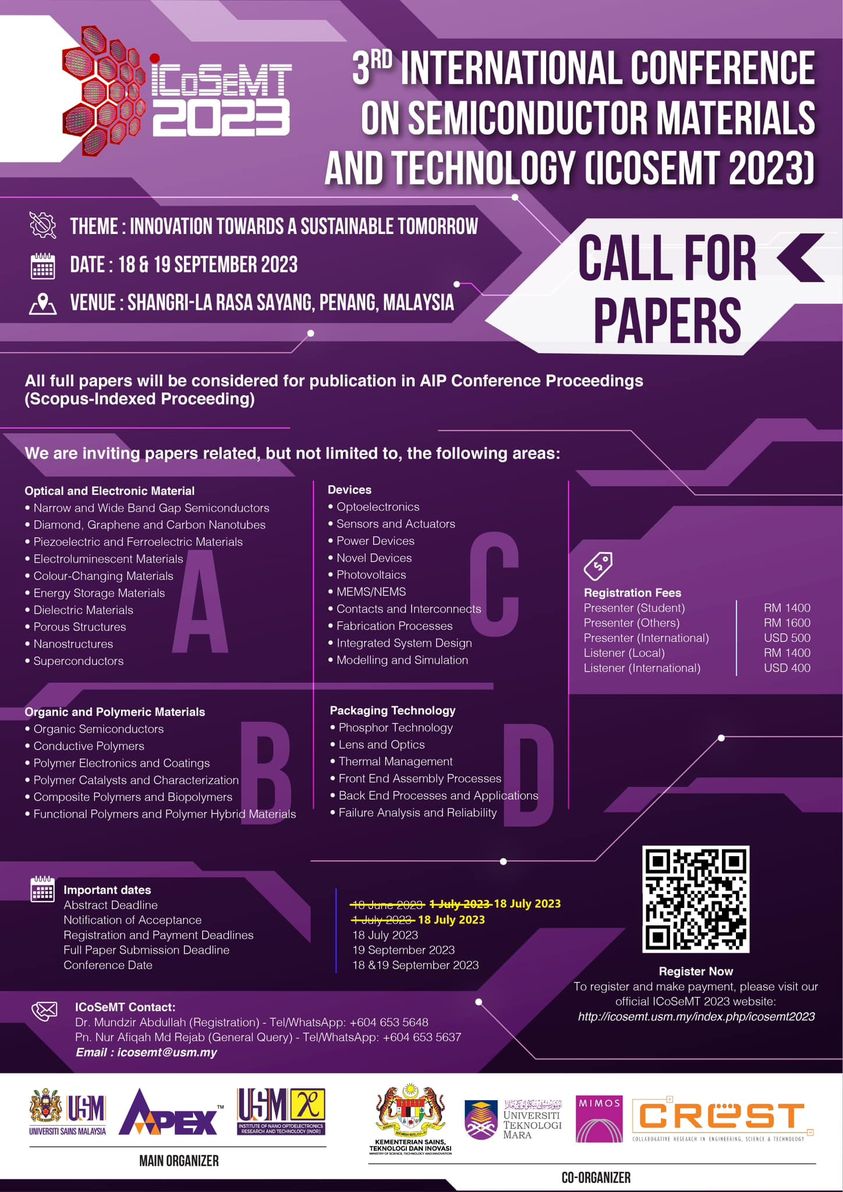 Mark your calendars for this enlightening event:
Date: 18th to 19th September 2023
Venue: SHANGRI-LA RASA SAYANG, PENANG, MALAYSIA
The conference aims to foster knowledge exchange and collaboration between institutions and industries in the field of Semiconductor Materials and Technology. We welcome participants from various backgrounds to share their ideas, knowledge, and expertise.
In addition to the main conference, we are thrilled to introduce the 2nd International Invention, Innovation & Design Expo (INoDEx 2023) as a concurrent sub-event. INoDEx 2023 provides a platform for both local and international participants to showcase their groundbreaking innovations and inventions. We believe that this convergence of events will spark interaction and future collaborations among participants.
Abstract submission for the 3rd International Conference on Semiconductor Materials and Technology (ICoSeMT 2023) is now open! We encourage researchers to submit their abstracts on topics related to Semiconductor Materials and Technology. For a comprehensive list of covered areas, please visit their website at http://icosemt.usm.my/.
Selected full papers will have the opportunity to be published in the AIP Conference Proceedings, a Scopus-indexed proceeding.
Important Dates:
Abstract Deadline: 18 June 2023 (Extended to 18 July 2023)
Notification of Acceptance: 18 July 2023
Registration and Payment Deadline: 18 July 2023
Full Paper Submission Deadline: 19 September 2023
Conference Date: 18 & 19 September 2023
Registration Fees:
Presenter (Student): RM1400
Presenter (Others): RM1600
Presenter (International): USD500
Listener (Local): RM1400
Listener (International): USD400
For any inquiries, please feel free to contact:
Dr. Mundzir Abdullah (Registration)
· Tel/WhatsApp: +604-653 5648
Pn. Nur Afiqah Md Rejab (General Query)
· Tel/WhatsApp: +604-653 5637
Email: icosemt@usm.my
Help us spread the word about these events by sharing this information with your friends, students, staff, and colleagues. Let's come together to make a sustainable tomorrow through innovation!
#ICoSeMT2023 #SemiconductorMaterials #TechnologyConference #INoDEx2023 #Innovation #ResearchAndDevelopment
SEAMO RIHED INTERNSHIP PROGRAMME 2023
The Southeast Asian Ministers of Education Organization Regional Institute for Higher Education Development (SEAMEO RIHED) is thrilled to announce the Call for Internship 2023!
We are inviting third-year, fourth-year students, and recent graduates to apply for SEAMEO RIHED's Virtual-Physical Internship program from August to November 2023. Don't miss this chance to gain valuable experience in international project management and inter-governmental relations.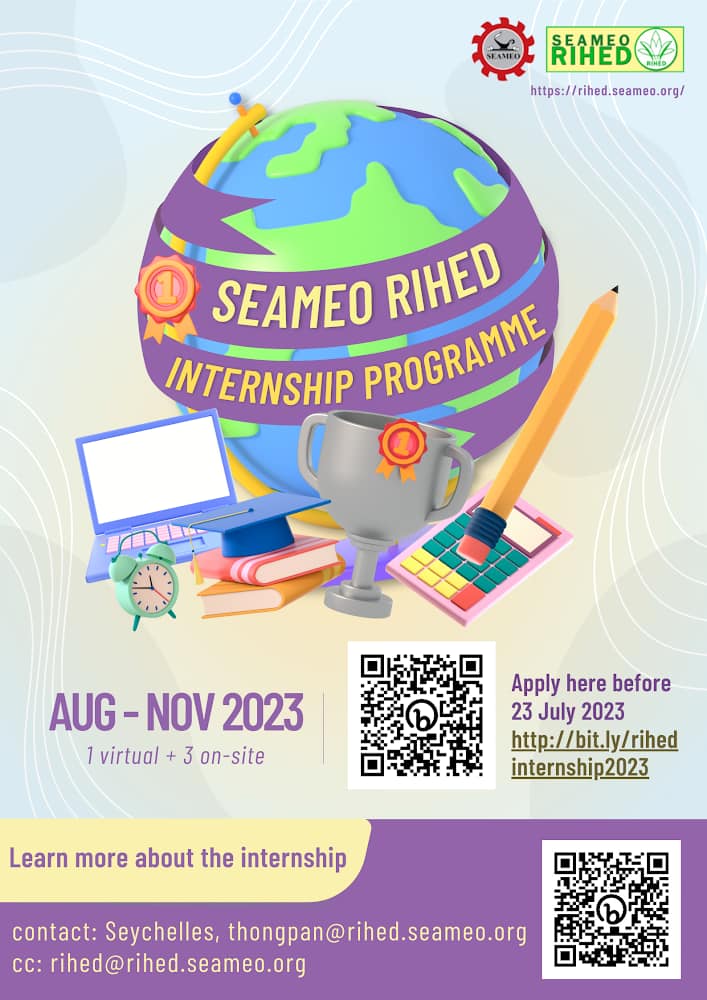 To apply, please visit their website:
https://rihed.seameo.org/careers/internship2023/
The deadline for applications is 23 July 2023.
We can't wait to witness the remarkable growth and impact your talent will make during your internships at SEAMEO RIHED.
For further inquiries, feel free to contact Seychelles, SEAMEO RIHED's programme officer, at thongpan@rihed.seameo.org or CC: rihed@rihed.seameo.org.
Together, let's create a brighter future for education in our region!
#SEAMEORIHED #InternshipOpportunity
---