Hello there! The UP Diliman Office of the Vice Chancellor for Student Affairs' #OpportunitiesCorner is an update on available scholarships, exchange programs, conferences, workshops, and other skill-enhancing initiatives for UP Diliman students. Here's for the second week of March 2023!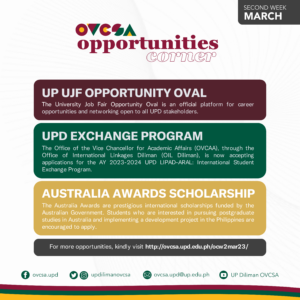 UP UNIVERSITY JOB FAIR OPPORTUNITY OVAL
The Opportunity Oval is an official platform for career opportunities and networking that will be handled by the UPD Office for Counseling and Guidance (OCG) and the UPD University Student Council (USC).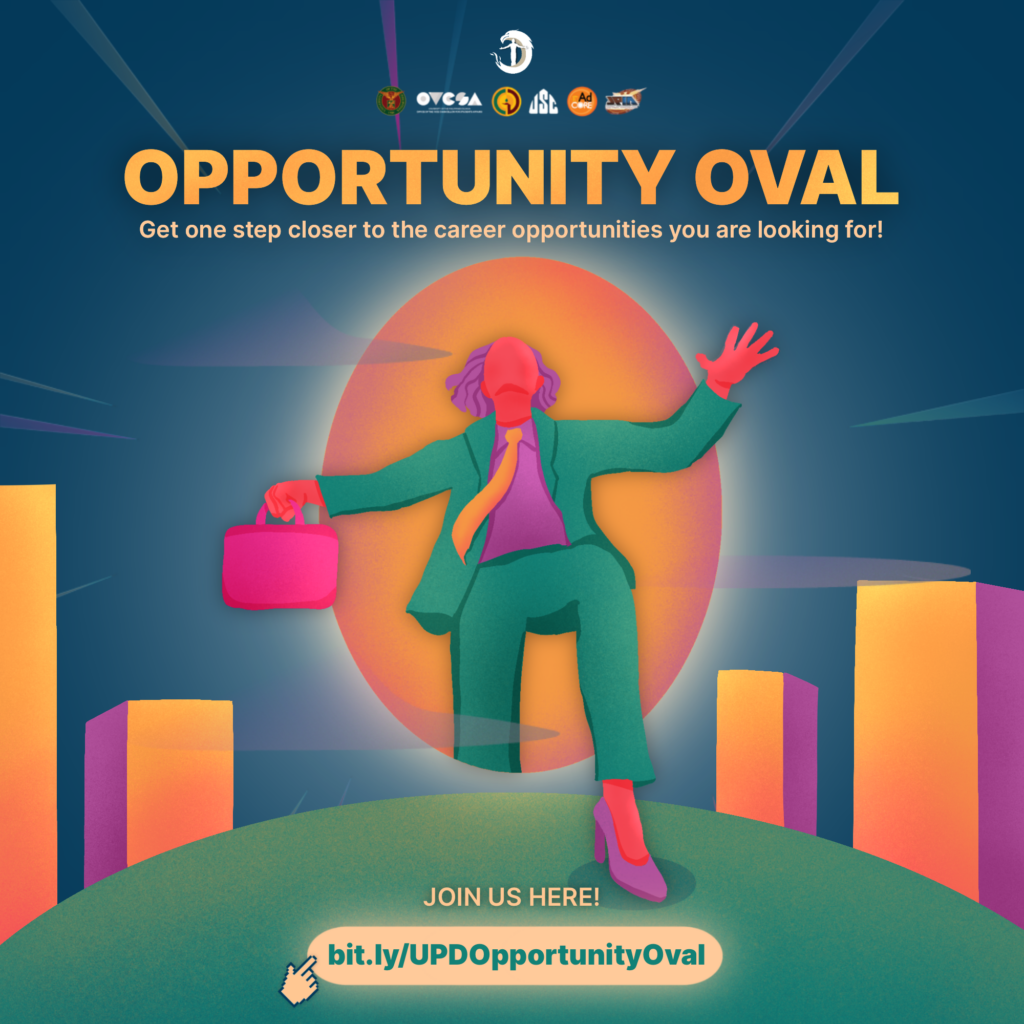 Start building your connections with 𝘀𝘁𝘂𝗱𝗲𝗻𝘁𝘀, 𝗮𝗹𝘂𝗺𝗻𝗶, 𝗮𝗻𝗱 𝗰𝗼𝗺𝗽𝗮𝗻𝘆 𝗿𝗲𝗽𝗿𝗲𝘀𝗲𝗻𝘁𝗮𝘁𝗶𝘃𝗲𝘀 here: http://bit.ly/UPDOpportunityOval
UPD INTERNATIONAL STUDENT EXCHANGE PROGRAM
The UP Diliman International Student Exchange Program is back as LIPAD-ARAL! Enroll for one to two semesters at UP Diliman partner universities abroad. Tuition at the host institution is waived!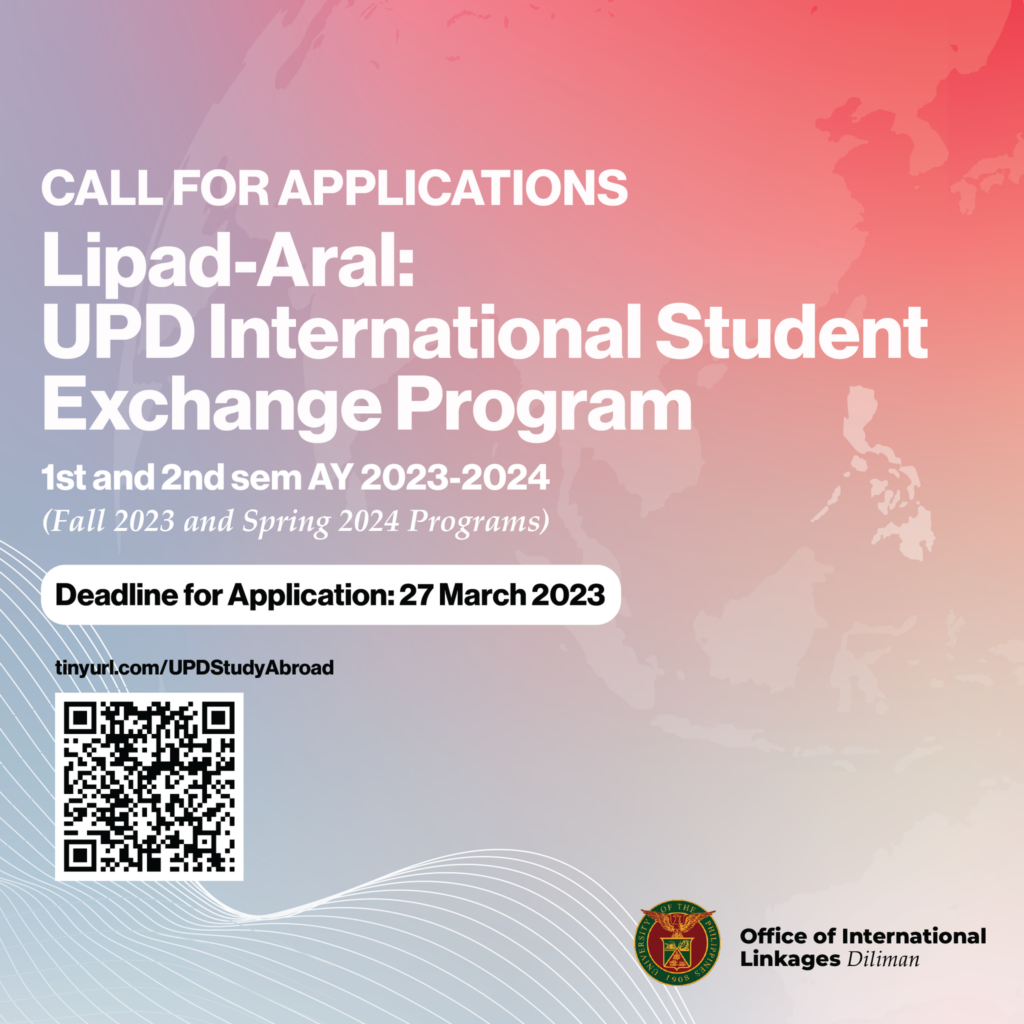 Access the application packet at tinyurl.com/UPDStudyAbroad. Deadline for submission of applications is 27 March 2023. If you have questions or concerns, contact Ms. Chin Dimson at oild_outbound.upd@up.edu.ph.
AUSTRALIA AWARDS SCHOLARSHIP
Ready to experience world-class education and become a leader in your field? Apply for the prestigious #AustraliaAwards Scholarship!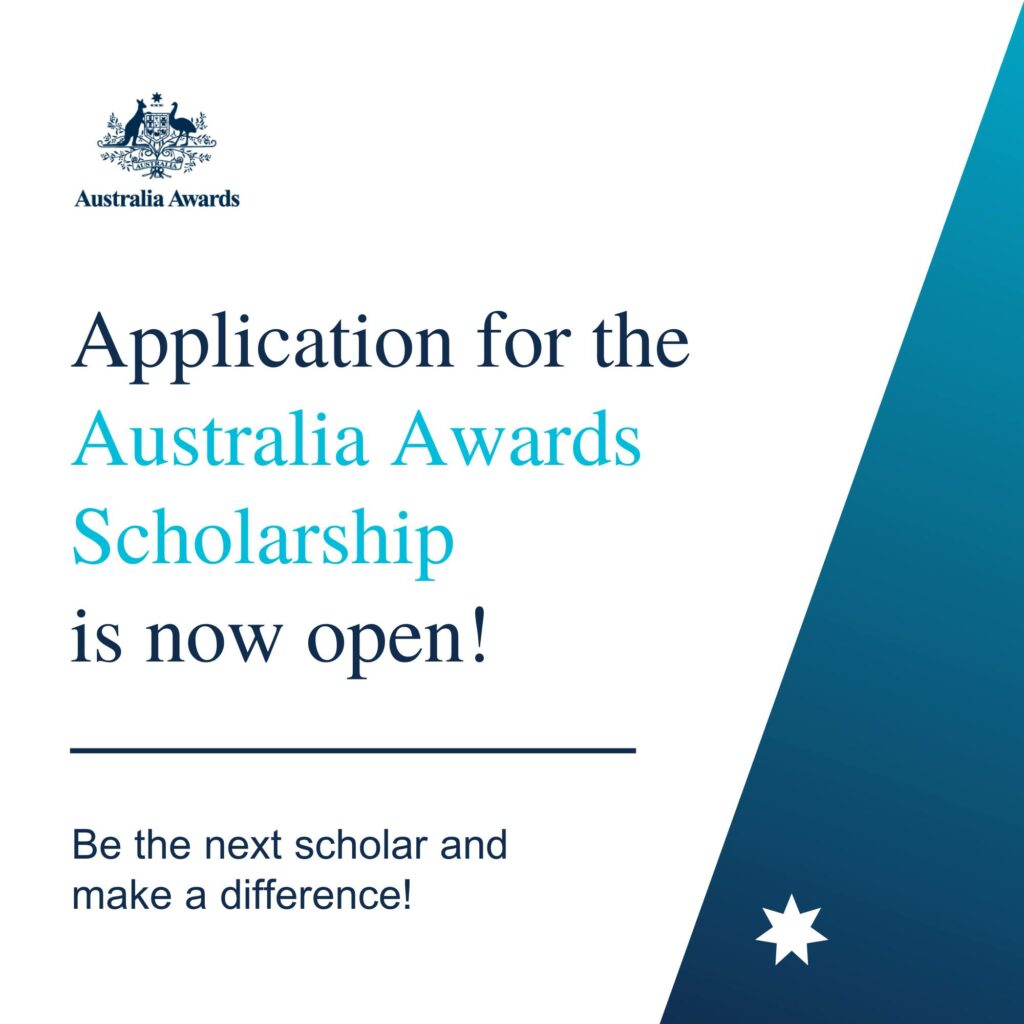 Application runs from 1 February to 1 May 2023. For more information, visit https://www.australiaawardsphilippines.org/
---