Eugene Solla
May 15, 2022
Hello there! The UP Diliman Office of the Vice Chancellor for Student Affairs' #OpportunitiesCorner is an update on available scholarships, exchange programs, conferences, workshops, and other skill-enhancing initiatives for UP Diliman students. Here's for the second week of May 2022!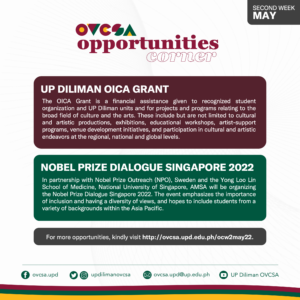 OICA GRANT CALL FOR APPLICATIONS
The UP Diliman OICA is now accepting applications for OICA Grant for JULY TO SEPTEMBER 2022 projects/events. Kindly submit duly-accomplished project proposal form, a copy of your updated org. recognition/registration and other requirements to grants_oica.upd@up.edu.ph on or before JUNE 1, 2022.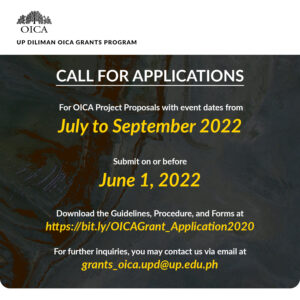 The OICA Grant is a financial assistance given to recognized student organization and UP Diliman units and for projects and programs relating to the broad field of culture and the arts.
These include but are not limited to cultural and artistic productions, exhibitions, educational workshops, artist-support programs, venue development initiatives, and participation in cultural and artistic endeavors at the regional, national and global levels. It takes the form of partial subsidy and shall not exceed the total project cost.
The implementing guidelines, procedures and project proposal form may be downloaded from https://bit.ly/OICAGrant_Application2020.
For further inquiries, you may contact the Grants Coordinator at grants_oica.upd@up.edu.ph.
Nobel Prize Dialogue Singapore 2022
AMSA Singapore is a registered organisation that represents medical students across Singapore, both locally and internationally.
In partnership with Nobel Prize Outreach (NPO), Sweden and the Yong Loo Lin School of Medicine, National University of Singapore, AMSA will be organizing the Nobel Prize Dialogue Singapore 2022.
AMSA would like to extend a warm invitation to all students and youth (15-35 years old) within the Asia Pacific, from any discipline of study, to apply to be a participant during the hybrid event, gaining the opportunity to be engaged in discussion with Nobel Prize Laureates on topics under the theme, 'The Future We Want Together'.
Six themed discussions, each comprising 10-12 students and one Nobel Prize Laureate, will be held virtually between June to mid-July 2022. From these sessions, a total of 12 students will be selected to be part of the discussions held in-person with Nobel Prize Laureates and global thought leaders on Tuesday, 13 September 2022 in Singapore.
The event emphasizes the importance of inclusion and having a diversity of views, and hopes to include students from a variety of backgrounds within the Asia Pacific. AMSA understands that your organisation represents a large number of students, and is similarly committed to empowering and providing opportunities for youth.
For easy reference, the sign up form can be found at tinyurl.com/npdsingapore2022 (Deadline: 31 May, 2359 GMT+8).
---