ovcsa_user
September 8, 2023
Hello there! The UP Diliman Office of the Vice Chancellor for Student Affairs' #OpportunitiesCorner is an update on available scholarships, exchange programs, conferences, workshops, and other skill-enhancing initiatives for UP Diliman students. Here's for the 2nd week of September 2023!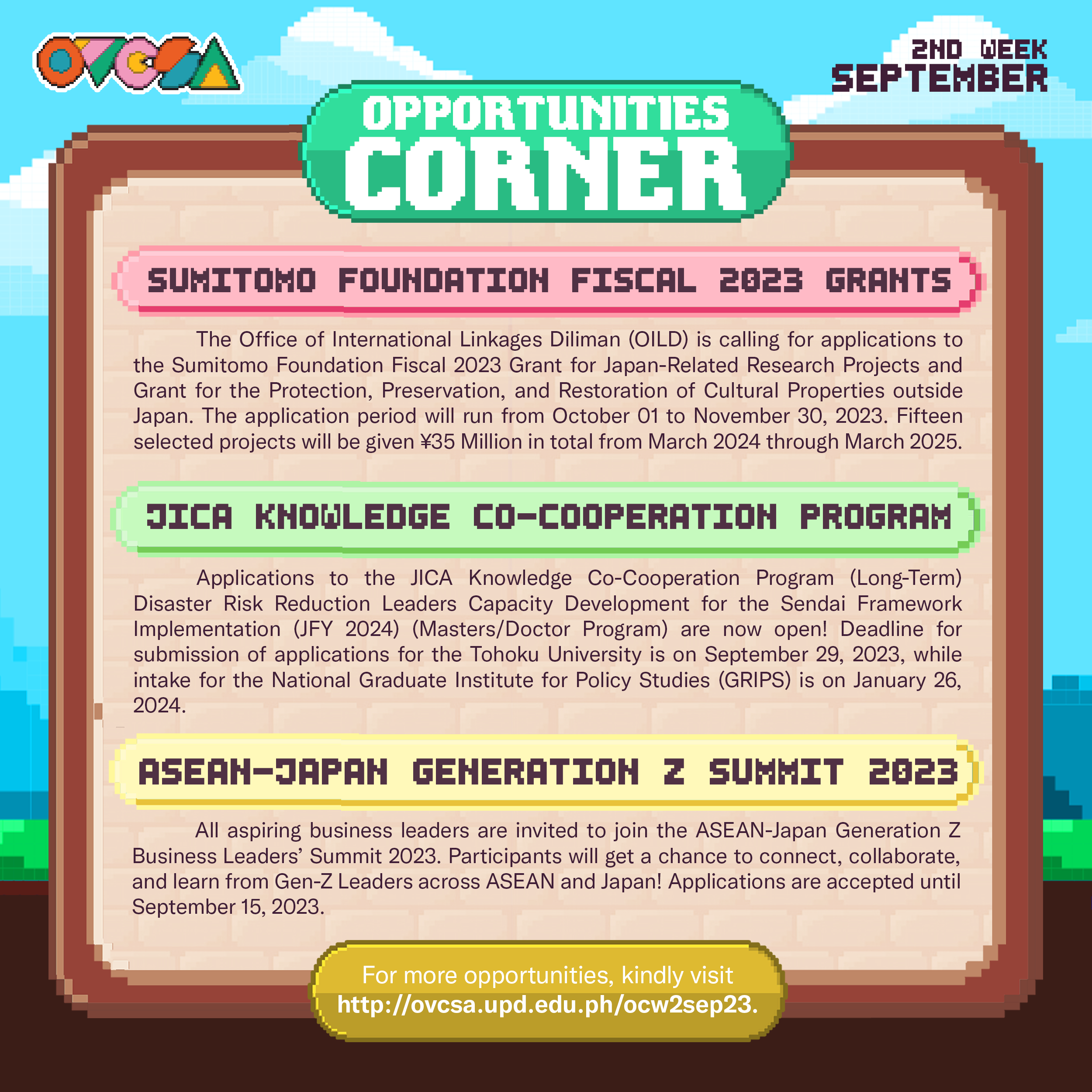 SUMITOMO FOUNDATION FISCAL 2023 GRANT FOR JAPAN-RELATED RESEARCH PROJECTS
The UP Office of International Linkages Diliman (OILD) is calling for applications to the Sumitomo Foundation Fiscal 2023 Grant for Japan-Related Research Projects and Grant for the Protection, Preservation, and Restoration of Cultural Properties outside of Japan.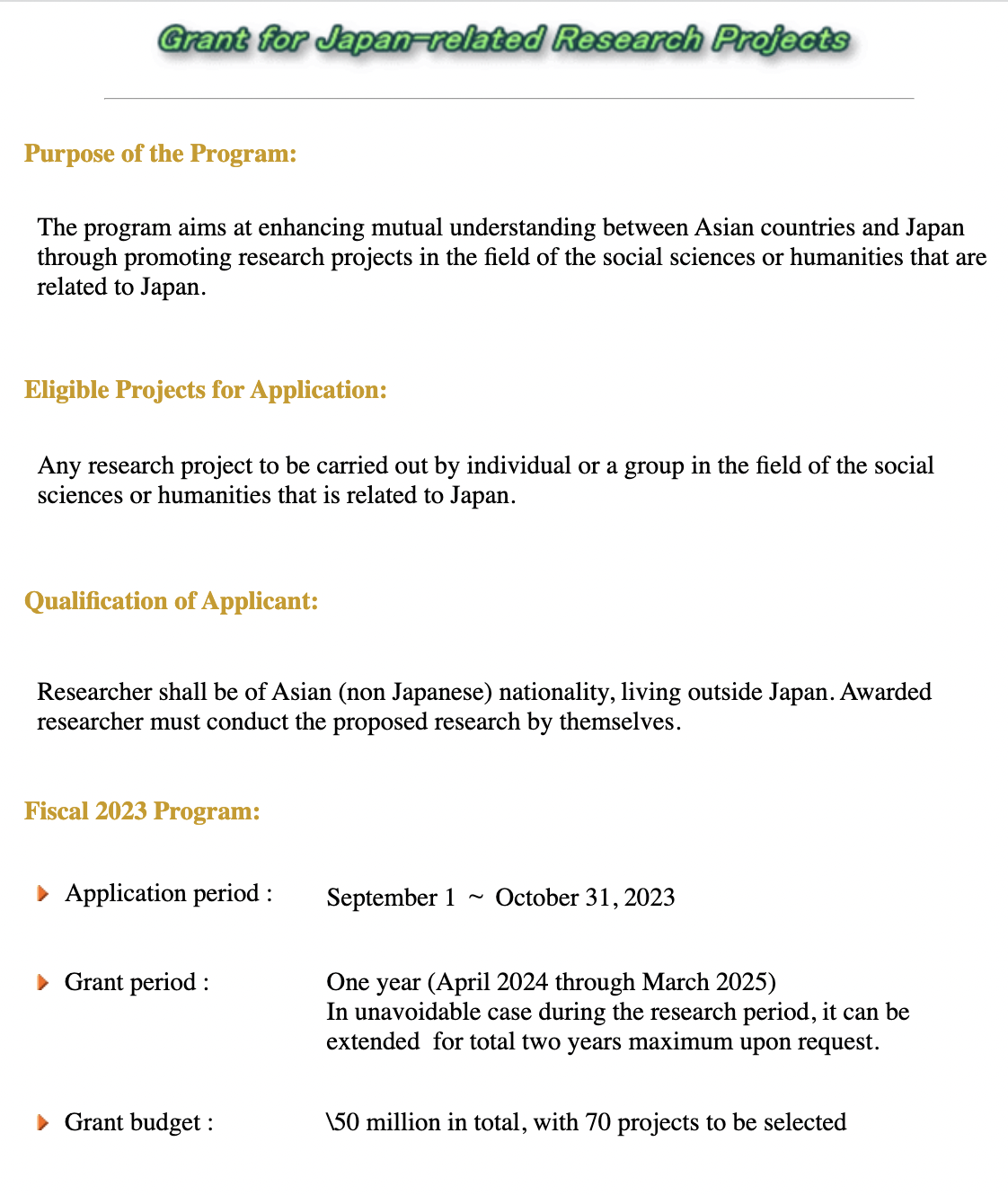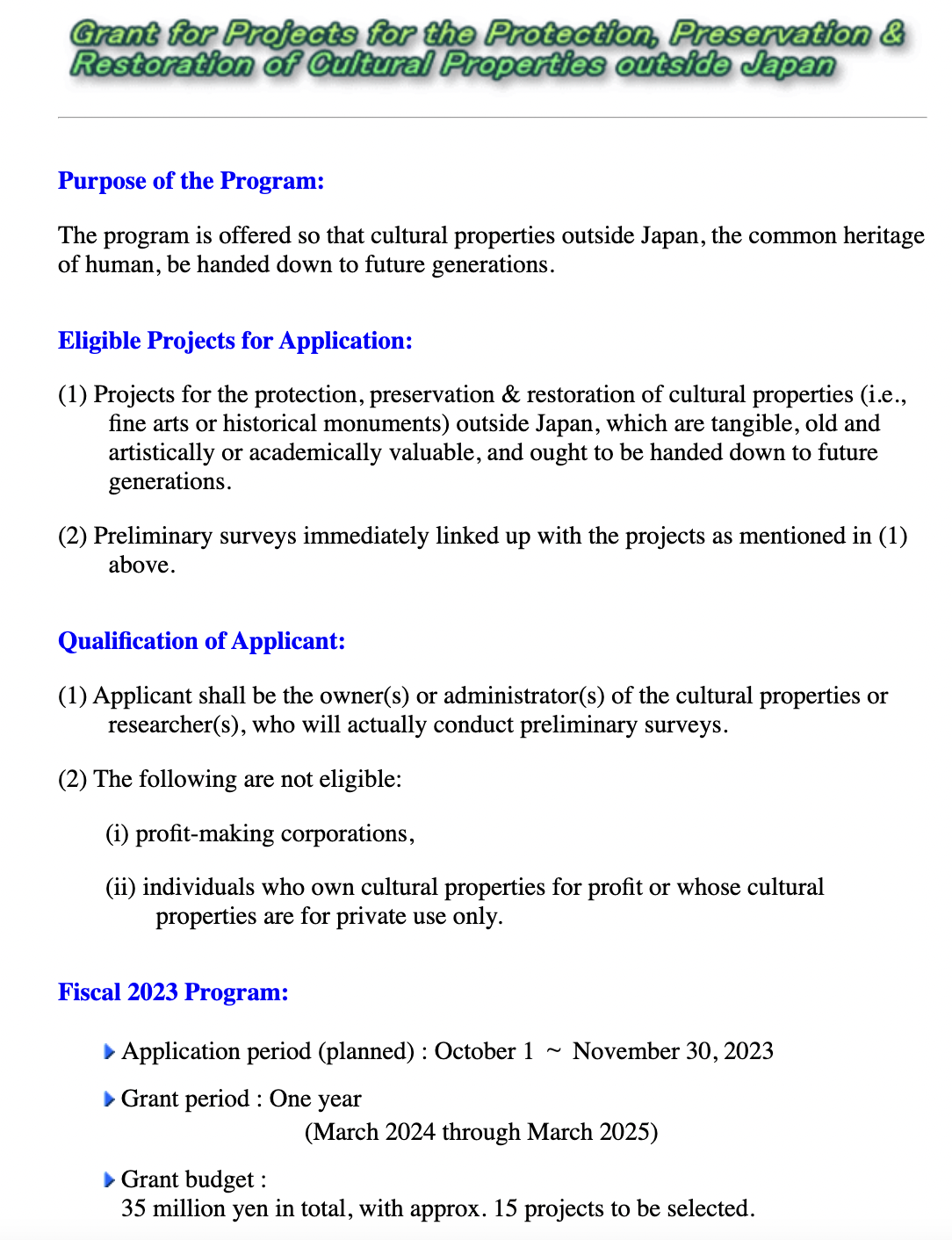 For more information, interested applicants may visit the website http://www.sumitomo.or.jp/e/.
Applicants may also contact OIL Diliman via UP Trunkline 8981-8500 local 2561 (c/o Ms. Catherine
Joie Tagaban), or oild_acadadminstaffmobility.upd@up.edu.ph.
JICA KNOWLEDGE CO-COOPERATION PROGRAM (LONG-TERM) DISASTER RISK REDUCTION LEADERS CAPACITY DEVELOPMENT FOR THE SENDAI FRAMEWORK IMPLEMENTATION (JFY 2024)
The Sendai Framework for Disaster Risk Reduction 2015‒2030 was adopted at the Third UN World Conference on Disaster Risk Reduction held in March 2015, as a framework aiming to "substantially reduce disaster risk, and the loss of lives and livelihoods".
The Sendai Framework aligns the post-2015 development agenda such as the Sustainable Development Goals (SDGs) and the Paris Agreement. In the Sendai Framework, seven global targets were agreed upon, and each country has a primary responsibility to implement and monitor the Sendai Framework following the Guiding Principles.
Disaster Risk Reduction (DRR) Leaders Capacity Development for the Sendai Framework Implementation (FY2024) is a Master/Doctor Degree Scholarship Program specially provided by the Japan International Cooperation Agency (JICA) in collaboration with Japan's top-ranked universities, which shall be implemented as part of the Official Development Assistance of the Government of Japan.
This Program provides excellent study and research opportunities for to-be leaders of the DRR field to acquire high-level competence comprehensively covering both academic studies and practical knowledge.
The Program consists of a regular graduate program for study and research related to DRR at a
Japanese university and additional DRR programs.
Details of the Program may be viewed here.
Interested applicants must submit their applications through the Academic and Administrative Staff Mobility Section, Office of International Linkages Diliman (OIL Diliman) at oild_acadadminstaffmobility.upd@up.edu.ph.
For details and queries, applicants may contact OIL Diliman via UP Trunkline 8981-8500 local 2561 (c/o Ms. Catherine Joie Tagaban) or send an email to oild_acadadminstaffmobility.upd@up.edu.ph.
ASEAN- JAPAN GENERATION Z BUSINESS LEADERS' SUMMIT 2023.
ASEAN Foundation, in collaboration with the Ministry of Economy, Trade and Industry (METI) and the Japan External Trade Organisation (JETRO), are proud to present the ASEAN – Japan Generation Z Business Leaders' Summit 2023.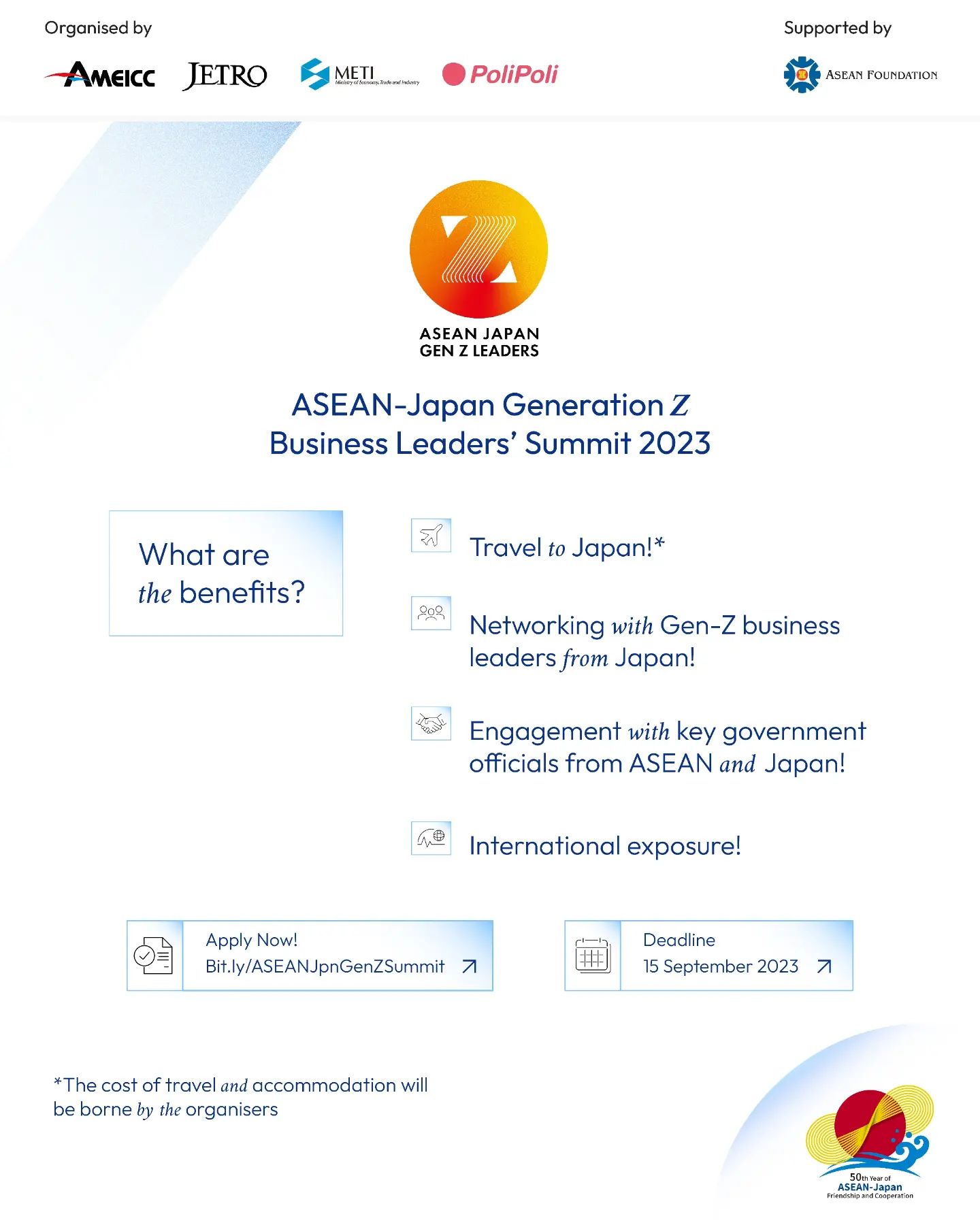 As a part of the Summit program, ASEAN Foundation will hold the Pre-event in Jakarta, Indonesia, in October 2023 themed "Empowering ASEAN – Japan Generation Z Leaders for Community Development and Solution to Social Challenges." This pre-event serves as a vital programme of the roadshow leading to the ASEAN – Japan Generation-Z Leaders' Summit, scheduled to take place in Karuizawa, Japan, in December 2023.
By engaging in this programme, participants will gain a sense of ownership in shaping the ASEAN – Japan relationship and enhancing the capacities of future leaders in the region.
Furthermore, this event provides an invaluable opportunity for networking and knowledge-sharing among Gen-Z leaders, encouraging the exchange of ideas, initiatives, and experiences. This collective effort aims to empower and equip young leaders to play a meaningful role at the upcoming Summit in Japan.
Apply now at bit.ly/ASEANJpnGenZSummit by 15 September 2023, 23.59 (GMT+7).
---