ovcsa_user
August 16, 2023
Hello there! The UP Diliman Office of the Vice Chancellor for Student Affairs' #OpportunitiesCorner is an update on available scholarships, exchange programs, conferences, workshops, and other skill-enhancing initiatives for UP Diliman students. Here's for the 3rd week of August 2023!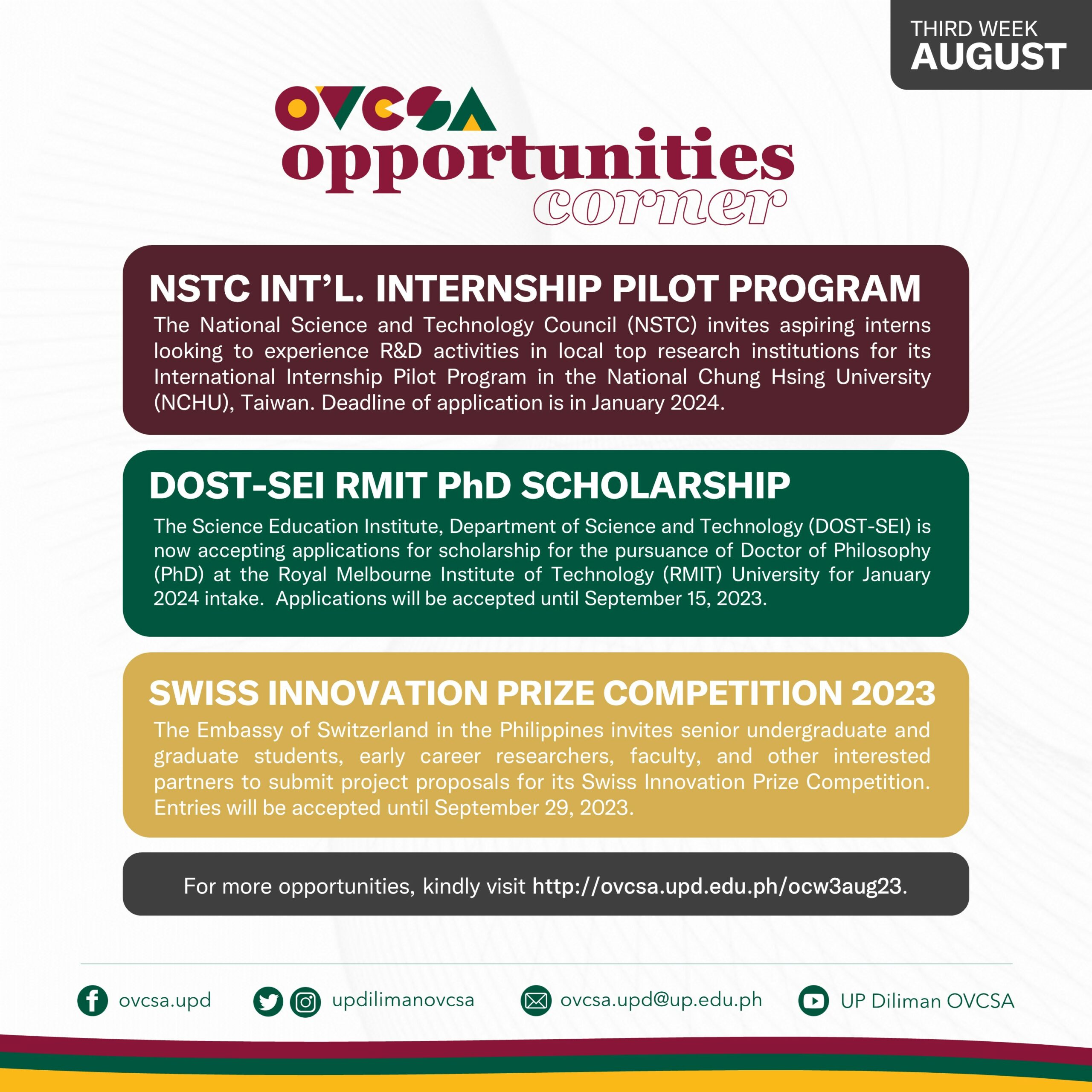 NATIONAL SCIENCE AND TECHNOLOGY COUNCIL INTERNSHIP PILOT PROGRAM
For international students to experience Taiwan's strengths in the field of S&T, National Science and Technology Council (NSTC) provides the international internship pilot program (IIPP) to attract global talents. Furthermore, NSTC expects some of these interns will engage in advanced studies or start a career in Taiwan. Thus, IIPP could enrich the human resource of key scientific research fields in Taiwan.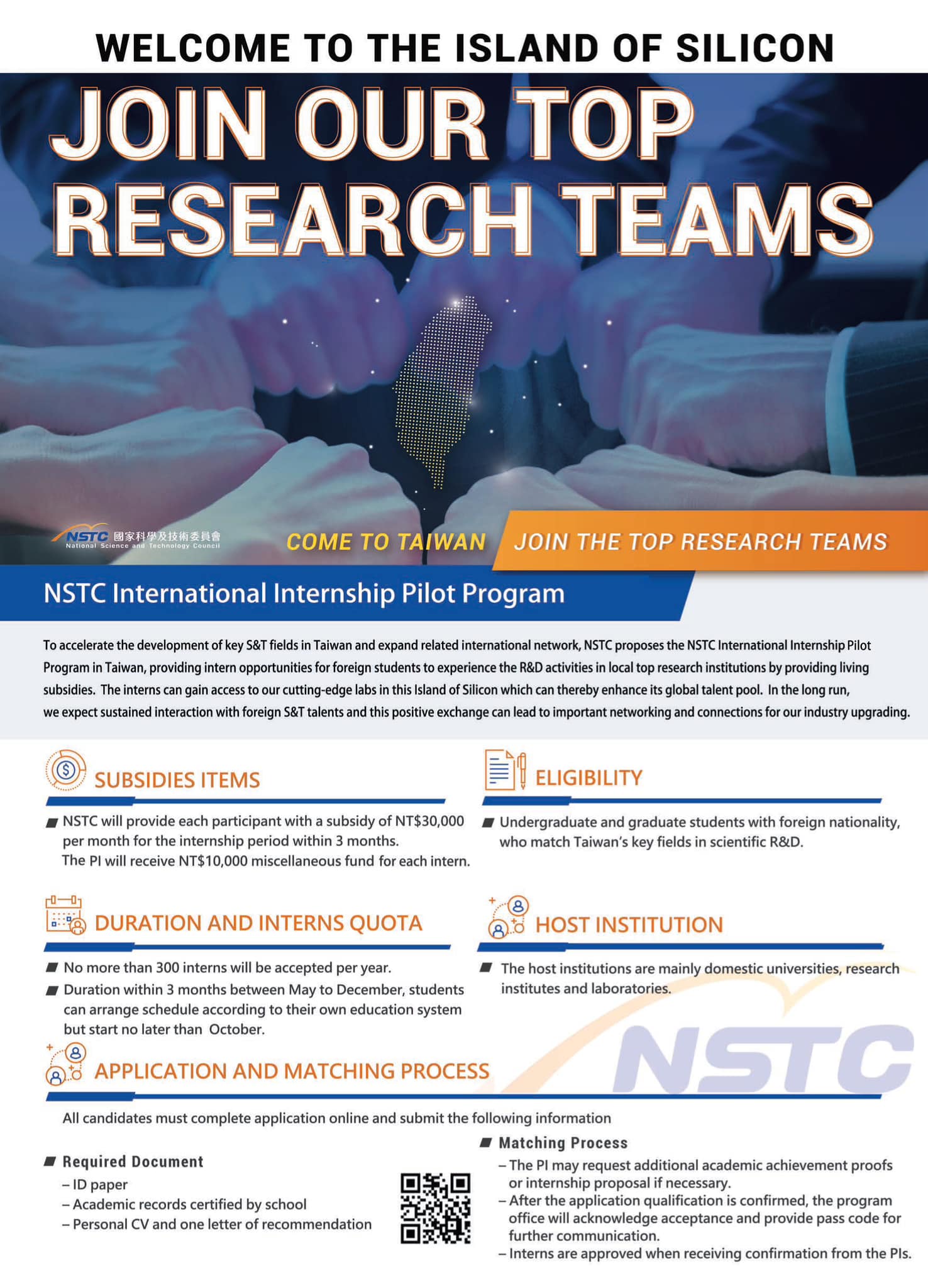 The National Chung Hsing University (NCHU) will be the host university for this incredible journey!
Mark your calendars: Application Deadline is January 2024
Internship Period: You'll be soaring before March 30, 2024
Ready to take the plunge? Head to the IIPP platform to apply: https://iipp.tw/
Wanna know where you'll be exploring? Check out NCHU's exclusive vacancies: https://iipp.tw/institute/2

DOCTOR OF PHILOSOPHY (PhD) AT THE ROYAL MELBOURNE INSTITUTE TECHNOLOGY (RMIT) SCHOLARSHIP
The Department of Science and Technology – Science Education Institute is pleased to announce that it is NOW ACCEPTING SCHOLARSHIP APPLICATIONS to study PhD at RMIT University.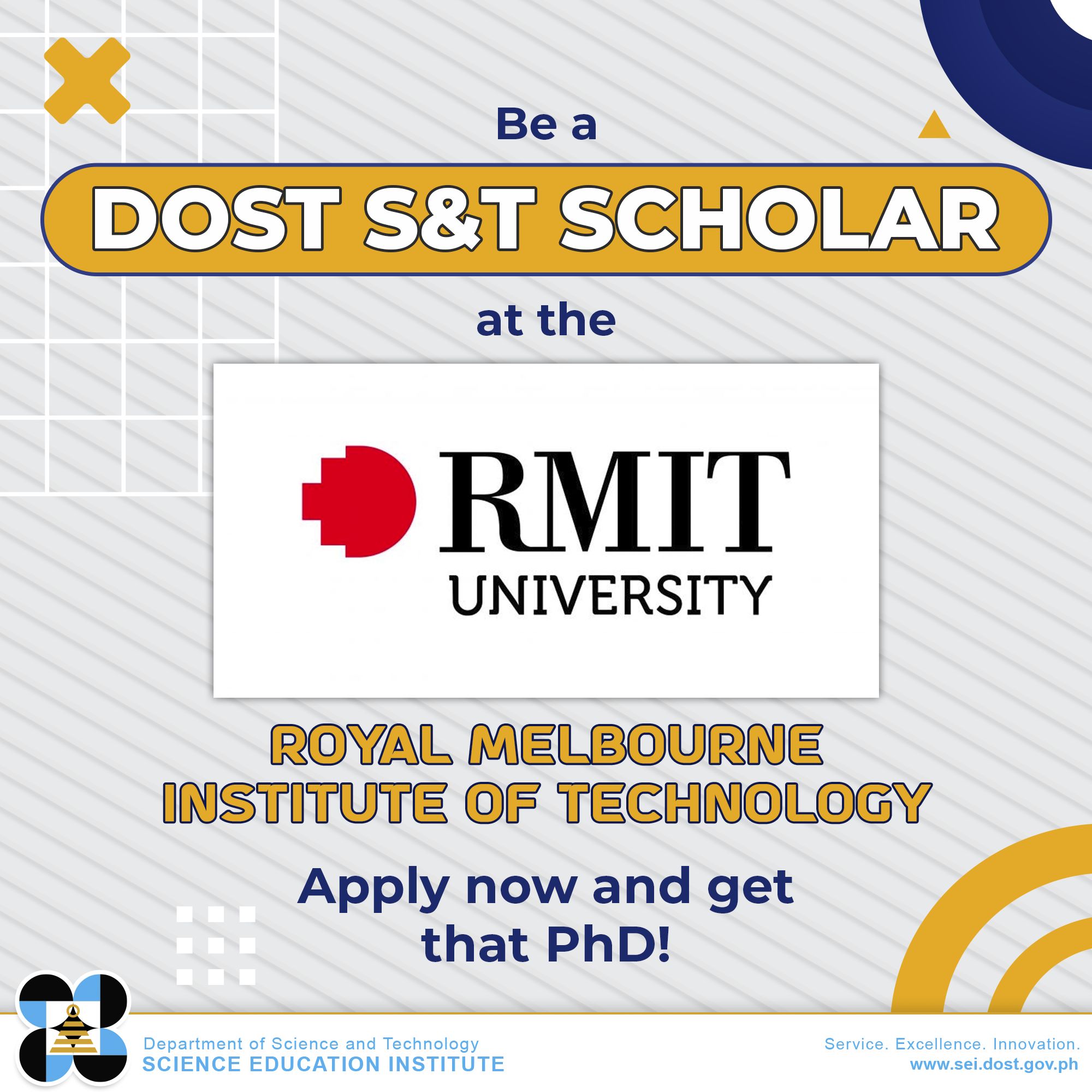 Scholars under the program must pursue any of the following research projects for their dissertation:
1. The use of telehealth to support care services in populated regional and rural locations.
2. Improved network coverage to support virtual care services to regional and rural populations.
3. Evaluating the Treatment Box for maternal and newborn health in regional and rural locations in the Philippines.
4. Impact of digital health innovations on staffing recruitment in remote locations.
Download the application form here: https://www.sei.dost.gov.ph/…/downloads/schForeignApp.pdf.
Applications and supporting documents must be submitted to the DOST-SEI on or before September 15, 2023.
For other questions and information and to send the soft copy of your application documents, email the DOST-SEI Scholarship Division at fgs@sei.dost.gov.ph.

SWISS INNOVATION PRIZE COMPETITION
The Swiss Innovation Prize Competition is an initiative aimed at fostering innovation and supporting the development of new ideas that have the potential to drive economic growth and improve society.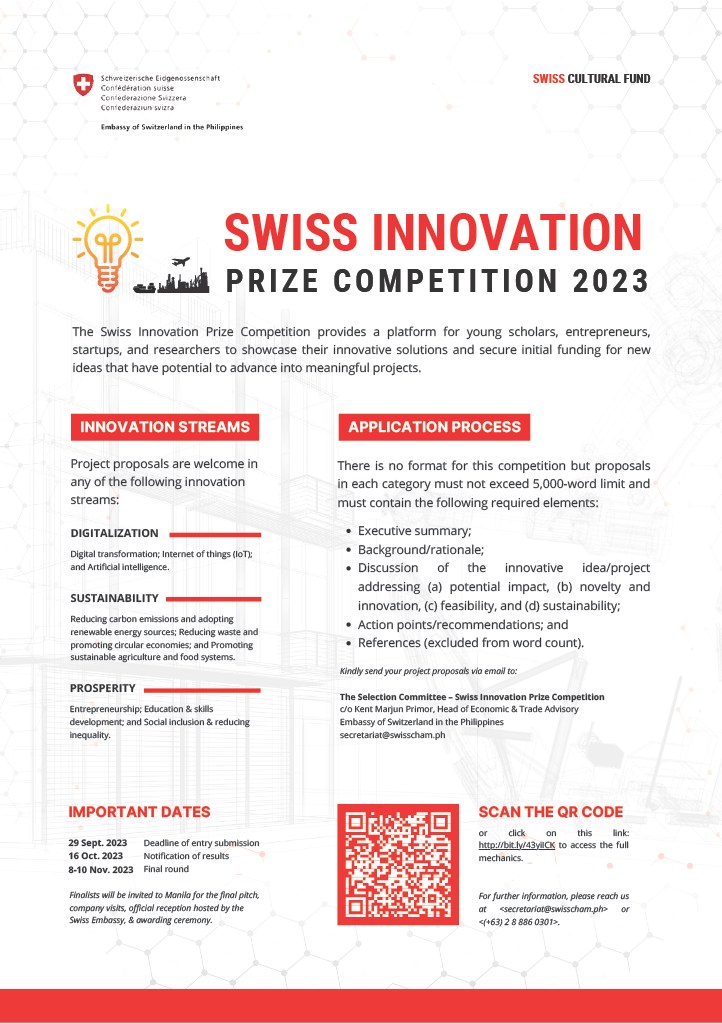 The competition provides a platform for young scholars, entrepreneurs, startups, and researchers to showcase their innovative solutions and secure initial funding for new ideas that have potential to advance into meaningful projects.
Participants likewise may gain access to mentorship, internship, and other resources that can help bring their innovative ideas to industry.
Address your entry submissions to:
The Selection Committee – Swiss Innovation Prize Competition
Attention: Mr. Kent Marjun Primor, Head of Economic & Trade Advisory
Address: Embassy of Switzerland in the Philippines, 24/F BDO Equitable Tower, Paseo de Roxas, Makati City, Philippines
For questions/concerns, email: secretariat@swisscham.ph
---