Hello there! The UP Diliman Office of the Vice Chancellor for Student Affairs' #OpportunitiesCorner is an update on available scholarships, exchange programs, conferences, workshops, and other skill-enhancing initiatives for UP Diliman students. Here's for the third week of June 2023!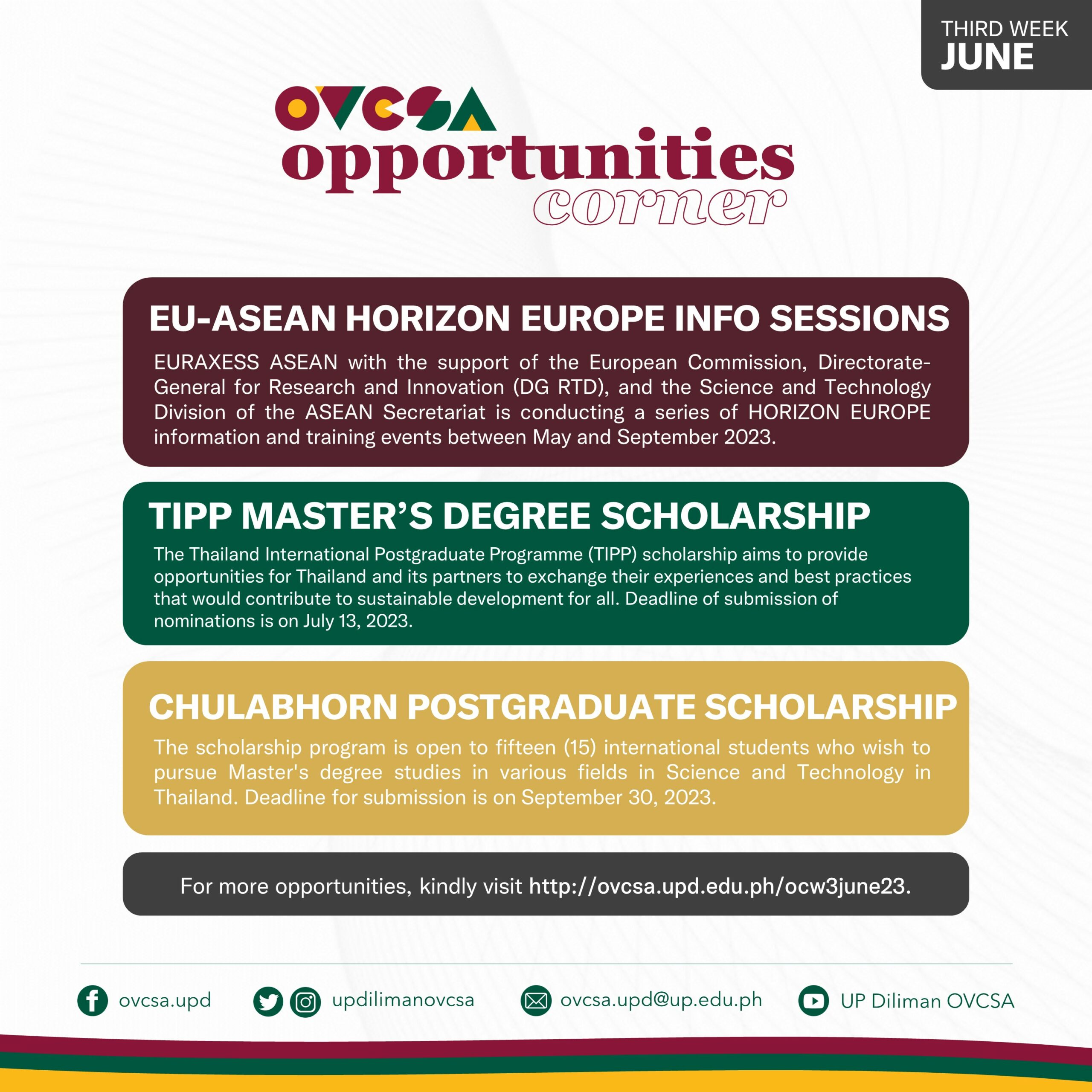 HORIZON EUROPE INFO SESSIONS
EURAXESS ASEAN with the support of the European Commission, Directorate-General for Research and Innovation (DG RTD), and the Science and Technology Division of the ASEAN Secretariat is conducting a series of HORIZON
EUROPE information and training events between May and September 2023.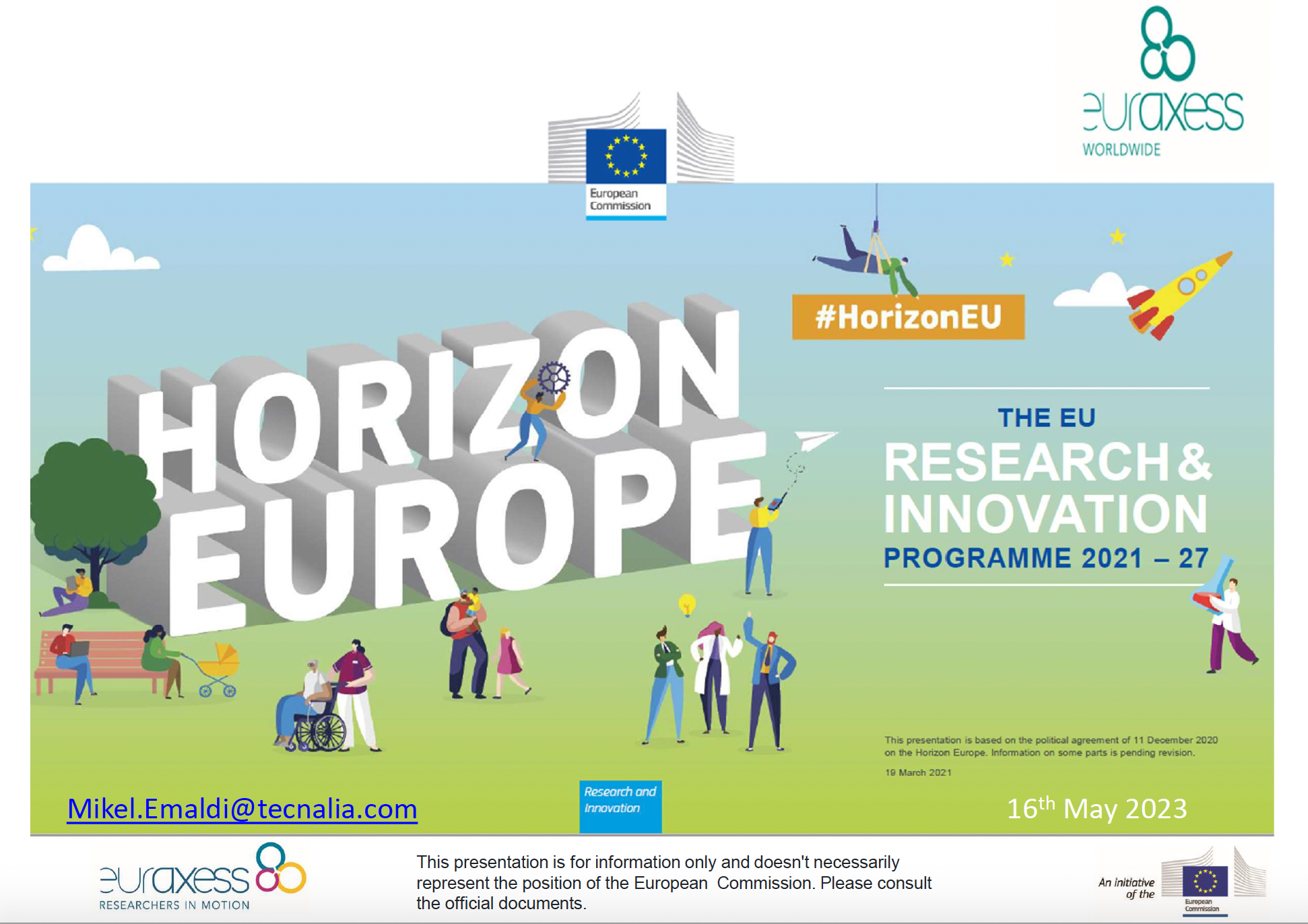 First in a series of four thematic focus sessions, the event on 13 June will present forthcoming calls for proposals to carry out collaborative research in the area of biotech & health funded under the EU's Research & Innovation Programme HORIZON EUROPE.
Series Details:
● General Information Session: 16 May 2023
● Biomedicine and Health: 13 June 2023, 3:00 PM – 5:00 PM JKT Time (GMT+7)
● Food Science: 11 July 2023, 3:00 PM – 5:00 PM JKT Time (GMT+7)
● Sustainable Energy Research: 15 August 2023, 3:00 PM – 5:00 PM JKT Time (GMT+7)
● Space Technology: 12 September 2023, 3:00 PM – 5:00 PM JKT Time (GMT+7)
Registration: https://euraxess.ec.europa.eu/worldwide/asean/news/eu-asean-collaboration-science-research-and-innovation-horizon-europe-info.
THAILAND INTERNATIONAL POSTGRADUATE PROGRAMME (TIPP) 2023
The TIPP scholarship aims to provide opportunities for Thailand and its partners to exchange their experiences and best practices that would contribute to sustainable development for all in six key areas: (1) Sufficiency Economy Philosophy (SEP), (2) Climate Change and Environmental Issues, (3) Agriculture and Food Security, (4) Public Health, (5) Bio-Circular-Green Economy Model (BCG), and (6) other topics related to Sustainable Development Goals (SDGs).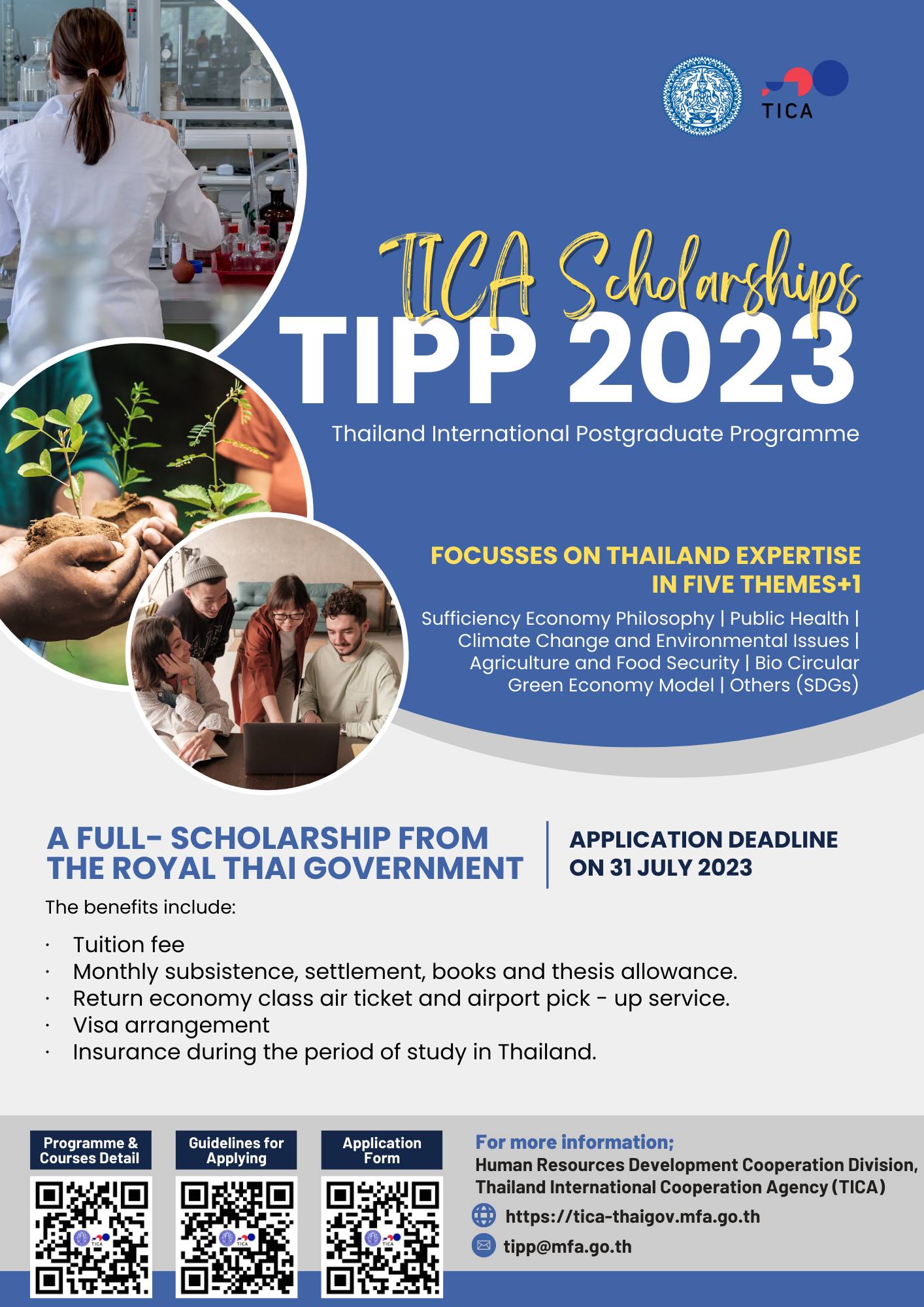 Deadline for submission of nominations: 13 July 2023
Submission Address: CHED International Affairs Service (IAS), 2/F Higher Education Development Center, C.P. Garcia Avenue, Diliman, Quezon City.
Link to Website: https://tica-thaigov.mfa.go.th
Eligibility
● Must be 40 years old and below provided the return service obligation is still within the nominee's serviceable years
● Candidate must have rendered at least two (2) years of service
● Must hold a permanent appointment
● Must have a college degree related to the field of study or has sufficient demonstrated ability and experience along the field of study
● Must not have a pending application for scholarship under another program;
● Must have rendered the service obligation required under Executive Order 367 for scholarship recently concluded before he/she could again be nominated for another course where the field of study is different from the previous training.
Financial Assistance
● Nominating Agency will provide the salary of the nominee for the duration of the award
● Full grant for Donor Country
Documentary Requirements
1. A letter of nomination addressed to the CHED Chairperson/OIC, Attention: Director of the International Affairs Staff, signed by the Secretary or Head of office, agency, university or entity or its duly authorized official indicating among others the following:
a. That the nominee has no pending administrative and criminal charges;
b. That the nominee has been conferred with a degree;
c. Assurance of utilizing the services of the nominee, if accepted for a period of not less than two (2) years of every year of scholarship or a fraction thereof not less than six (6) months or as provided under E.O. 367 amending E.O. 129; and
2. Certified Copy of Service Record
3. Certified Copy of Statement of Actual Duties and Responsibilities
4. Photocopy of Transcript of Academic Records (Baccalaureate/Graduate)
5. Photocopy of Diploma
6. Certification that the nominee has no pending administrative and criminal case
7. Certification that the nominee has no pending scholarship nomination to other programs.
8. Updated bio-data/resume w/ list of in-service trainings and seminars attended (Spell out acronyms of organizer/s and topic/s or subject/s of the training) programs; certificates of training NEED NOT be submitted).
For more information about the scholarship and courses, kindly refer to this link.
THE CHULABHORN GRADUATE INSTITUTE POSTGRADUATE SCHOLARSHIP 2023
The scholarship program is open to international students who wish to pursue Master's degree studies in various fields in Science and Technology in Thailand. This year, fifteen (15) scholarship slots will be awarded to qualified applicants which covers roundtrip airfare, tuition and other academic fees, accommodation, monthly stipend, book allowance, health insurance, and others.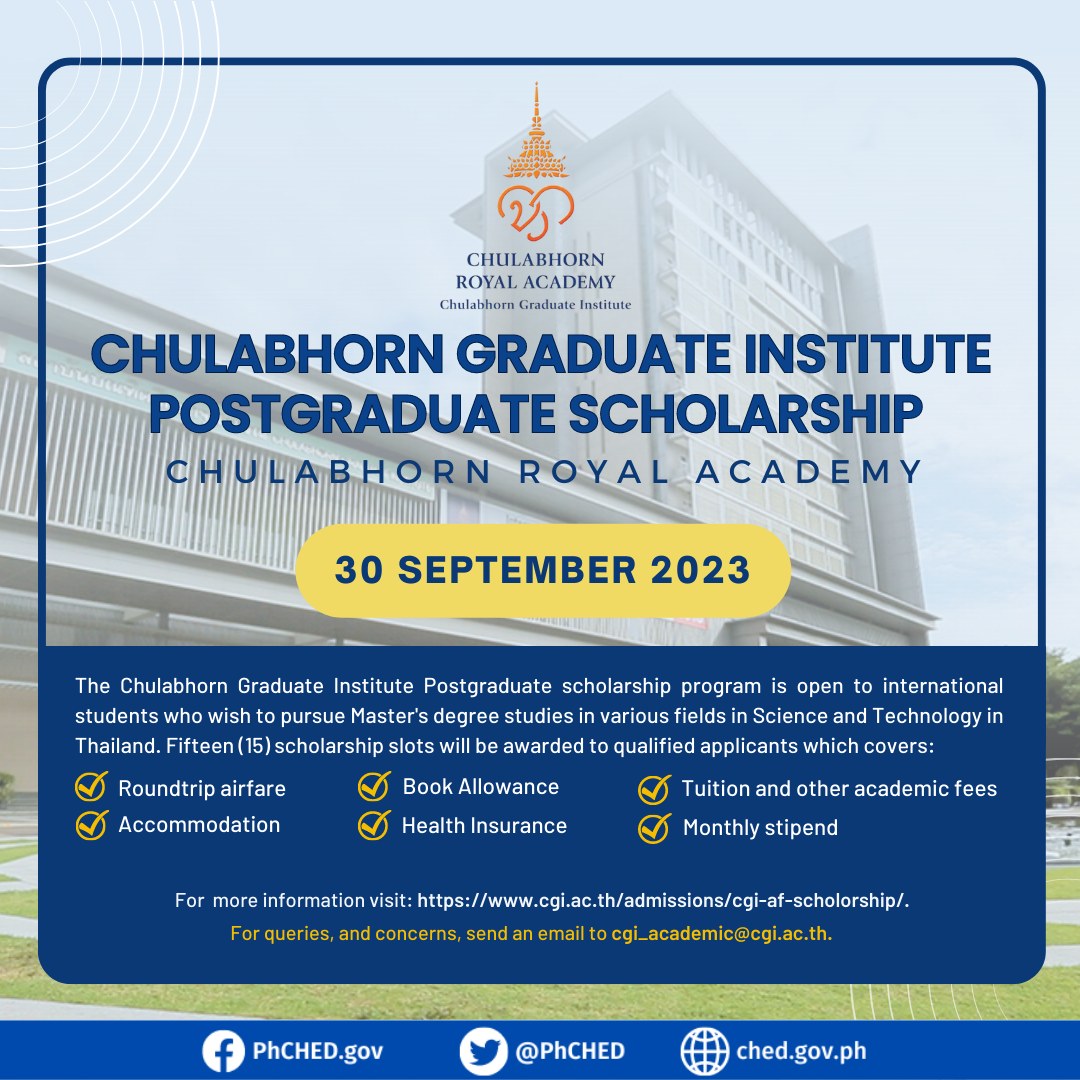 Deadline for Submission: 30 September 2023
Email: cgi_academic@cgi.ac.th
Field of Study
● Applied Biological Sciences: Environmental Health
● Environmental Toxicology
● Chemical Sciences
Eligibility
● Under 30 years of age
● Holder of a Bachelor's Degree with a cumulative GPA of at least 2.75 in one of the following fields:
○ Sciences: Chemistry, Biology, Biological Sciences, Molecular Biology,
Environmental Sciences
○ Medical Sciences: Medicine, Medical Technology
○ Pharmacy or Pharmaceutical Sciences
○ Applicants from other related fields are also welcome to apply.
■ Must have experience in scientific laboratory research
■ Must have demonstrated English proficiency, preferably on one of two recognized tests of language proficiency (TOEFL, IELTS)
■ Must provide a statement of purpose explaining their interests in the study
Scholarship Coverage
The scholarship will cover tuition and other academic fees (credit fee, laboratory expenses, refresher course, enrollment fee, thesis fee, production of thesis documents), round trip airfare, visa fee, first settlement allowance, relocation allowance, accommodation, monthly stipend, book allowance, health insurance, and others.
Application Procedure
Applicants should complete the Chulabhorn Graduate Institute Post–Graduate scholarship Program's application form and submit together with other supporting documents through the following channel:
(1) Send via e-mail the scanned files of the application form and all the supporting documents to Email address: cgi_academic@cgi.ac.th
(2) After step (1) is completed, send all the original documents via postal service to postal address:
Chulabhorn Graduate Institute (CGI Scholarship Program)
54 Kamphangphet 6 Road, Talat Bang Khen, Laksi, Bangkok 10210
THAILAND
Detailed information on the scholarship may be accessed at https://www.cgi.ac.th/admissions/cgi-af-scholorship/.
---