Eugene Solla
March 20, 2022
Hello there! The UP Diliman Office of the Vice Chancellor for Student Affairs' #OpportunitiesCorner is an update on available scholarships, exchange programs, conferences, workshops, and other skill-enhancing initiatives for UP Diliman students. Here's for the third week of March 2022!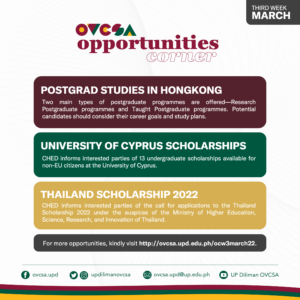 POSTGRADUATE STUDIES IN HONGKONG
Why Hong Kong?
Hong Kong is ranked as top 15th in the QS Best Student Cities 2022. Located in the heart of Asia, Hong Kong is best known as an international financial center, the premier trading hub between Mainland China and the rest of the world, with well-established infrastructures of communications and transportations. English is widely used and serves as the medium of instruction for most programmes at universities in Hong Kong. Studying in Hong Kong for postgraduate studies will enable tremendous career opportunities to reach your students, in Hong Kong, Asia and beyond.
Types of Programmes
Research Postgraduate programmes and Taught Postgraduate programmes are available. Potential candidates should consider their career goals and study plans to identify the most suitable mode of study.
Research Postgraduate Studies
Research Postgraduate programmes focus mainly on research work and require applicants to have good academic background and preferably with solid research experience. These programmes provide students with training in research methodologies in a specific discipline and require students to be involved in research projects. Research Postgraduate programmes lead to qualifications such as Doctor of Philosophy (Ph.D.) and Master of Philosophy (M.Phil.).
Further information can be found on the Research Postgraduate Studies page.
Taught Postgraduate Studies
On the other hand, Taught Postgraduate programmes focus mainly on coursework and may not require students to submit a thesis for graduation. Programme structures and assessment methods vary across programmes and areas of studies. Depending on the programme requirements and the level of study, Taught Postgraduate programmes lead to Doctoral degrees, Master's degrees and Postgraduate Diplomas/Certificates.
Further information can be found on the Taught Postgraduate Studies page.
Generous Financial Support
Various forms of financial support are available to postgraduate students:
For more details, please refer to our website (www.grad.edu.hk).
UNIVERSITY OF CYPRUS SCHOLARSHIPS
The Commission on Higher Education hereby informs interested parties that the University of Cyprus (UCY) is offering undergraduate scholarship programs for international students for AY 2022-2023 which will commence in September 2022.
There are thirteen available scholarships for non-EU citizens who wish to attend Greek-taught undergraduate programs of study (excluding the UCY Medical School). Each scholarship will amount to 50% of the tuition fees for four (4) years. Successful candidates not holding a Greek language certificate will be required to attend a Greek language course for one (1) year at the UCY School of Modern Greek and must obtain Bz level before starting their undergraduate studies.
For further details, interested applicants may visit https://bit.ly/35Soeb2. Deadline of application is in August 2022.
THAILAND SCHOLARSHIP 2022
The Commission on Higher Education is pleased to inform interested parties of the call for applications to the Thailand Scholarship 2022 under the auspices of the Ministry of Higher Education, Science, Research and Innovation of Thailand in cooperation with Thai universities and academic institutions.
The scholarship program offers Bachelor's degree, Master's degree and Doctoral degree for international students in Academic Year 2022. Detailed information on the study programs and application process is available at https://bit.ly/3J6UYg3
Interested applicants may submit their applications directly to the host institution within the application period of each program. The selection process for this scholarship program will be made by the host institution's committee.
---