ovcsa_user
October 20, 2023
Hello there! The UP Diliman Office of the Vice Chancellor for Student Affairs' #OpportunitiesCorner is an update on available scholarships, exchange programs, conferences, workshops, and other skill-enhancing initiatives for UP Diliman students. Here's for the 3rd week of October 2023: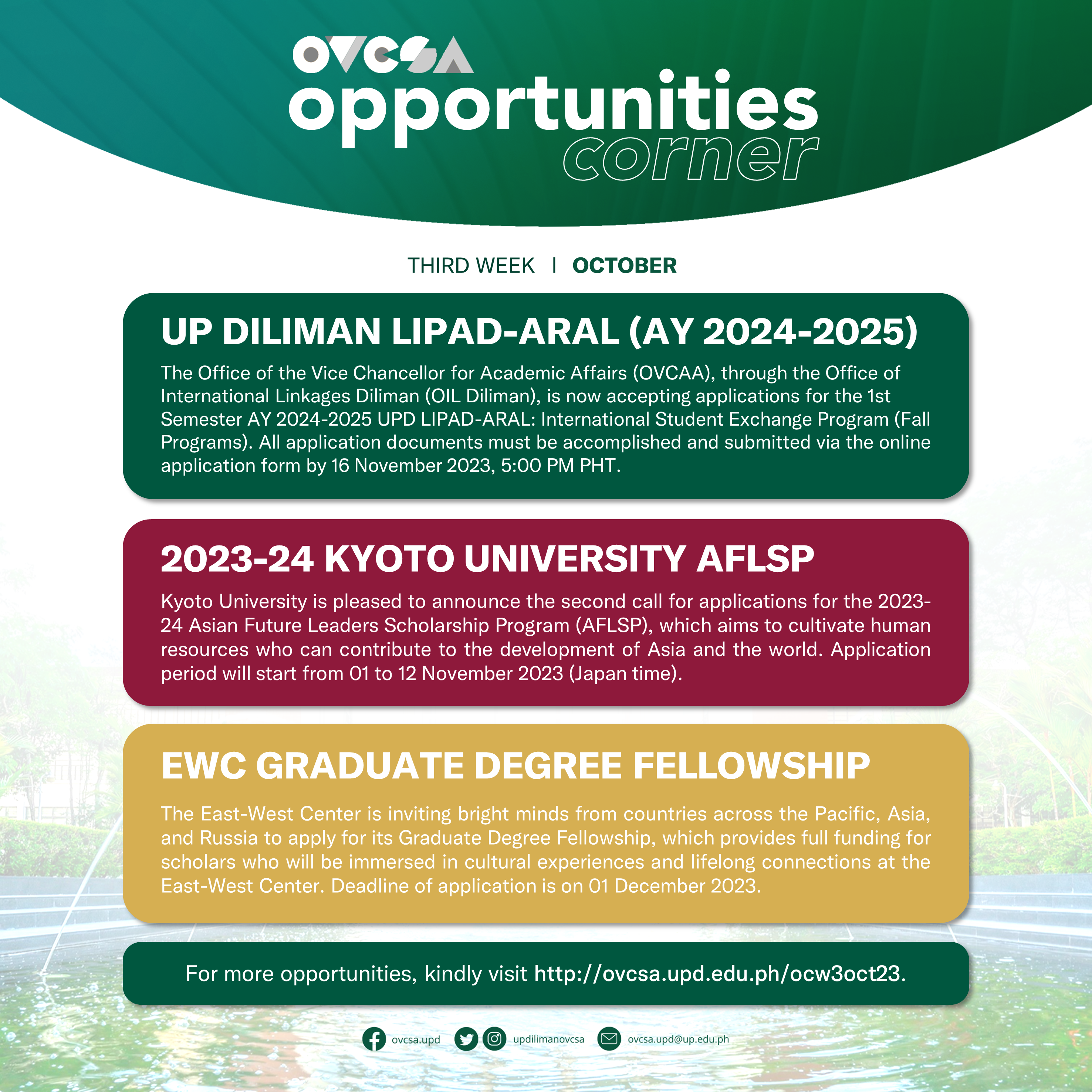 AY 2024-2025 UP DILIMAN LIPAD-ARAL: INTERNATIONAL STUDENT EXCHANGE PROGRAM
The Office of the Vice Chancellor for Academic Affairs (OVCAA), through the Office of International Linkages Diliman (OIL Diliman), is now accepting applications for the 1st Semester AY 2024-2025 UPD LIPAD-ARAL: International Student Exchange Program.
UP Diliman students who meet the following qualifications are eligible to apply:
1. Undergraduate students who are currently enrolled;
2. Sophomore or Junior standing with cumulative GWA of 1.75 or better;
3. Must be enrolled in UP Diliman for at least one remaining semester upon return from
the student exchange program;
4. Must be at least 18 years old by January 2024;
5. Willing to learn a new language, if needed;
6. Not a previous participant of semester-long exchange programs;
7. Willing to engage in return service activities for UP Diliman upon return from the
exchange program (e.g. assistance to inbound exchange students, assistance in
international campus events, reporting on student exchange experience, etc.).
List of required documents:
1. Duly endorsed PDF Application Form
2. One-page Curriculum Vitae
3. Latest True Copy of Grades or Official Transcript of Records
4. GWA/CWA Certification
5. Certificate of Remaining Units
6. Two (2) accomplished recommendation forms from previous professors (at least one
from applicant's home academic unit faculty)
7. Essay, in Filipino or in English, on why the student wants to become an exchange
student (500-700 words)
8. Form 5 for the 1st Semester AY 2023-2024
9. Photocopy of student's valid passport bio-page (must have at least 6 months validity by the end of the program); or
For students with no passport, a passport application appointment will be accepted
provided that the appointment date is before December 2023.
Application documents: https://bit.ly/LIPAD-ARALFall2024
Online Application Form: http://bit.ly/ISEPonlineform
Pre-qualified applicants will be interviewed by members of the International Student Mobility Committee in December 2023. Short-listed applicants will be lined up for programs that we have already confirmed with partner universities and for upcoming programs for the 1st Semester AY 2024-2025.
Successful applicants will receive a tuition waiver for the entire exchange program duration in their host university. Students have the option to apply for additional financial support through the UP OIL Mobility for Vigor and Excellence (MOVE UP) Program.
More information about the possible host universities and entitlements can be found in this link: https://bit.ly/PartnerUniversitiesFall2024 (please check this regularly for updates).
All application documents must be completely accomplished and submitted via the online application form by 5:00 PM, 16 November 2023.
For queries and detailed information, please contact Ms. Chin Dimson via UP Trunkline: 8981-8500 local 2561 or via e-mail at oild_outbound.upd@up.edu.ph.
2023-24 KYOTO UNIVERSITY ASIAN FUTURE LEADERS SCHOLARSHIP PROGRAM (AFLSP)
Kyoto University is pleased to announce the second call for applications for the 2023-24 Asian Future Leaders Scholarship Program (AFLSP).
This is an additional recruitment for those who expect to enroll in a master's degree program as a regular (degree-seeking) student at a graduate school of Kyoto University in April 2024.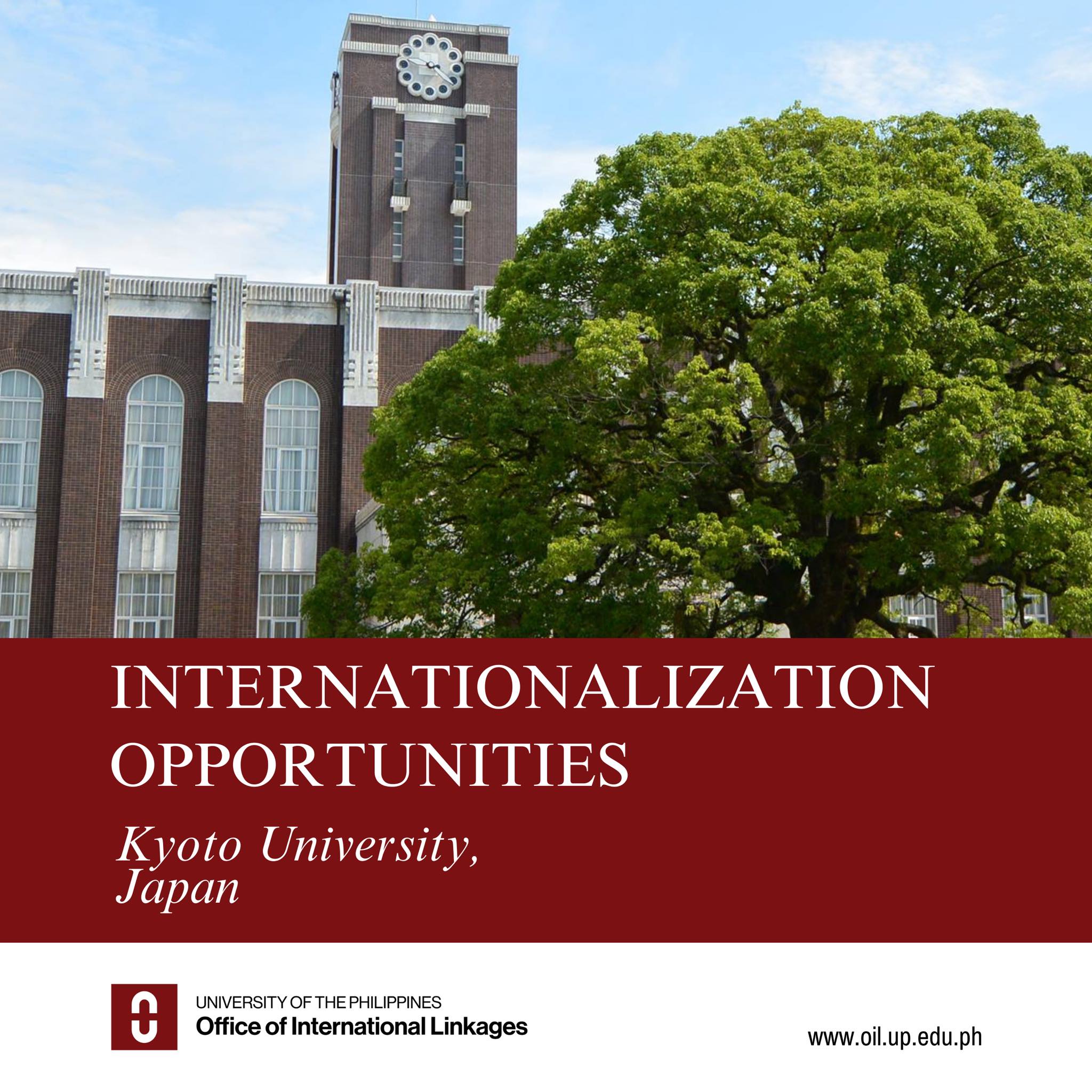 With the support of the Bai Xian Asia Institute and the Bai Xian Education Foundation, Kyoto University has operated the AFLSP as one of the program's Partner Universities since 2014.
The AFLSP provides scholarships to assist students in deepening their understanding of cultural diversity, and aims to cultivate human resources who can contribute to the development of Asia and the world.
Students are free to apply for this scholarship directly. The application guidelines and other required documents are available from the following website: https://www.aflsp.kyoto-u.ac.jp/
Application period is from November 1 (Wed) to 12 (Sun), 2023 (Japan time).
Applicants will need to pass the entrance examination in addition to proceed with their application for AFLSP. The details of admission procedures differ depending on the graduate school.
The applicants should carefully check the application deadline and procedures of the graduate schools, as some need to be applied before AFLSP application.
EAST-WEST CENTER GRADUATE DEGREE FELLOWSHIP
Dreaming of pursuing a Master's or Doctoral degree in an environment rich with educational, cultural, and leadership opportunities? The East-West Center Graduate Degree Fellowship is your ticket to a transformative journey at the University of Hawai'i at Manoa.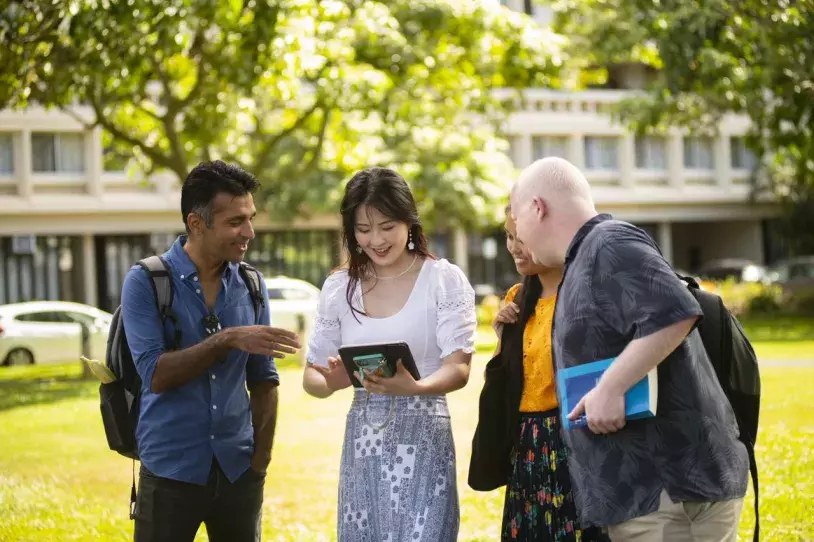 Why Apply?
The East-West Center Graduate Degree Fellowship offers funding for passionate scholars from Asia, the Pacific, and the United States. Dive into educational excellence, immerse yourself in cultural experiences, and build lifelong connections at the Eat-West Center. Enjoy benefits of tuition and fees coverage, health insurance subsidy, book allowance, and more.
Who Can Apply?
Citizens or permanent residents of the United States and bright minds from countries across the Pacific, Asia, and Russia are eligible.
Application Deadline: December 1, 2023
How to Apply:
Check out the East-West Center website for detailed grant information, eligibility criteria, and application guidelines. Your journey towards academic excellence begins here:
https://smpl.is/7ysas
---