Eugene Solla
April 24, 2022
Hello there! The UP Diliman Office of the Vice Chancellor for Student Affairs' #OpportunitiesCorner is an update on available scholarships, exchange programs, conferences, workshops, and other skill-enhancing initiatives for UP Diliman students. Here's for the fourth week of April 2022!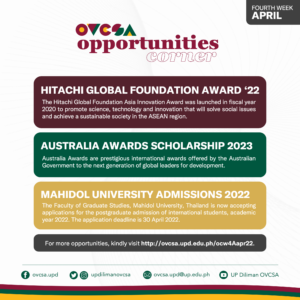 Hitachi Global Foundation Asia Innovation Award 2022
The Hitachi Global Foundation Asia Innovation Award was launched in fiscal year 2020 to promote science, technology and innovation that will solve social issues and achieve a sustainable society in the ASEAN region. The award recognizes individuals and groups that served public interests through their outstanding achievements in research and development in the fields of science and technology, including their visions of an ideal future society and social implementation plans for R&D as a means of achieving the UN's SDGs. For 2022, the selected goals are Goal 6 "Clean Water and Sanitation" and Goal 11 "Sustainable Cities and Communities". Awards will be given accordingly:
Best Innovation Award: monetary prize of 3,000,00 JPY per awardee
Outstanding Innovation Award: monetary prize of 1,000,000 JPY per awardee
If applicable, the Encouragement Award(s) with approximately 500,000 JPY per awardee will be presented.
The process has two stages, selection by UPD and then, from all the entries coming from the different eligible universities, selection by Hitachi Foundation. The UPD Screening Committee will select five (5) applications which will comprise the official entries of UPD. Application documents must be submitted on or before 13 May 2022 to: oild_acadadminstaffmobility.upd@up.edu.ph. Applicants may also contact OIL Diliman via UP Trunkline 8981-8500 local 2561 (c/o Ms. Catherine Tagaban). In case the Work from Home scheme is still in effect, queries may be sent through the same email address.
Access this link using your UP mail for more details.
Australia Awards Scholarship 2023
Australia Awards scholarships in the Philippines Australia's international development assistance in the Philippines helps promote prosperity, reduce poverty, and enhance political stability. Australia Awards are prestigious international awards offered by the Australian Government to the next generation of global leaders for development. Through study and research, recipients develop the skills and knowledge to drive change and help build enduring people-to-people links with Australia.
Applicants are assessed on their professional and personal qualities, academic competence and, most importantly, their potential to impact on development challenges in the Philippines.
Applications are strongly encouraged from women, people with disability and other marginalised groups.
Click here for more details.
Mahidol University Postgraduate Admission 2022
The Faculty of Graduate Studies, Mahidol University, Thailand is now accepting applications for the postgraduate admission of international students, academic year 2022. The application deadline is 30 April 2022. The admission information can be found at: https://graduate.mahidol.ac.th/.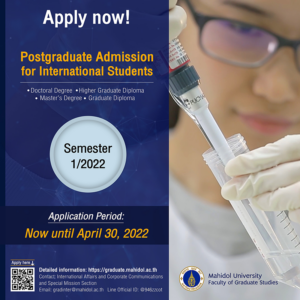 In addition, the university is also holding the MU Postgrad Online Active Recruitment 2022. This activity provides applicants an opportunity to have an online interview with the program director of their preferred program. By joining this activity, potential applicants may be offered a seat for admission with scholarship for postgraduate program at Mahidol University. The activity will take place on 23 April 2022 via Zoom Meetings. Those who are interested can register for free of charge at the website https://graduate.mahidol.ac.th/ActiveRecruitment2022/. The registration deadline is 18 April 2022.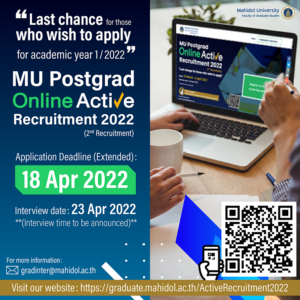 All the best!
---