Eugene Solla
February 27, 2022
Hello there! The UP Diliman Office of the Vice Chancellor for Student Affairs' #OpportunitiesCorner is an update on available scholarships, exchange programs, conferences, workshops, and other skill-enhancing initiatives for UP Diliman students. Here's for the fourth week of February 2022!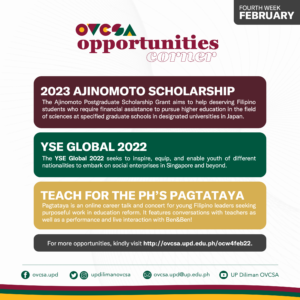 2023 Ajinomoto Postgraduate Scholarship Grant
The Ajinomoto Postgraduate Scholarship Grant aims to help deserving Filipino students who require financial assistance to pursue higher education in the field of sciences. This gives a full scholarship in a master's course at specified graduate schools in designated universities in Japan. This grant can be applied to specified graduate schools at the University of Tokyo, Kyoto University, Nagoya University, Tokyo Institute of Technology, Ochanomizu University, Waseda University and Kagawa Nutrition University.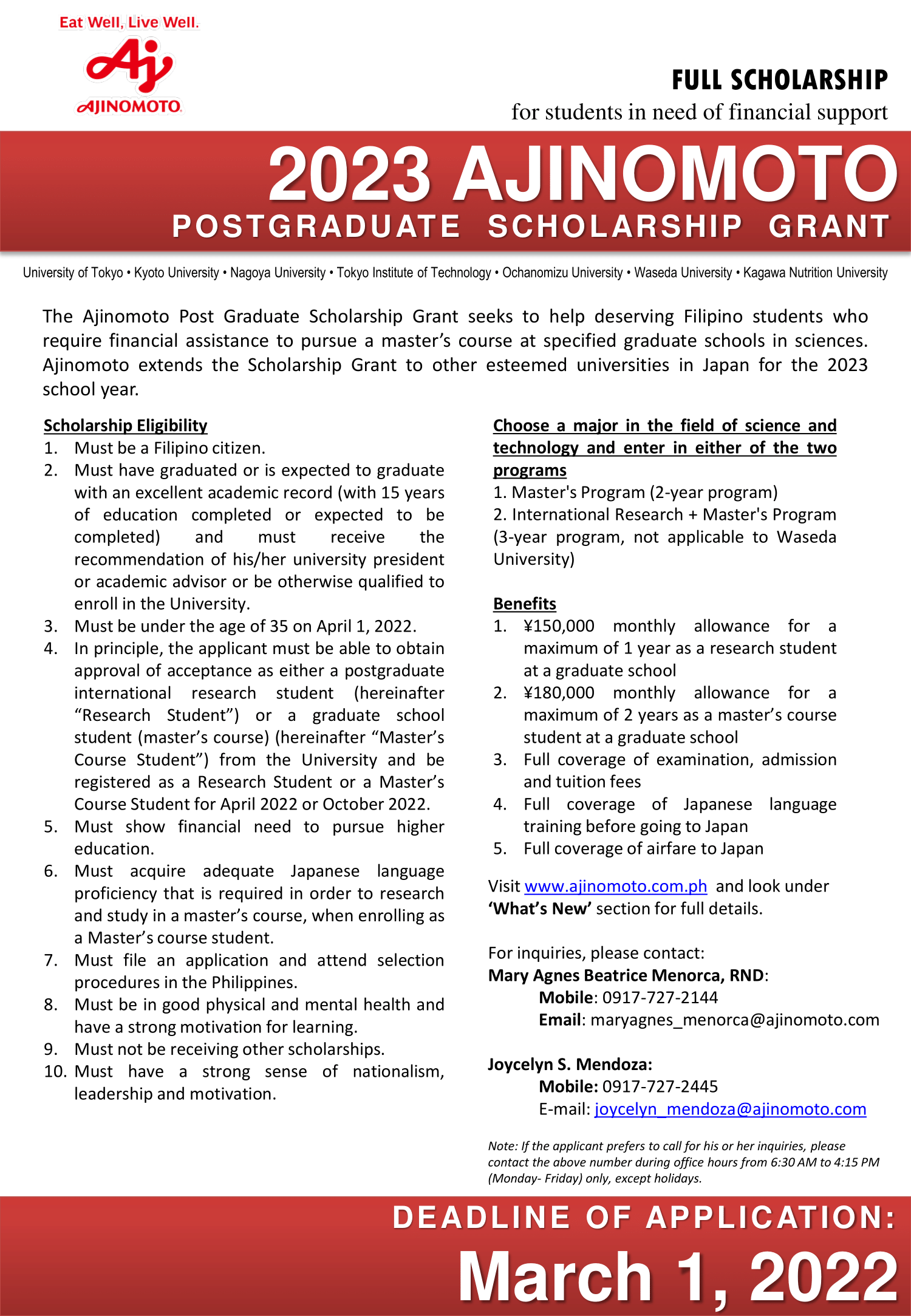 Know more at https://www.ajinomoto.com.ph/whats-new-archive/2023-ajinomoto-postgraduate-scholarship-grant/
YSE Global 2022
The YSE Global 2022 seeks to inspire, equip, and enable youth of different nationalities to embark on social enterprises in Singapore and beyond. If you or your networks have viable and innovative business solutions to social issue(s) anywhere in the world, we want to help you make it happen!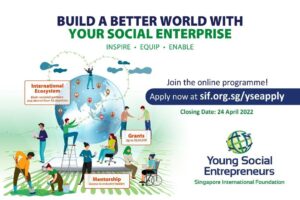 Participants will gain access to our network of social entrepreneurs and business professionals, and collaborate with like-minded youths who are keen on creating systemic, sustainable change for a better world. Shortlisted enterprises also stand a chance at securing grants of up to S$20,000 to scale their ideas.
Interested individuals can apply at https://www.sif.org.sg/yseapply until 24 April 2022, 23:59hrs (Singapore time).
TFP Pagtataya
The Teach for the Philippines' "Pagtataya" is an online career talk and concert for young Filipino leaders seeking purposeful work in education reform. This event features lively conversations with our public school teachers as well as a performance and live interaction with fellow advocate for quality education, Ben&Ben!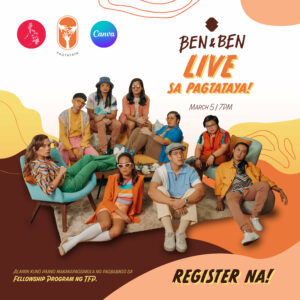 Join TFP on March 5 (Saturday) at 7:00 PM – 8:00 PM to find out how you can #LeadTheChange through our 2022 Fellowship Program! Individuals can sign-up for the event through bit.ly/TFPPagtataya2022; the event is open to people of any degree background and professional field. Slots are limited, so register now!
For more details and to receive updates on the event, like and follow TFP's Facebook page.
---