Eugene Solla
January 30, 2022
Hello there! The UP Diliman Office of the Vice Chancellor for Student Affairs' #OpportunitiesCorner is an update on available scholarships, exchange programs, conferences, workshops, and other skill-enhancing initiatives for UP Diliman students. Here's for the fourth week of January 2022!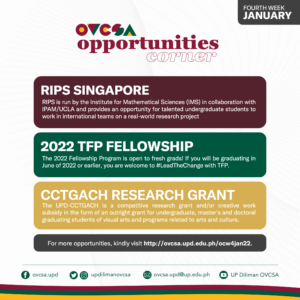 RIPS Singapore
The Research in Industrial Projects for Students Program in Singapore (RIPS-SG) is run by the Institute for Mathematical Sciences (IMS) in collaboration with IPAM/UCLA and provides an opportunity for talented undergraduate students to work in international teams on a real-world research project. The student team, with support from their academic mentor and industry mentor, will research the problem and present their results, both orally and in writing, at the end of the program.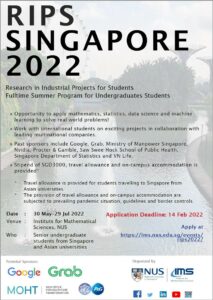 The program is open to students from Singapore and Asian universities. Each student will be provided with a stipend of SGD3,000.
The program is nine weeks. Projects vary, but all involve mathematics, statistics, data science and computer science to some degree.
Learn more and apply here https://ims.nus.edu.sg/events/rips2022/
2022 TFP Fellowship Program
The 2022 Fellowship Program is open to fresh grads! If you will be graduating in June of 2022 or earlier, you are welcome to apply and #LeadTheChange with Teach for the Philippines.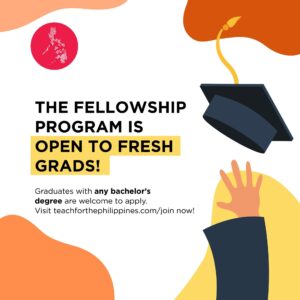 Apply here: teachforthephilippines.com/join
UPD-CCTGACH Research Grant
The UP Diliman Office for Initiatives in Culture and the Arts (UPD-OICA) is now accepting applications for the UP Diliman Creative/Critical Thesis Grant in the Arts, Culture and Humanities (UPD-CCTGACH) Cycle 5.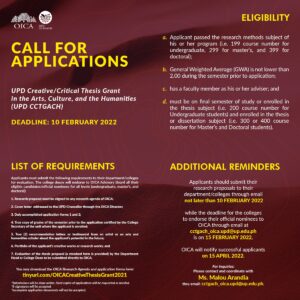 The UPD-CCTGACH is a competitive research grant and/or creative work subsidy in the form of an outright grant for undergraduate, master's and doctoral graduating students in the fields of the visual arts and programs related to the critical study of arts and culture.
The UPD-CCTGACH application forms, full implementing guidelines, eligibility and requirements may be accessed through this link: tinyurl.com/OICACreativeThesisGrant2021. Kindly take note of the following:
E-signatures will be accepted;
Submissions will be done online;
Hard copies of application requirements will be requested as needed; and
Incomplete requirements will not be accepted.
Interested graduating students may send their research proposals to their colleges through email on or before February 10, 2022 (Thursday) while the deadline for the colleges to endorse their official candidates to OICA through email at cctgach_oica.upd@up.edu.ph is on February 15, 2022 (Tuesday).
For inquiries, you may contact the Program Coordinator at cctgach_oica.upd@up.edu.ph.
---