Hello there! The UP Diliman Office of the Vice Chancellor for Student Affairs' #OpportunitiesCorner is an update on available scholarships, exchange programs, conferences, workshops, and other skill-enhancing initiatives for UP Diliman students. Here's for the fourth week of May 2023!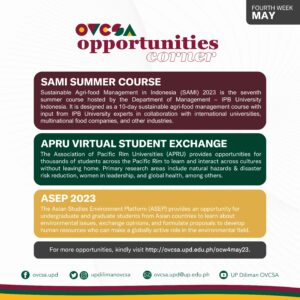 SUSTAINABLE AGRI-FOOD MANAGEMENT IN INDONESIA (SAMI) SUMMER COURSE PROGRAM 2023
Sustainable Agri-food Management in Indonesia (SAMI) 2023 is the seventh summer course hosted by the Department of Management – IPB University Indonesia. It is designed as a 10-day sustainable agri-food management course with input from IPB University experts in collaboration with international universities, multinational food companies, and other industries.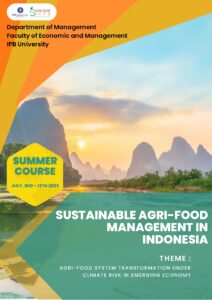 This year's SAMI Summer course will be held with the topic "Agri-food System in Transformation under Climate Risk in Emerging Economy", which covers the impact of climate risk on agri-food system in emerging economies; strategies for adapting agri-food systems to climate risk; and mitigation strategies for reducing the impact of agri-food systems on climate change.
Date/Duration: 02 July 2023 – 13 July 2023 (Western Indonesian Time, GMT+7)
Registration Link: https://ipb.link/gform-registration-sami-2023

APRU VIRTUAL STUDENT EXCHANGE
The Association of Pacific Rim Universities (APRU) provides opportunities for thousands of students across the Pacific Rim to learn and interact across cultures without leaving home.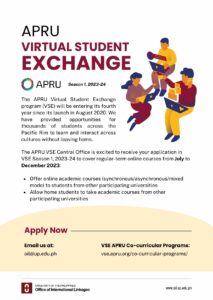 Primary research areas include natural hazards & disaster risk reduction, women in leadership, population aging, global health, sustainable cities, artificial intelligence & the future of work, the Pacific Ocean, and labor mobility.
Don't miss out on this chance to broaden your academic horizons and connect with students from around the world. Apply now and embrace the global learning experience with APRU VSE!
Send an email to oil@up.edu.ph for inquiries and application concerns.

ASIAN STUDENTS ENVIRONMENT PLATFORM 2023
University students from Asian countries gather to discuss and make proposals on global environmental issues beyond national borders while learning about differences in the natural environment and values of each country.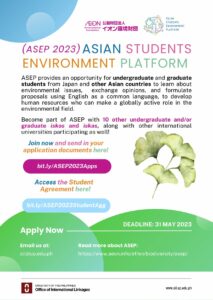 Join this incredible platform where undergraduate and graduate students from Japan and other Asian countries come together to address environmental issues, share ideas, and create impactful proposals.
ASEP 2023 will be from Monday, August 7 – Wednesday, August 9, 2023 – online via Zoom!
Apply at bit.ly/ASEP2023Apps and accomplish the Student Agreement at bit.ly/ASEP2023StudentAgg (accessible through UP Mail).
DEADLINE: 31 May 2023
For questions or concerns, kindly reach out to oil@up.edu.ph.
---