ovcsa_user
March 30, 2023
Hello there! The UP Diliman Office of the Vice Chancellor for Student Affairs' #OpportunitiesCorner is an update on available scholarships, exchange programs, conferences, workshops, and other skill-enhancing initiatives for UP Diliman students. Here's for the fourth week of March 2023!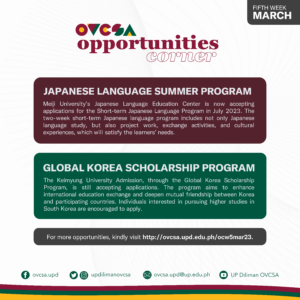 JAPANESE LANGUAGE SUMMER PROGRAM
Meiji University, celebrating its 142nd anniversary in 2023, is a comprehensive university which has received high reputation from home and abroad as one of the "Tokyo Six Universities". Currently, more than 34,000 students, including approximately 1,800 international students, study at the university's ten faculties.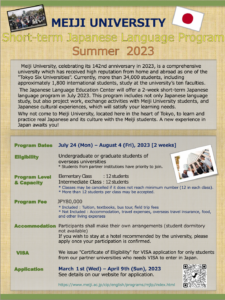 ​The Japanese Language Education Center will offer a 2-week short-term Japanese language program from July-August 2023. This program includes not only Japanese language study, but also project work, exchange activities with Meiji University students, and Japanese cultural experiences, which will satisfy your learning needs. ​
UPD students who will participate in this program should inform OIL Diliman by answering the participation form (http://bit.ly/OILD_ProgramParticipation).
GLOBAL KOREA SCHOLARSHIP PROGRAM
The call for applications for Keimyung University Admission through the Global Korea Scholarship Program is now open.
Global Korea Scholarship is designed to provide international students with opportunities to study at
higher educational institutions in Korea in pursuit of academic degrees, which will enhance international
education exchange and deepen mutual friendship between Korea and participating countries.

Visit their website to view the admission timeline and download the application documents at
https://newcms.kmu.ac.kr/ekmugs/25660/subview.do
You may also refer to this link to view the application guidelines:
https://drive.google.com/drive/folders/1yYS-cT_eiavIuQB6fs5JuIr89b5F3Unv?usp=share_link
For further inquiries regarding the Global Korea Scholarship Program, applicants may also contact
OIL Diliman via UP Trunkline 8981-8500 local 2561 (c/o Ms. Catherine Tagaban) or via email: oild_acadadminstaffmobility.upd@up.edu.ph.
---