Eugene Solla
November 26, 2021
About the Event
It is a UP tradition to end the year by holding several events such as the Pailaw in Quezon Hall which marks the start of the December celebration, the sought after Lantern Parade where colleges and offices pride their bright-colored and meaningful lanterns around the Academic Oval, and the Open Mic Nights usually held in the Carillon Tower which gives the members of the UP Diliman community the avenue to showcase their talents and express themselves.
This year, the Open Mic Night will be held online in celebration of the International Human Rights Day and will be live streamed on December 10, 7:30pm to 9:30pm, at the official Facebook page of the UP Diliman Office of the Vice Chancellor for Student Affairs.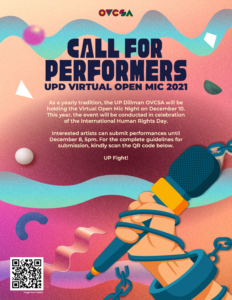 Interested artists can submit their performances until December 8, 5pm.
Submission Guidelines
The call for submissions is open for individual UP Diliman community member (students, faculty, staff) performers or group performers as long as there is at least one UP Diliman member.
The submitted videos may be of any performing arts (music, dance, performance, spoken word, etc.) related to the theme "Tindig Tinig," which is in line with the celebration of the International Human Rights Day.
Submissions must be performed specifically for the Open Mic Night. Previously produced videos/performances may be considered but not prioritized.
Original works/performances are preferred to avoid copyright issues.
Videos must include a spiel/message, ideally only 15-30 seconds long, from the performer/s about the piece that they are performing and a part where they complete the statement "All I want for Christmas is…" Answer/s must be related to the theme.
Artists are also requested to film a separate vertical video of them completing the statement "All I want for Christmas is…" which will be used for the promotional materials.
Please keep the total running time of video entries (including spiel and performance) to a maximum of 5 minutes. Longer videos may be edited down.
For performers who wish to promote their social media accounts, they can include it in their edit of the clip as a video bug. We do not recommend adding these details to the end of the video, as these may be cut out. We also do not recommend including this plug in the opening spiel.
Indicate the details of the performers and paste the link to the video in this Google form bit.ly/UPD21_OpenMic. Please use UP Mail to access this form.
The deadline for submissions is on December 8, 5pm.
UP Fight!
---