Eugene Solla
January 15, 2021
Hello there! The UP Diliman Office of the Vice Chancellor for Student Affairs' #OpportunitiesCorner is a weekly update on available scholarships, exchange programs, conferences, workshops, and other skill-enhancing initiatives for UP Diliman students. Here's for Week 3 of January 2021!
CHINA-ASEAN UNIVERSITY NETWORK SCHOLARSHIP 2021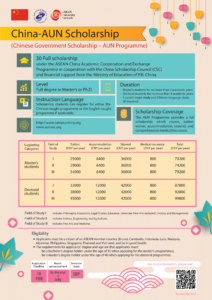 The Chinese Government Scholarship-AUN Program is a full scholarship established by the Ministry of Education of the People's Republic of China for the ASEAN University Network (AUN) to sponsor students, teachers, and scholars from ASEAN nations to study in China and to enhance the academic exchange and mutual understanding between China and ASEAN members. There are 30 scholarships offered annually and it only supports graduates.
Scholarship Overview
Full Scholarship covers tuition fee, accommodation, monthly stipend and medical insurance
This scholarship supports graduate students for both English-taught and Chinese-taught programs in China. (Master and Doctoral programs)
Application Period: Now – 31 January 2020
Eligibility
1. Applicants must be a citizen of an ASEAN member country (Brunei, Cambodia, Indonesia, Laos, Malaysia, Myanmar, Philippines, Singapore, Thailand and Vietnam), and be in good health.
2. The requirements for applicants' degree and age are that applicants must:
– be a bachelor's degree holder under the age of 35 when applying for the master's programs;
– be a master's degree holder under the age of 40 when applying for the doctoral programs.
Duration
This scholarship supports master's students for no more than 3 academic years or doctoral students for no more than 4 academic years. It covers major study and Chinese language study.
Instruction Language
Scholarship students can register for either the Chinese-taught program or the English-taught program if applicable. Program Search (by visiting http://www.csc.edu.cn/studyinchina or http://www.campuschina.org) can help you find the program and university you're interested in.
Application Procedure
Candidates can either:
Apply to the AUN Secretariat for CGS opportunity without any Pre-admission Letter. In this case candidates can select their preferred institutes during online applications process.
Apply to your target university for the Pre-admission Letter once recommended by the dispatching authorities as an eligible candidate.
1. Complete the online application procedure at CGS Information Management System for International Students (visit http://www.csc.edu.cn/studyinchina or http://www.campuschina.org and click "Application Online" to log in). Please note that AUN's Programme Category is 'Type A' and Agency Number is '00005.' Once the correct Agency Number is entered, the name of the agency will automatically emerge. Instructions of the Chinese Government Scholarship Information System and Agency Number is provided on page 5.
2. Complete the online Application Form for Chinese Government Scholarship, and print two hard copies.
3. Submit TWO sets of the paper application forms and other supporting documents to the AUN Secretariat by 31 JANUARY 2020
4. Only successful candidates will be informed by email by early August 2020
*NOTE
Only applications of recommended candidates from the AUN Secretariat will be considered. No other applications or individual application directly sent to CSC will be considered. Candidates holding the Pre-admission Letter will be placed in the host university; those without the Pre-admission Letter should accept CSC's placement of university.
For more information:
Please read this document carefully https://drive.google.com/open?id=1D6Ur_HcG3JBu2-mZdh93fPpVKThRtqBI and if you still have any question, please contact
Mr. Chawanvit Panprasert
ASEAN University Network Secretariat
17th Floor, Chaloem Rajakumari 60 Building,
Chulalongkorn University, Phayathai Road, Pathumwan,
Bangkok 10330 THAILAND
Email: aun.chawanvit@gmail.com
Tel: +662-215-3640 ext. 105 (*Working hours: Monday to Thursday 10.00-19.00 ONLY!*)
PRACTICAL ETHICS IN DIVERSE ASEAN WEBINAR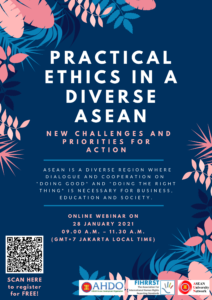 Jointly organised by the ASEAN University Network Secretariat, ASEAN Human Development Organisation, and the Association for International Human Rights Reporting Standards, the webinar is open to all who would like to learn more about applied ethics in various societal sectors of the ASEAN region.
Who is this webinar for?
This webinar is for professionals, social entrepreneurs, and thought leaders across different sectors:
Universities
Business
Youth groups and students
Civil Society Organisations
Individuals working on ethical issues in the region
Government
The COVID-19 pandemic has brought to light many ethical issues in ASEAN, new and old. While its diversity has been a source of wealth in different perspectives, it has also proved challenging in building an ASEAN community that can find common ethical ground amidst its range of value systems and national differences. In this webinar, we seek to bring together people from various sectors in ASEAN to discuss and confront ethical challenges in regional contexts within the realm of business, education, and society.
Join us in this webinar as we bring speakers from academic sectors, youth organizations (AYO), and individual youths who have interests and contributions to areas relating to ethics within their societies at national and international levels. The webinar also aims to:
Identify ethics issues within the ASEAN region that are priorities for the region
Discuss and advise on actions and initiatives to make an impact
Connect and agree to collaborate across ASEAN entities and with the ASEAN Secretariat
Leverage the networks of ASEAN entities for research, white papers, and common actions
The webinar will take place on 28 January 2021. at 09.00 – 11.30 GMT+7 (Bangkok and Jakarta local time)
Please book your seat by filling in the registration at https://bit.ly/38w9iOB
TOYO UNIVERSITY'S ONLINE JAPANESE COURSE
Since Toyo University was selected for the "Career Development Program for Foreign Students in Japan" in FY 2017 by the Ministry of Education, Culture, Sports, Science and Technology (MEXT), they have been offering a variety of Japanese language classes to international students.
This course is an ONLINE business Japanese program and consists of a total of 20 lessons, in which participants can learn not only Japanese business skills but also business manners that are necessary when working in Japan. Participants can freely choose to attend one or multiple lectures.
Overview
Period: 1st – 10th February
Application Period: 8th – 27th January
*Free of charge,
*Conducted fully online, using the WebEx system.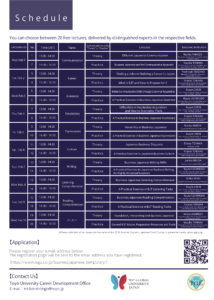 All the best, Iskolar ng Bayan!
---