Eugene Solla
January 28, 2021
Hello there! The UP Diliman Office of the Vice Chancellor for Student Affairs' #OpportunitiesCorner is a weekly update on available scholarships, exchange programs, conferences, workshops, and other skill-enhancing initiatives for UP Diliman students. Here's for Week 4 of January 2021!
The Straits Times Education Forum in partnership with SMU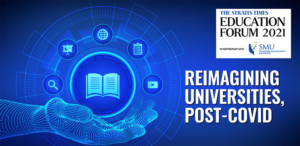 It is with great pleasure that we invite you to join the The Straits Times (ST) Education Forum in partnership with Singapore Management University (SMU), to be held virtually for the first time on Friday, 5 February 2021 from 10am to 11.15am (GMT+8).
SMU is delighted to be the higher education partner once again, following the successful past events hosted at SMU. (Please see an article on the 2020 Forum here.)
The impact of Covid-19 has been dramatic and transformative on education systems around the world. In the higher education sector, Covid-19 has caused institutions to challenge deep-rooted notions of when, where, and how they deliver education, of the role of universities and the distinction we draw between traditional and non-traditional students. So, how are universities rethinking the basic purposes of education, and the pedagogic models better suited for the ever-present possibilities of insecurity, risk, and relentless change?
The ST Education Forum 2021 on Reimagining Universities, Post-Covid, will examine the ripple effects of the coronavirus pandemic on higher education and the changes that it will forge.
Come listen to Education Minister Lawrence Wong, SMU President Lily Kong and ST's senior education correspondent Sandra Davie discuss the changes to come.
The webinar will be moderated by Lydia Lim, head of SPH Schools and Education.
A question-and-answer session will follow – we strongly encourage participants to join the dialogue and send in your questions ahead of the Forum to https://str.sg/JDxs.
Register promptly at: https://str.sg/JDxs by 29 Jan, 6pm.
Explore Indonesia 2021: Communicating in Indonesian Language
This program is a 4-weeks online language course presented by Atma Jaya Catholic University of Indonesia.
Combining Bahasa Indonesia, the national language, through the context various cultural themes bringing Indonesian language learning to the next level. Each module includes four language competencies, i.e., speaking, writing, listening, and reading. Upon finishing this course, participants are expected to have basic Indonesian language competence which enables them to engage with Indonesian people on daily conversation topic.
This course consists of 50% of online interface with the instructors and 50% of individual tasks with 40 hours of total learning.
Starts on February 1, 2021
Ends on February 26, 2021
LIVE lectures start at 3PM Indonesia time
Course level: Beginner
Register online: https://tinyurl.com/ExploreIndonesia2021 or scan the barcode
Limited seats available.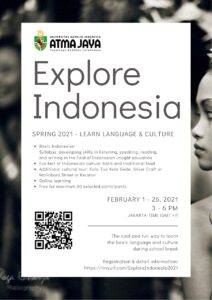 All the best, Iskolar ng Bayan!
---