Eugene Solla
September 19, 2021
[Click here for the Facebook post]
Ang grades, parang pagkain. Minsan matamis, minsan maalat, minsan mapait. Kaya let our response be: Grades don't define me… except kung mataas.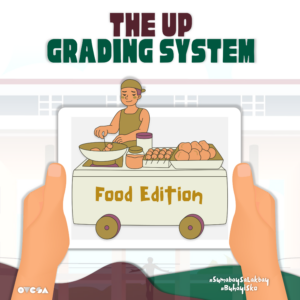 Kidding aside, the UP Grading System may really seem intimidating. It may become hard to grasp how well you are performing especially when you are new to this system. In the coming months, you may begin to wonder why the "uno-able" class taken by upperclassmen and upperclasswomen from your course, may not be as "uno-able" when you take it during a different semester or under a different professor. You might start doubting the hard work you've been putting into your majors, when you can't seem to get a grade higher than dos. 
Fear not, because we will help you prepare for these scenarios by explaining the UP Grading System in a quirky way—the UP Grading System: Food Edition!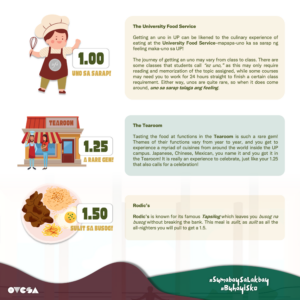 1.00 – Uno sa sarap!
The University Food Service
Getting an uno in UP can be likened to the culinary experience of eating at the University Food Service–mapapa-uno ka sa sarap ng feeling maka-uno sa UP!
The journey of getting an uno may vary from class to class. There are some classes that students call "ez uno," as this may only require reading and memorization of the topic assigned, while some courses may need you to work for 24 hours straight to finish a certain class requirement. Either way, unos are quite rare, so when it does come around, unosa sarap talaga ang feeling.
1.25 – A rare jem!
The Tearoom
Tasting the food at functions in the Tearoom is such a rare gem! Themes of their functions vary from year to year, and you get to experience a myriad of cuisines from around the world inside the UP campus. Japanese, Chinese, Mexican, you name it and you got it in the Tearoom! It is really an experience to celebrate, just like your 1.25 that also calls for a celebration!
1.50 – Sulit sa busog!
Rodic's
Rodic's is known for its famous Tapsilog which leaves you busog na busog without breaking the bank. This meal is sulit, as sulit as all the all-nighters you will pull to get a 1.5.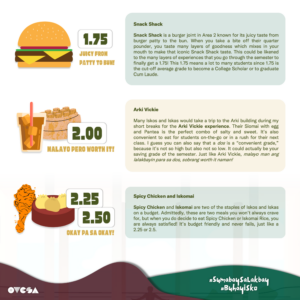 1.75 – Juicy from patty to bun!
Snack Shack
Snack Shack is a burger joint in Area 2 known for its juicy taste from burger patty to the bun. When you take a bite off their quarter pounder, you taste many layers of goodness which mixes in your mouth to make that iconic Snack Shack taste. This could be likened to the many layers of experiences that you go through the semester to finally get a 1.75! This 1.75 means a lot to many students since 1.75 is the cut-off average grade to become a College Scholar or to graduate Cum Laude.
2.00 – Malayo pero worth it!
Arki Vickie
Many Iskos and Iskas would take a trip to the Arki building during my short breaks for the Arki Vickie experience. Their Siomai with egg and Pantea is the perfect combo of salty and sweet. It's also convenient to eat for students on-the-go or in a rush for their next class. I guess you can also say that a dos is a "convenient grade," because it's not so high but also not so low. It could actually be your saving grade of the semester. Just like Arki Vickie, malayo man ang lalakbayin para sa dos, sobrang worth it naman!
2.25-2.50 – Okay pa sa okay!
Spicy Chicken and Iskomai
Spicy Chicken and Iskomai are two of the staples of Iskos and Iskas on a budget. Admittedly, these are two meals you won't always crave for, but when you do decide to eat Spicy Chicken or Iskomai Rice, you are always satisfied! It's budget friendly and never fails, just like a 2.25 or 2.5.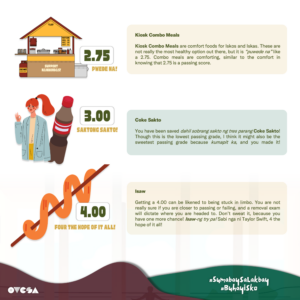 2.75 – Pwede na!
Kiosk Combo Meals
Kiosk Combo Meals are comfort foods for Iskos and Iskas. These are not really the most healthy option out there, but it is "puwede na" like a 2.75. Combo meals are comforting, similar to the comfort in knowing that 2.75 is a passing score.
3.00 – Saktong sakto!
Coke Sakto
You have been saved dahil sobrang sakto ng tres parang Coke Sakto! Though this is the lowest passing grade, I think it might also be the sweetest passing grade because kumapit ka, and you made it!
4.00 – Four the hope of it all!
Isaw
Getting a 4.00 can be likened to being stuck in limbo. You are not really sure if you are closer to passing or failing, and a removal exam will dictate where you are headed to. Don't sweat it, because you have one more chance! Isaw-ng try pa! Sabi nga ni Taylor Swift, 4 the hope of it all!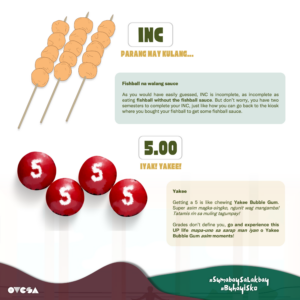 INC – Parang may kulang…
Fishball na walang sauce
As you would have easily guessed, INC is incomplete, as incomplete as eating fishball without the fishball sauce. But don't worry, you have two semesters to complete your INC, just like how you can go back to the kiosk where you bought your fishball to get some fishball sauce.
5.00 – Iyak! Yakee!
Yakee
Getting a 5 is like chewing Yakee Bubble Gum. Super asim magka-singko, ngunit wag mangamba! Tatamis rin samuling tagumpay!
Grades don't define you, go and experience this UP life mapa-uno sa sarap man iyan o Yakee Bubble Gum asimmoments!
#BuhayIsko 
#SumabaySaLakbay
#UPFight
---