The UP Diliman Office of the Vice-Chancellor for Student Affairs (OVCSA), together with the UP Diliman Gender Office (DGO), the UP Office Anti-Sexual Harassment (OASH), and the National Service Training Program (NSTP) UP Diliman, co-organized this academic year's Start 'em Young: A Gender Sensitivity and NSTP Orientation.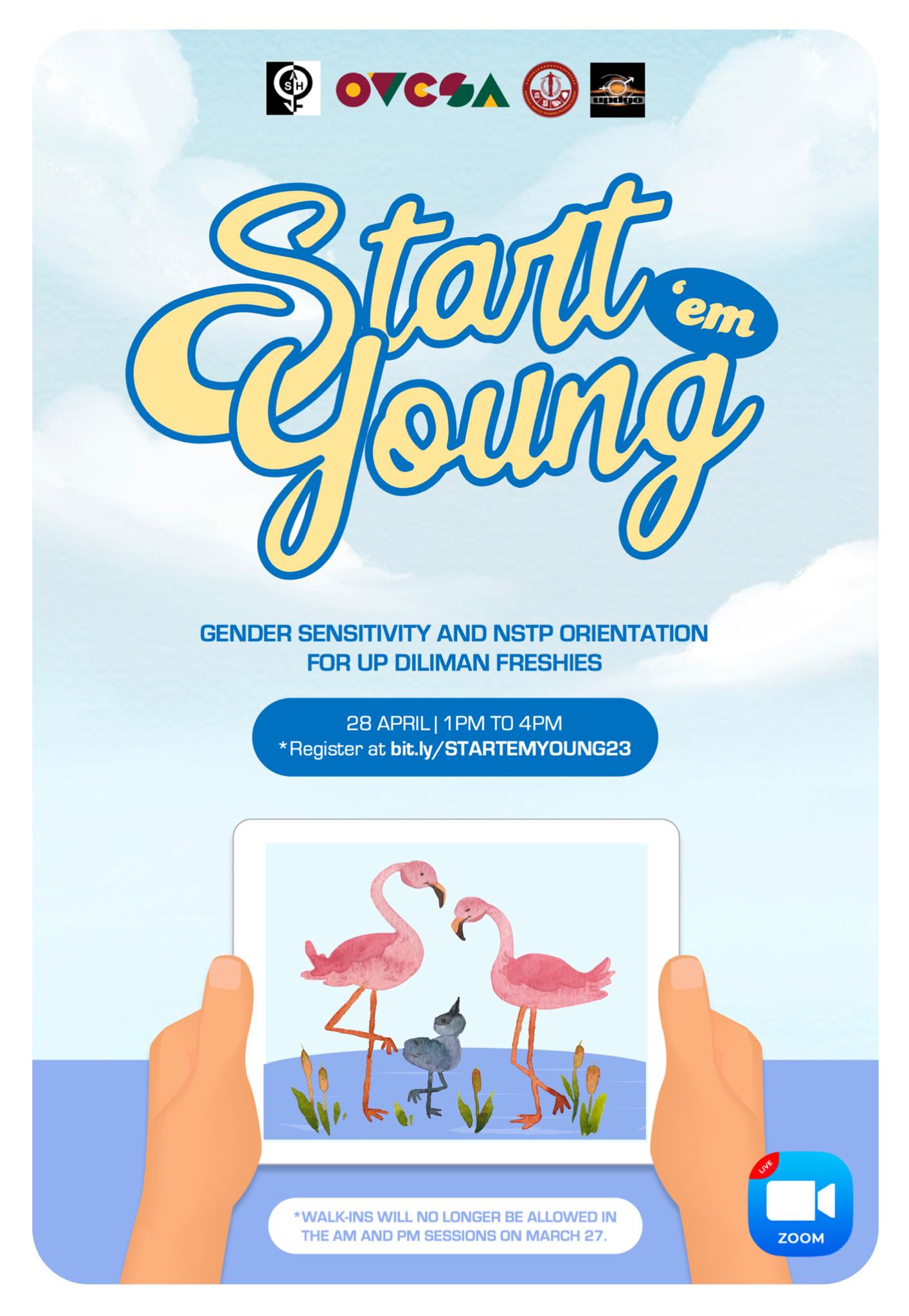 Start 'em Young is a back-to-back orientation that aims to introduce the basic concepts of sex and gender, the UP Anti-Sexual Harassment Code, and NSTP components offered in UP Diliman. A total of eight (8) sessions: five (5) face-to-face and three (3) virtual sessions, were held at the School of Economics Auditorium and via Zoom respectively.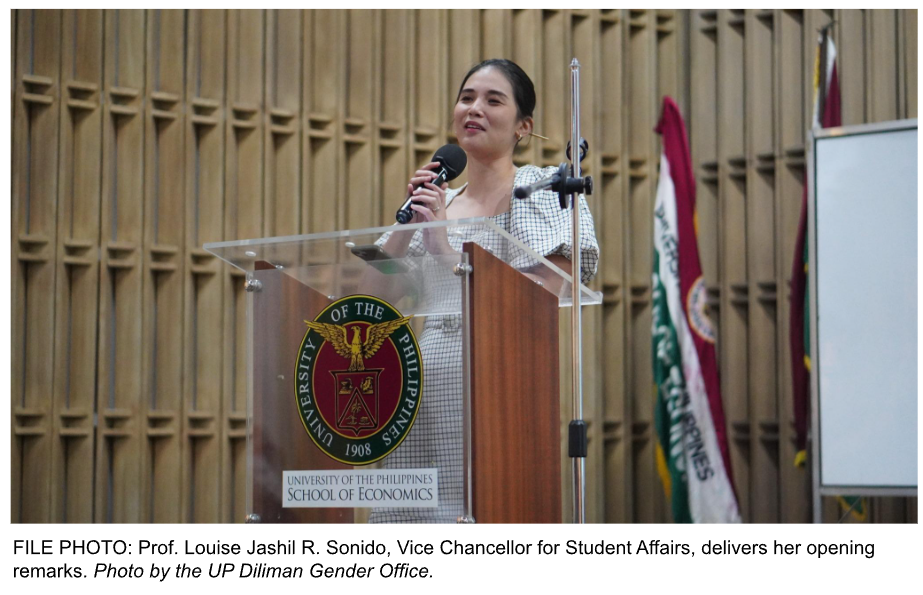 "Our back-to-back session today is just to put us all on the same page, to set expectations and rehearse these values that form our foundation: service and sensitivity—on the one hand, a will to work for others, but also on the other, a willingness to listen and to change ourselves in doing so. Transformation goes both ways, externally and internally, and we nurture both at the same time and as a community. This marks what we hope is now our shared commitment to realize this vision of a safe, service-oriented, non-discriminatory, and egalitarian community for all. These values are what we protect and defend most fervently in UP. " said Vice Chancellor Louise Jashil R. Sonido, in her opening remarks.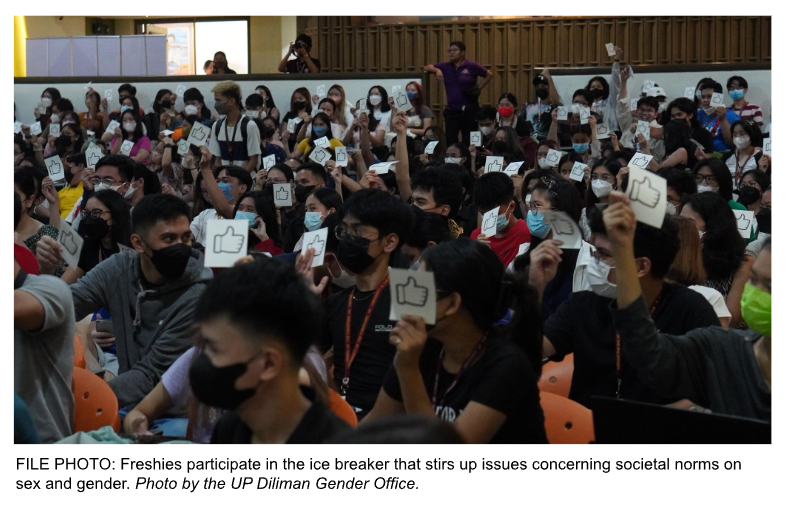 This initiative serves as a headstart to all UP Diliman Freshies in pursuit of a gender sensitive and service-oriented community working towards a just and progressive society.
The program featured various speakers from different offices:
Diliman Gender Office (DGO): Gio Potes, Lakan Umali, Latrell Felix, Dr. Jaclyn Cauyan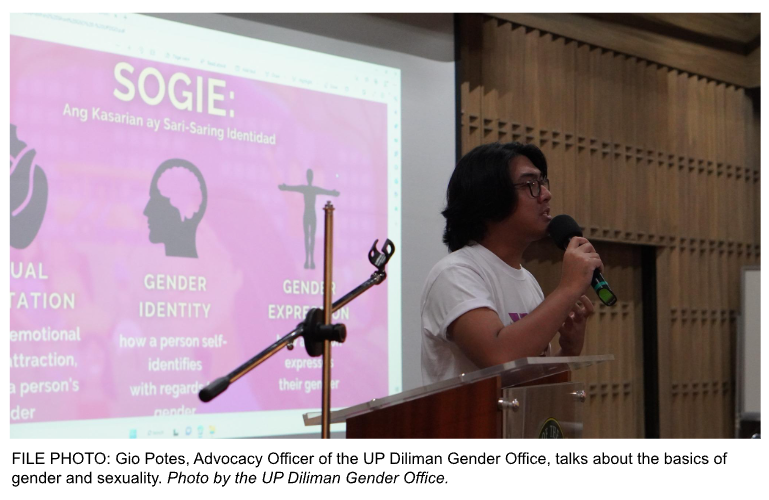 UP Office Anti-Sexual Harassment (OASH): Prof. Remedios Mondiguing (Ma'am Peach), Ma. Rizza Mae Narvaez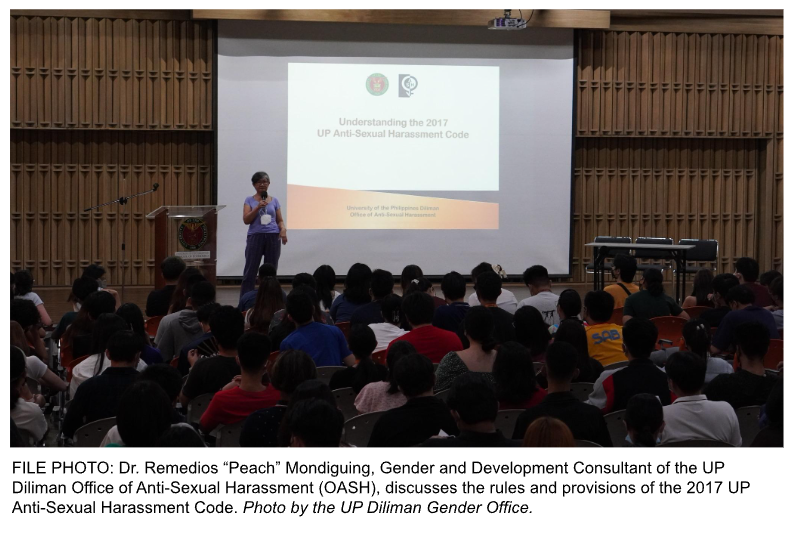 National Service Training Program (NSTP) UP Diliman: Dennis Quilala, Regina Valerio
Reserve Officers Training Corps (ROTC): 2nd Lt. Elmar John Aniciete, CCol Fergie John Frange 1CL, CLtc Kathleen Shane Gonzales 1Cl
Civil Welfare Training Service (CWTS): Ms. Marissa Rullan (CFA), Asst. Prof. Olivia Sicam (Arki), Asst. Prof. Rosabelle Caram (Engg), Asst. Prof. Josefina Santos (CMC), Mr. Ian Lawrence Logan (CHK)
Literacy Training Service (LTS): Asst. Prof. Marielle Antoinette Zosa (CSSP), Ms. Ruth Joy Magno, LPT (Eduk), Asst. Prof. Jose Monfred Sy (CAL), Assoc. Prof. Emma Lina Lopez (AIT)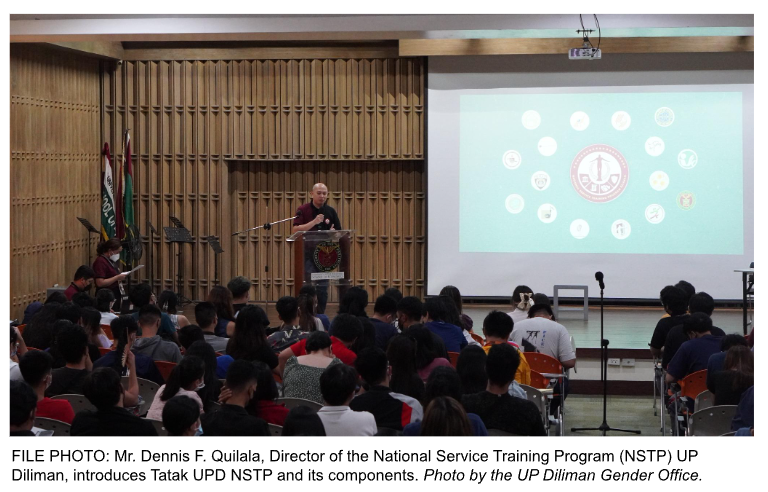 Students or colleges needing this orientation may coordinate with OVCSA or with any of the aforementioned offices.
---