Eugene Solla
September 2, 2022
The UP Diliman Office of the Vice Chancellor for Student Affairs released the 2022 Student Survival Guide, a digital handbook that contains life hacks and information that can aid freshies in making the most out of their university lives.
While extremely beneficial to the fresh faces of the University, the 53-page manual aims to serve the general student population of the campus by incorporating tips, hacks, infographics, slam book-like forms, and features about the unique and life-changing culture of the country's premier state university.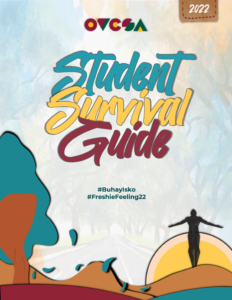 The guide features the following:
Eybisidiliman: The ABCs of Buhay Peyups
Originally entitled "Eybisidiliman: Letras y Figuras," the quirky illustrations in this part of the guide were made by Anthony Kristan Dela Cruz, a Visual Communication student from the UP Diliman College of Fine Arts. These illustrations were created as a plate submission in Anthony's VC 20 Class under Prof Annie Dennise Lumbao. The artwork aims to familiarize each and every Iskolar ng Bayan with UP jargons and buzzwords.
 UP Diliman in Pop Culture
This part provides students with a list of films, music, and videos shot within the portals of the university. From the feisty Dekada '70 to heart-wrenching pieces like Alone Together and Kathang Isip, UP Diliman surely is a perfect spot to invoke various types of emotions.
The UP Grading System: Food Edition
The UP Grading System may seem intimidating for a UP Diliman freshie. It may become hard to grasp how well you are performing when you are new to this system. It may have some (or maybe even many) differences from the grading system you have gotten used to in senior high school. In the coming months, you may begin to wonder why the "uno-able" class taken by upperclasspeople from your course, may not be as "uno-able" when you take it during a different semester or under a different professor. You might start doubting the hard work you've been putting into your majors, when you can't seem to get a grade higher than dos. Fear not, because in this part of the guide, we will help you prepare for these scenarios by explaining the UP Grading System.
Survival Tips and Life Hacks from UP Alumni
In this section of the handbook, insightful tips and tricks to survive "Buhay Peyups" from prominent UP Diliman alumni are featured. From academics, advocacy building, UP mail perks, self-love, to jeepney routes, your ates and kuyas got your back!
Learning Essentials
As students of the University, every Iskolar ng Bayan should keep in mind that there are available resources geared towards the enrichment of their academic life in UP Diliman, with some being especially vital in the context of remote learning. In this part of the manual, a comprehensive compilation of pertinent University services and offices concerned on academic life are featured.
The UP Diliman Student Survival Guide can be accessed here. 
Muli, maligayang pagdating at pagbabalik, mga Iskolar ng Bayan! Padayon!
#BuhayIsko
#FreshieFeeling22
---