Eugene Solla
August 29, 2022
Mga Freshie ng Bayan, let your hearts take you to the place where you belong!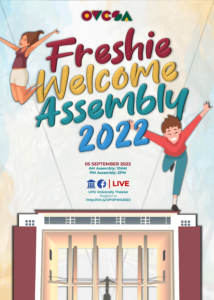 The UP Diliman Office of the Vice Chancellor for Student Affairs proudly presents the 2022 Freshie Welcome Assembly (FWA)! After two years of the remote learning setup, we are excited to officially welcome you face-to-face at the University Theater on 5 September 2022 (Monday). To adhere to the current health protocols, there will be two sessions of FWA (10 am and 2 pm) and each session can accommodate up to 1,000 students only.
Freshies can register at https://bit.ly/UPDFWA2022 and are highly encouraged to register using their UP Mail for easier identification. Kindly take note that you have to finish answering the GForm first, and at the end, a clickable link will be available where you can claim your actual ticket.
Slots are limited and registration is on a first-come first-served basis. No walk-ins allowed. Registration ends on September 4, 10pm.
Be updated by following our social media channels!
Twitter: http://twitter.com/updilimanovcsa
Instagram: http://instagram.com/updilimanovcsa
TikTok: http://tiktok.com/@updilimanovcsa
See you all! 
---