The COVID-19 pandemic has impacted the lives of many UP Diliman (UPD) students and their families. It has been over a year since the pandemic began, and yet the number of COVID-19 cases still continues to rise. Many UPD students are in dire need of assistance due to the heavy economic blows of COVID-19 on top of the already-difficult pandemic situation. Students' families encounter problems such as inability to work amid the pandemic, job layoffs, home confinement prompting adjustments in balancing household resources, and unexpected expenses for medication and hospital bills. Furthermore, many UPD students continue to bear the added costs of remote learning, and the mental health toll of the crisis has necessitated medication and therapy for many.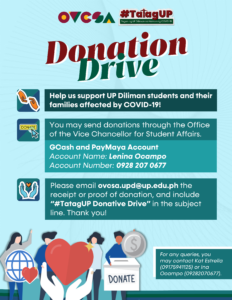 While the Office of the Vice Chancellor for Student Affairs (OVCSA) and the Office of Scholarships and Grants (OSG) continue to dispense the university's student financial assistance programs, guidelines for disbursement governing eligibility and coverage remain in place, and emergency funds for immediate relief due to exceptional circumstances are unavailable.
We appeal to UP alumni, organizations, and friends for monetary donations they can spare for emergency financial aid for UPD students and their families directly affected by COVID-19. This will be used for students' medical expenses (e.g. assistance for hospitalization or subsidy for medical expenses of students and/or their family members). Excess donations (if any) will go to the operations of the University Health Service (UHS), Kamia Isolation Facility, or Silungang Molave. Simple donations would go a long way in providing both economic and emotional support for our students during this very difficult period.
You may send your donations through the Office of the Vice Chancellor for Student Affairs:
GCash and PayMaya Account:
Account Name: Lenina Ocampo
Account Number: 09282070677
Please email ovcsa.upd@up.edu.ph the receipt or proof of donation, and include "#TatagUP Donation Drive" in the subject line.
We are also accepting donations in-kind. You may drop them off at the Office of the Vice Chancellor for Student Affairs (OVCSA) every Monday, Wednesday, and Friday.
For any queries, you may contact Kat Estrella (09175941125) or Ina Ocampo (09282070677).
#TatagUP
#UPFight
#WalangIwanan
---