Eugene Solla
May 10, 2021
#UgnayanAtPatnubay: UP Diliman COVID-19 Student Handbook
A year after the first cases in the Philippines and the first declaration of community quarantine, the recent resurgence of COVID-19 cases as well as emergence of new variants of the virus has caused fear and panic across the nation.
Key to our collective coping during this time is access to correct information.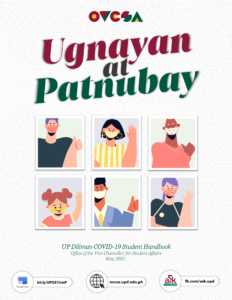 To provide this for UP Diliman students, the UP Diliman OVCSA collated information on public health measures, applicable laws and guidelines, and support services and programs for students offered by the University.
You may access the digital version of the handbook at http://bit.ly/UPD21UatP or download it at http://bit.ly/UPD21UatPpdf.
We hope that these will help to reassure and guide students in making informed decisions and getting the help and support that they need, wherever they are and whatever their circumstances.
As a University, we are continuously evaluating our guidelines and protocols to ensure that compassionate policies are being implemented, and that honor comes first before excellence.
Through this pandemic, UP will stand together, and UP will fight.
#UPFight
#WalangIwanan
---