Eugene Solla
March 15, 2021
The remote learning assessment survey conducted by the Office of the Vice Chancellor for Academic Affairs (OVCAA) and the Office of the Vice President for Academic Affairs (OVPAA) last semester identified the onboarding of students in the remote learning setup as an important gap for the administration and faculty to address for the second semester.
Hence, to address student concerns and inform them of available support services for students, the Office of the Vice Chancellor for Student Affairs (OVCSA) is organizing a series of student dialogues starting 22 March 2021 as a follow-up to the webinar series on remote learning for students that we held in February 2021.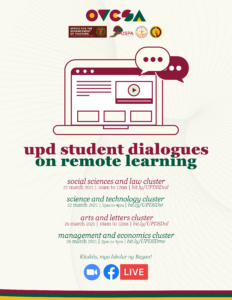 We plan for the dialogues will be conducted in batches according to academic cluster (Arts and Letters, Management and Economics, Science and Technology, Social Sciences and Law) in order to (1) address specific student concerns about the conduct of similar types of classes more efficiently; and (2) more effectively relay to students student services offered on the university- and college-level.
See you all, mga Iskolar ng Bayan!
---