Hello there! The UP Diliman Office of the Vice Chancellor for Student Affairs' #OpportunitiesCorner is an update on available scholarships, exchange programs, conferences, workshops, and other skill-enhancing initiatives for UP Diliman students. Here's for the second week of April 2023!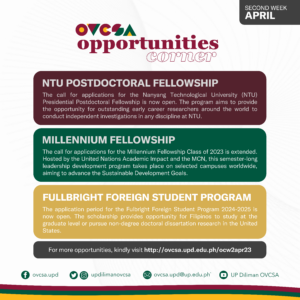 NANYANG TECHNOLOGICAL UNIVERSITY PRESIDENTIAL POSTDOCTORAL FELLOWSHIP
Nanyang Technological University (NTU Singapore) is ranked 19th globally and placed among the world's
best young universities. NTU has a vibrant research ecosystem with a high proportion of early-career
researchers. It has a healthy environment for interdisciplinary research collaboration and the research is
well-funded.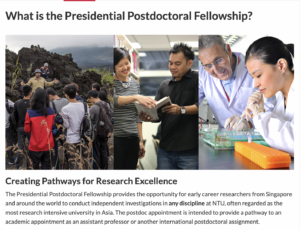 NTU invites outstanding early-career researchers to apply for an appointment as an NTU Presidential
Postdoctoral Fellow. The PPF aims to provide the opportunity for outstanding early career researchers
from Singapore and around the world, to conduct independent investigations in any discipline at NTU.
This Fellowship provides research funding over two years.
Application Period runs until APRIL 30, 2023.
View application details at: https://tinyurl.com/NTUPPF23
MILLENIUM FELLOWSHIP PROGRAM
The Millennium Fellowship was launched to convene, challenge, and celebrate student leadership for social impact. Student leaders worldwide are invited to join an extraordinary community of young leaders advancing the Sustainable Development Goals in their respective communities.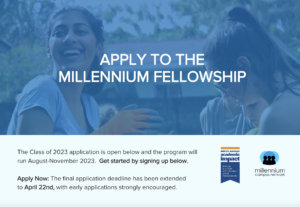 ​To support the intended impact, the Millennium Fellowship provides student leaders with the training, connections, and recognition. See below our full 2020 Impact Report followed by our highlights from the report.
Apply at: https://www.millenniumfellows.org/apply
Application deadline is on APRIL 22, 2023.
FULLBRIGHT FOREIGN STUDENT PROGRAM
The Fulbright Foreign Student Program is a scholarship opportunity for Filipinos to study at the graduate level (master's or doctoral studies) or pursue non-degree doctoral dissertation research in the United States.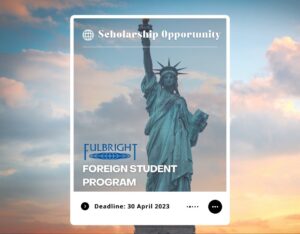 Grants under the Fulbright Foreign Student Program for Filipinos are for a maximum of one academic year for non-degree, one to two years for master's, and two years for doctoral degree studies.
The grant provides for round-trip international travel, monthly maintenance allowance, tuition and fees, book/supplies allowance, and health and accident insurance.
For more details, view: http://fulbright.org.ph/.
Apply here: https://apply.iie.org/ffsp2024.
Applications are due on APRIL 30, 2023.
---